The mood was strongly upbeat at the latest Auckland apartment auction as buyers take advantage of low interest rates and spring weather lifts spirits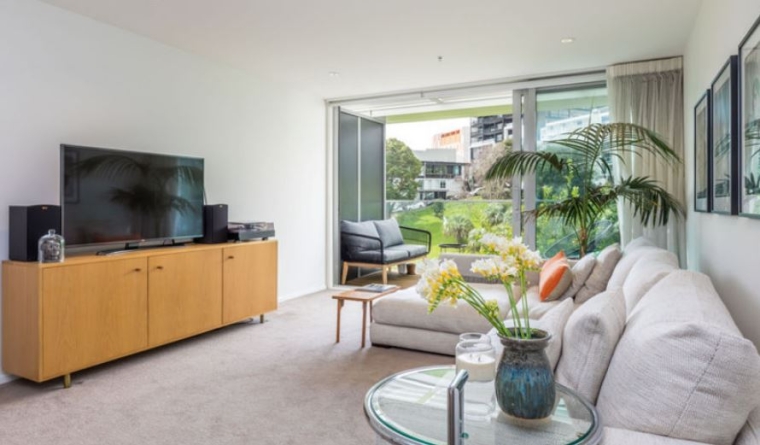 There was a distinctly upbeat mood at this week's main Auckland apartment auction with bidding from investors and owner-occupiers being the strongest we have seen for some time.
The auction at Ray White City Apartments wasn't particularly large with six properties on offer, but a good crowd turned out for it and they weren't window shopping.
First up was a one bedroom apartment in the City Gardens complex on Albert Street in the Central Business District.
This was typical investor fare but the building has remediation issues and the new owners will be required to pay between $84,792 and $113,100 towards the cost of repairs.
However that did not deter some brave souls and there were multiple bidders for the unit, which sold under the hammer for $220,000.
Next up was a two bedroom unit in The Landings complex close to the historic former Central Railway Station building at the bottom of town.
The Landings is a leasehold complex and leasehold units have been selling quite well recently as the market has become more familiar with them. Prices have become far more realistic for these types of properties than they were when most of them were purchased off the plans several years ago.
There were multiple bidders for The Landings unit and it sold under the hammer for $230,000.
There were also a couple of units on offer in the Zest building high up on the Nelson Street ridge.
The Zest is a mainstay for investors and the first of the two to be offered - a two bedroom unit - attracted strong bidding and sold under the hammer for $395,000. A one bedroom unit was passed in with a top bid of $245,500, making it the only unit at the auction that didn't sell under the hammer.
There were also a couple of units that would have appealed to owner-occupiers.
One was a two bedroom, 75 square metre unit with a car park in the Quest on Queen building near Myers Park.
It sold under the hammer for $660,000.
The other owner-occupier unit was a 76 square metre, two bedroom unit with a car park, overlooking Basque Park in Eden Terrace (pictured above).
Bidding on this unit was particularly spirited and it sold under the hammer for $897,000.
Of course one busy auction does not a market make, and whether the strength of the bidding was due to recent interest rate cuts or the improving spring weather or a bit of both, it's too early to say.
But the mood on the day was certainly very positive.
Details and photos of all the properties offered at the auction are available on our Residential Auction Results page.
The comment stream on this story is now closed.
You can receive all of our property articles automatically by subscribing to our free email Property Newsletter. This will deliver all of our property-related articles, including auction results and interest rate updates, directly to your in-box 3-5 times a week. We don't share your details with third parties and you can unsubscribe at any time. To subscribe just click on this link, scroll down to "Property email newsletter" and enter your email address