A busy time in Barfoot & Thompson's auction rooms with sales on two-thirds of the properties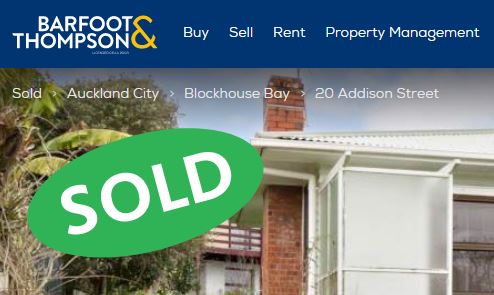 There was plenty of action in Barfoot & Thompson's auction rooms last week with nearly 200 residential properties on offer and sales achieved on two thirds of them.
The real estate agency marketed 187 properties for sale by auction in the week form 17-23 February and sold 122 of them, giving an overall sales rate of 65%.
All of the auctions were busy with just one auction having less than a dozen properties on offer. That was the mortgagee/court auction where just two properties were offered and both were sold.
The highest sales rate was achieved at the on-site auctions where 15 properties were offered and the sales rate was 87%.
At the big Manukau auction the sales rate was 66%, and at the North Shore auctions 59% were sold (see table below).
The higher number of properties coming to market and the relatively strong sales rate suggests a strong level of activity over the remainder of the summer selling season. If worries about the effects of coronavirus are impacting the market, it is not showing up in the sales figures yet.
Details of the individual properties offered and the results achieved are available on our Residential Auction Results page.
The comment stream on this story is now closed.
Barfoot & Thompson Residential Auction Results

17-23 February 2020

Date

Venue

Sold

Sold Prior

Sold Post

Not Sold 

Postponed

Withdrawn

Total

% Sold

19-23 Feb

On site

10

3

 

 

 

2

15

87%

18-Feb

Manukau

17

4

 

11

 

 

32

66%

18-Feb

Shortland St

12

1

 

6

 

 

19

68%

19-Feb

Mortgagee/Court

2

 

 

 

 

 

2

100%

19-Feb

Shortland St

25

1

 

7

 

2

35

74%

19-Feb

Pukekohe

4

 

1

6

 

1

12

42%

20-Feb

North Shore

22

4

 

17

 

1

44

59%

20-Feb

Shortland St

7

2

 

3

 

 

12

67%

21-Feb

Shortland St

5

2

 

5

3

1

16

44%

Total

All venues

104

17

1

55

3

7

187

65%