2020 capped with a +19% rise in house prices for the year despite a sharp jump in volumes sold. Prices were up $323/day in December in Auckland, according to REINZ data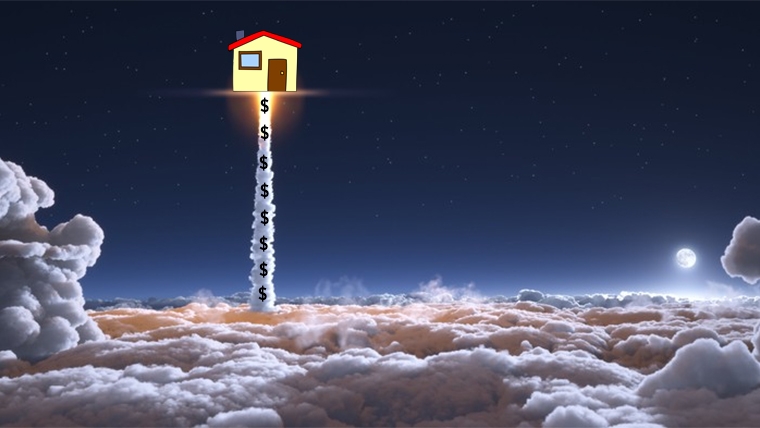 The number of houses sold nationally in December was up +42% from the same month in 2019, reaching 8935 in the month.
But the REINZ claims there was a "lack of choice" in real estate markets nationwide at the end of 2020, resulting in sharply rising prices.
Nationally, prices were up +19.3% compared to the same month a year ago, but the median price was up +$4000 to $749,000 from November to December, only a +0.5% rise. (REINZ revised down their November median price from the $749,000 they reported last month.)
In Auckland, 3219 houses were sold in December, up from just 1932 in the 2019 equivalent month.
Additionally, Auckland's median house price increased by +17.4% from $886,000 at the same time last year to $1,040,000 a new record high, and the fifth consecutive month where Auckland has seen a new record median house price.
Auckland central city area remains New Zealand's most expensive district in the country with December seeing these suburbs reach a new record median house price of $1,280,000 – hovering extremely close to the $1.3 million mark. Not far behind, was North Shore on $1,235,000 and Rodney district on $1,005,000 showing how unaffordable the Auckland region is becoming – especially for first home buyers. The only district in Auckland now with a median under the $800,000 mark is Franklin district with a median of $790,000.
New Zealand house prices rose at an average of $332 per day in 2020. They rose at a slower rate in December, gaining a more modest $129 per day during December at the median level.
In Auckland, the December gains were +$323 per day, taking the annual daily gain rate to +$422.
On a proportional basis, gains were high in many other regional centers too. In total 11 regions saw record median prices during December 2020.
Technically, house price changes are better measured with a house price index that adjusts for factors like land area, floor area, number of bedrooms etc. Here is the latest HPI data from REINZ: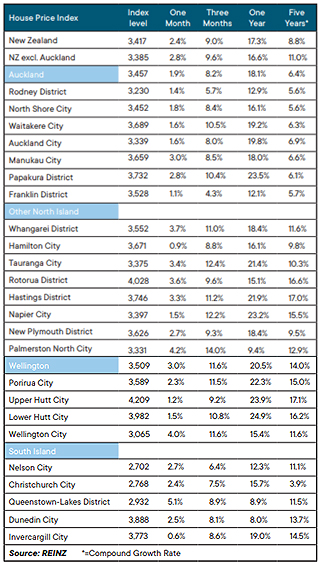 Median days to sell lowest in 17 years
In December, the median number of days to sell a property nationally decreased 4 days from 31 to 27 when compared to December 2019, the lowest in 204 months (since December 2003).
Across the country, 14 out of 16 regions had a median number of days to sell of less than 30 days which is the highest on record. Only Northland and the West Coast were exceptions.
For New Zealand excluding Auckland, the median days to sell decreased by 4 days from 30 to 26.
Auckland saw the median number of days to sell a property decrease by 5 days from 34 to 29, the lowest for the month of December in 17 years.
Taranaki had the lowest days to sell of all regions at 20 days – down 7 days from the same time last year. This was the lowest days to sell for Taranaki since records began. Additionally, Waikato (24), Bay of Plenty (27) and Manawatu/Wanganui (21) had record low median days to sell.