The new tax rules on residential investment properties mean the days of investors mortgaging up to the eyeballs are probably over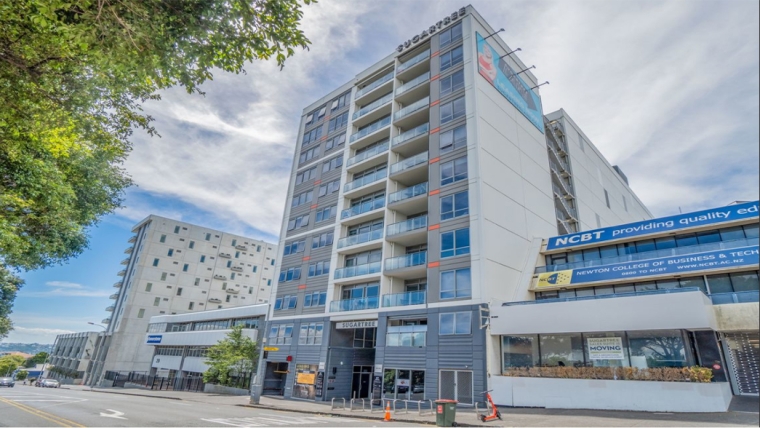 The amount of debt they are carrying is likely to be the key determinant in whether landlords retain or sell their residential investment properties under the new tax rules announced by the Government last week, which will make mortgage interest a non-deductible expense.
There has been plenty of huffing and puffing about the changes since they were announced but to see how they could affect investors in the real world, interest.co.nz looked at their potential impact on a fairly typical rental property in Auckland.
It was a one bedroom apartment in the Sugartree Prima building, high on the Union St ridge on the fringe of the CBD.
This was a fairly new development about three years old and the apartment had a floor area of 50 square metres and came with a car park, so could appeal to both investors and owner-occupiers, particularly first home buyers.
It was rented for $520 a week, which gave a potential gross rental income of $27,040 a year and when it was auctioned by Ray White City Apartments on March 18, a week before the tax changes were announced, it sold under the hammer for $491,000.
For illustrative purposes, let's assume an investor was able to purchase it with a 20% deposit ($98,200), which would have been possible up until the end of February when Loan to Valuation Ratio restrictions were re-introduced by the Reserve Bank.
That would require a mortgage of $392,800 and the payments on that would have been about $18,694 a year (at 2.53% with a 30 year term).
On top of that the landlord would have to pay $1600 a year in rates and $4194 in body corporate fees, taking the major outgoings to $24,488 a year.
That would leave free cash flow of just $2552 a year, out of which would have to come any incidental expenses.
If the property became vacant for a period of time that would reduce the free cash flow as well.
So under that scenario, the property probably wouldn't be generating much, if anything, in the way of cash, and that's before taking tax into account.
Rental income is taxable, but the investors would be able to reduce their taxable income by offsetting against it the body corporate levy, rates, other incidental expenses and, under the current rules which will eventually become redundant, the interest portion of their mortgage payments.
Interest.co.nz estimates that would reduce taxable rental income to around $11,300 a year, which at the 33% tax rate would give a tax bill of $3729.
That would definitely put the investor underwater as far as cash flow goes, and they'd need to be dipping into their savings or income from other sources to pay the bills the property generated.
In the olden days before vaping and smashed avocados had been invented, residential property investment was supposed to provide a safe, secure and reliable income stream, but the example above indicates how far things have moved away from that model and been replaced with speculation based on capital gain.
The only reason a so-called investor would be prepared to take on an investment that not only provided no income, but that they also had to keep topping up with money from other sources, would be because they expected to make a handsome capital gain when they sold it.
When median and lower quartile house prices have been increasing by tens of thousands of dollars a month as they been recently, topping up your rental property's outgoings by a couple of thousand dollars a year might seem like a pretty good deal.
But what happens when the tax rules change and mortgage interest costs can  no longer be offset against rental income?
In the example above, that would increase the investor's tax bill up to about $7000 a year (at 33%) or $8285 (at 39%), which would mean the investor would be out of pocket by around $4500 a year and maybe more.
Having to stump up that much cash could start to put a bit of a strain on some investors' finances and if the rampant capital gains of late start to wane, it might well cause some investors to cash up and exit the market.
However, there is another factor to consider.
From May 1, investors will need a 40% deposit to buy a residential investment property.
In the example above, that would reduce the size of the mortgage to $294,600, which would in turn reduce the mortgage payments to around $14,000 a year.
That in turn would increase the free cash flow (before incidental costs and vacancy) to about $7200 a year.
By co-incidence, that is within a couple of hundred dollars of the annual tax bill for an investor on the 33% tax rate.
So from the investor's cash flow perspective, stumping up a 40% deposit instead of 20%, turns it from an investment that requires a cash top up of say $5000 or so a year, to one that more or less breaks even.
That means they'd be under less financial strain, but still wouldn't be getting much of an income from their investment, if they get anything.
But if they are likely to get a significant capital gain when they sell, that option would be very tempting, even if the sale was caught by the extension of the bright-line test.
It's possible the new tax rules could exclude an exemption for new builds once the details are finalised and if that's the case,we could see some investors selling their existing residential properties and putting their money into new developments, which could be good for housing supply.
But either way, the days of mortgaging up to the eyeballs to buy residential investment properties are probably over.
Those investors who do stay in the game are likely to have plenty of equity to play with, and mortgages of 50% or less of a property's value are likely to become the new norm, especially as interest rates rise.
Where does all of this leave first home buyers?
After all, the Government's stated objective in introducing the tax changes was to "level the playing field for first home buyers."
In the example of the apartment sale that was used above, the tenant was paying $520 a week in rent, or $27,040 a year.
If they purchased the unit for at its sale price of $491,000 with a 20% deposit ($98,200), the payments on the mortgage and the rates and body corporate fees would come to $24,488 a year, or $471 a week.
That's nearly $50 a week less than their current rent.
So if you were in that situation, why wouldn't you buy it?
The comment stream on this story is now closed.
You can have articles like this delivered directly to you inbox via our free Property Newsletter. We send it out 3-5 times a week with all of our property-related news, including auction results, interest rate movements and market commentary and analysis. To start receiving them, go to our email sign up page, scroll down to option 6 to select the Property Newsletter, enter your email address and hit the Sign Me Up button.