House prices were particularly soft in Auckland in April, with prices heading down on the North Shore and in Central Auckland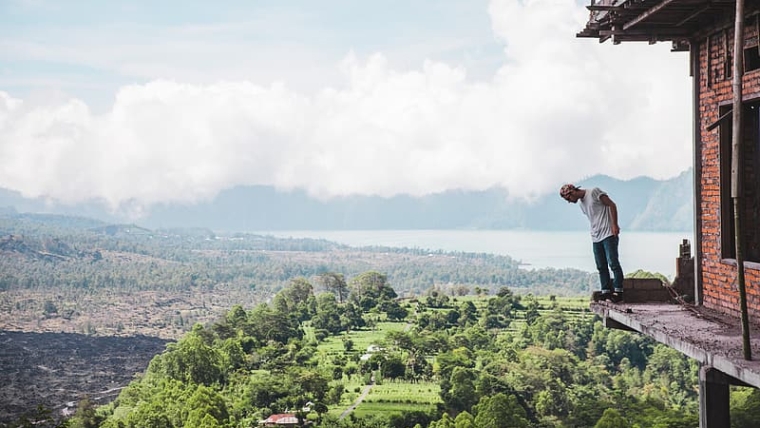 House prices came off the boil in most parts of the country in April, according to the Real Estate Institute of New Zealand's House Price Index (HPI).
The HPI was developed in conjunction with the Reserve Bank. It takes into account the effect changes in the mix of properties sold each month have on prices, giving a better indication of overall price movements than either median or average selling prices.
It shows that price growth eased back considerably in April compared to March and declined in some regions.
Overall prices across NZ increased by just 0.6% in April, down from 2.7% price growth in March, while across the Auckland region prices decreased by 0.2% in April compared to an increase of 2.3% in March.
The decline in Auckland was led by the North Shore where prices declined by 0.9% in April compared to a rise of 3.8% in March.
Prices were also softer in Auckland's central suburbs where they declined by 0.7% in April compared to a rise of 0.7% in March, while prices in Rodney were flat in April compared to a rise of 3.8% in March.
However price growth was still a feature of the market in Waitakere, Manukau, Papakura and Franklin, although in all of those districts price growth was well down in April compared to March.
Across the rest of the country (excluding Auckland), price growth slowed to 1.2% in April compared to 3.0% in March.
Other areas to show price declines in April were Hamilton -1.8%, (+4.6% in March), Upper Hutt -2.3% (+1.9% in March) and Nelson -0.4% (+4.7% in March).
However four districts went against the trend and showed greater price growth in April than they did in March.
They were Hastings 4.1% (3.6% in March), Wellington City 3.3% (0.1% in March), Queenstown-Lakes 1.7% (0.7% in March) and Dunedin 0.5% (-0.4% in March).
The table below shows the REINZ's HPI for April in all main urban districts.
The HPI for March in available here.
The comment stream on this story is now closed.
REINZ House Price Index April 2021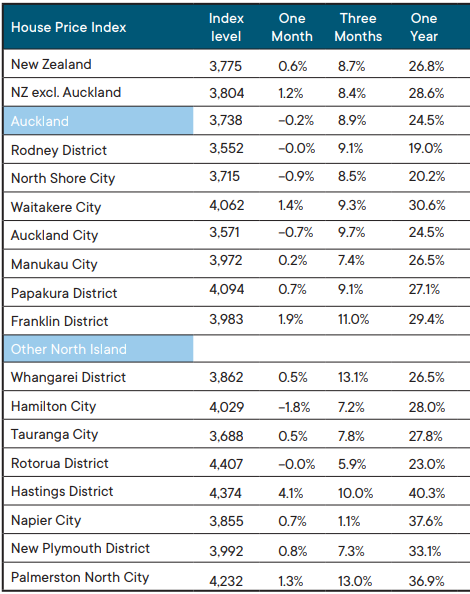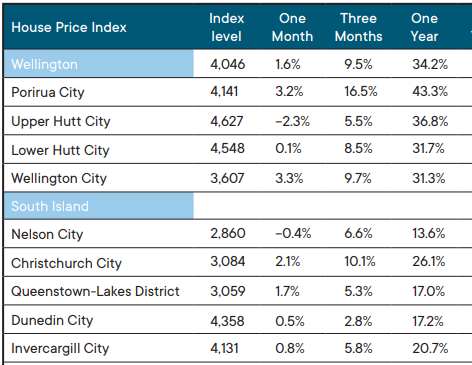 You can have articles like this delivered directly to your inbox via our free Property Newsletter. We send it out 3-5 times a week with all of our property-related news, including auction results, interest rate movements and market commentary and analysis. To start receiving them, go to our email sign up page, scroll down to option 6 to select the Property Newsletter, enter your email address and hit the Sign Me Up button.