Latest Home Loan Affordability Report figures suggest house prices at the bottom of the market may be flattening - but Auckland's still a problem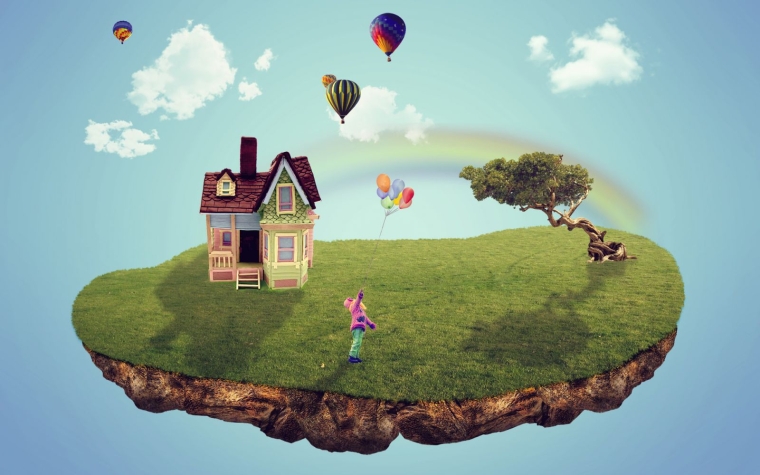 By Greg Ninness
The Government's efforts to rein in house prices may be starting to produce results, with early signs prices at the bottom end of the market are stabilising, according to interest.co.nz's Home Loan Affordability Report.
The Real Estate Institute of New Zealand's national lower quartile selling price rose only marginally to $592,500 in May, from $591,000 in April. And both figures were lower than the record high lower quartile price of $598,000 set in March.
Of the REINZ's 12 sales regions, the lower quartile price was down in May compared to April in six - Northland, Waikato, Bay of Plenty, Hawke's Bay, Wellington and Otago, and unchanged in Southland .
The lower quartile price was up compared to April in five regions - Auckland, Manawatu/Whanganui, Taranaki, Nelson/Marlborough and Canterbury.
However the changes, whether up or down, were mostly small, and suggest an overall flattening of lower quartile prices rather than any significant shifts. And the spectacular price gains evident in the second half of last year and early this year appear to be over.
So while upward price pressures may have eased for first home buyers, they won't be getting any bargains. Nor will they be getting much in the way of extra help from movements in mortgage interest rates.
The average of the two year fixed mortgage rates offered by the major banks declined marginally to 2.52% in May, after sitting at 2.53% for the previous three months. That's a record low since the Home Loan Affordability report was first produced in 2002.
Any further falls in rates this year are also likely to be marginal at best and longer term mortgage rates have already started to rise, with shorter term rates expected to follow them up next year.
The tables below show the main measures of housing affordability in each region, based on a couple both working full time at the median rates of pay for 25-29 year olds, and purchasing a home at the lower quartile selling price in each region. Separate figures are provided for making the purchase with a 10% deposit and 20% deposit.
The striking thing about these figures is that the numbers for Auckland stand out from those for the rest of the country like a sore thumb.
With the exception of Queenstown, first home buyers outside Auckland should find the mortgage payments on a lower quartile-priced home relatively affordable. Their mortgage payments are likely to eat up around a third or less of their take home pay, even if they purchased the property with just a 10% deposit which would mean paying higher interest rates for a low equity loan.
But in Auckland, the mortgage payments on lower quartile-priced home bought with a 10% deposit would eat up almost 43% of a typical first home buying couples after-tax pay, pushing the city well into unaffordable territory even though interest rates are at historic lows.
Anyone in that position would be left especially vulnerable to interest rate rises or a loss of income.
And it would take a typical first home buying couple 4.6 years to save a 10% deposit for a lower quartile-priced home in Auckland, assuming they could save 20% of their after-tax pay every week.
If they wanted to save a 20% deposit it would take them 9.3 years.
So although the figures suggest the housing affordability beast may have been contained for the time being, it has certainly not been tamed.
The comment stream on this story is now closed.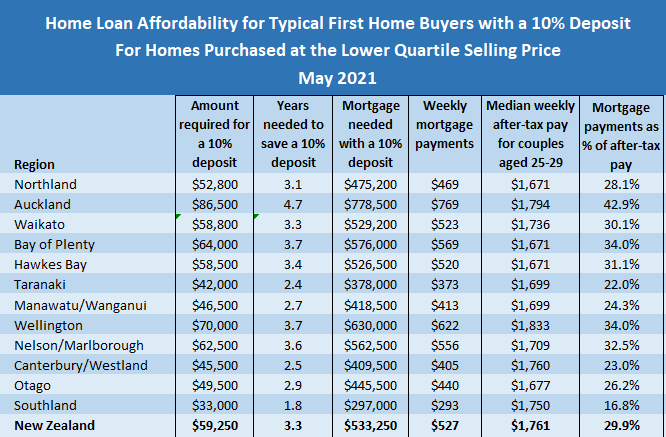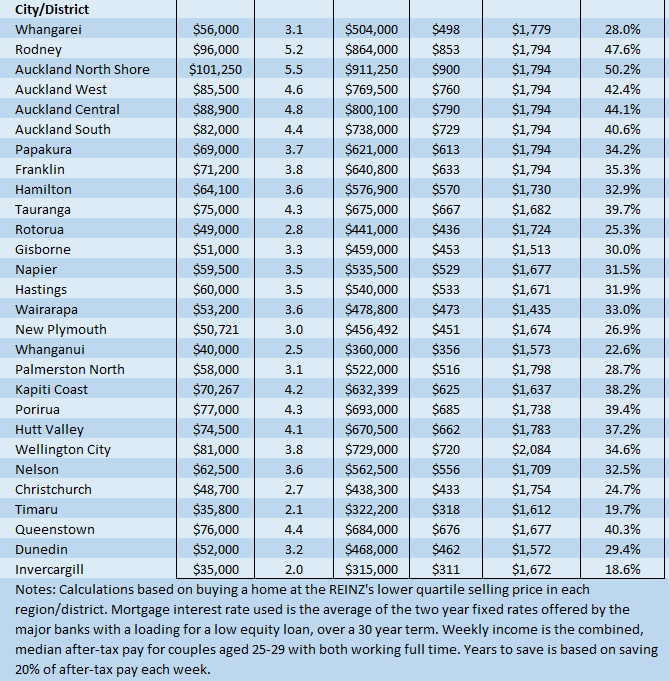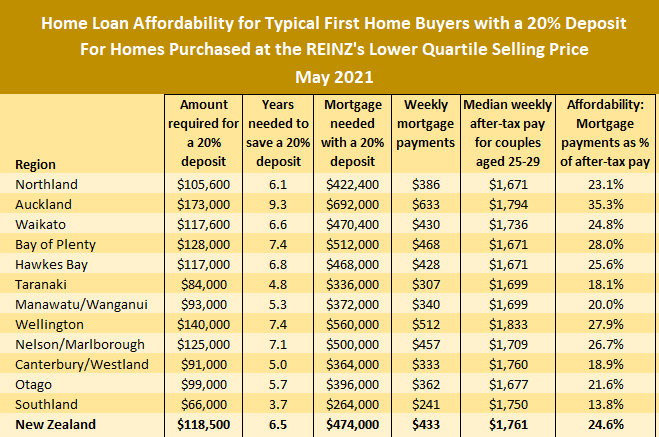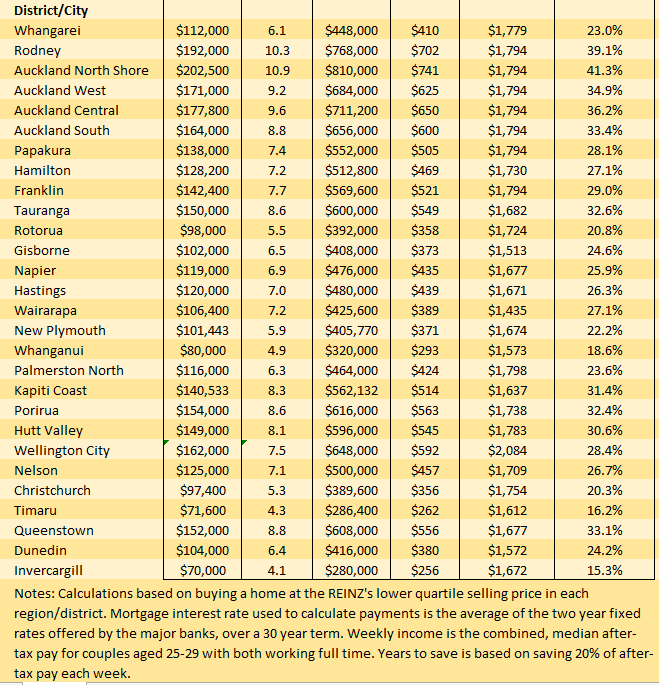 *This article was first published in our email for paying subscribers. See here for more details and how to subscribe.