Government says ACT's call for build-to-rent accommodation to be exempt from the foreign buyers ban is unnecessary and will open the door to speculators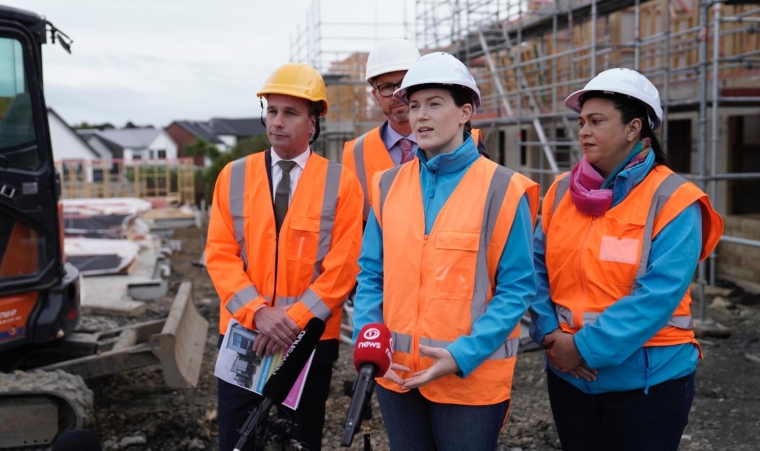 Environment Minister David Parker says ACT's suggestion for a carve out to be made in the foreign buyers ban for build-to-rent accommodation is unnecessary and will open the door to speculators.
ACT is calling for the Overseas Investment Act to be tweaked to specifically exempt build-to-rent accommodation from restrictions on foreign investment.
Asked by interest.co.nz whether he would consider making the change, Parker said: "No, we are not planning to change the law. There is adequate provision in the existing law for overseas investors to build-to-rent homes if they are adding to the supply of houses available to New Zealanders."
Under the existing law, foreign investment in non-sensitive residential land is allowed if the investor intends to increase the number of dwellings on the land.
The investor can hold on to the dwellings if they build 20 or more. If they build any less, they have to on-sell.
Parker said: "That hardly seems like an onerous test for anyone building new dwellings that add to supply."
Foreign investment in a "long-term accommodation facility" is also allowed. The law specifically says this includes retirement villages, rest homes and student accommodation. ACT wants build-to-rent accommodation added to the list.
This would mean the foreign investor wouldn't have to add 20 new dwellings to be given the thumbs up to own the dwellings. They could own the "long-term accommodation facility" if they add just one new dwelling to it.
Parker therefore accused ACT of simply being "interested in opening the door to overseas speculators".
However, ACT said the existing law limits investment, as investors who build long-term rental accommodation struggle to sell their property on to other overseas investors.
"We should aspire for New Zealand to be a place where people want, and are able, to send their money, to provide for more development opportunities and choice of housing," ACT's housing spokesperson Brooke van Velden said.
She couldn't provide interest.co.nz with an example of an overseas investor, interested in developing build-to-rent accommodation in New Zealand, who had been blocked from doing so.
Directing some GST revenue to local government
ACT has also released a new policy aimed at funding infrastructure.
It suggests central government shares half of the GST collected on a newly built house with local government.
ACT said this would incentivise councils to encourage more house building. Currently, new developments, requiring roads, water and sewage connections, are costing ratepayers.
"These costs act as a disincentive for councils to approve new houses and subdivisions," ACT said.
Housing Minister Megan Woods declined to comment on the policy suggestion.
The Government is trying to address the same issue as ACT by inviting councils to apply for funding for infrastructure to support housing from its new Housing Acceleration Fund.
Rather than give councils the ability to generate more revenue themselves, the Government effectively wants a say in who gets what, and what it's used for.
The first draw-down from the $1 billion contestable part of the fund was made today (Tuesday), and will support a housing development in Porirua. 
The Government has also passed legislation enabling property owners who benefit from new infrastructure to contribute to the cost of that infrastructure through targeted rates.
However, the powers under this Infrastructure Funding and Financing Act 2020 haven't been used yet.