More than 14,000 new homes a year being built in Auckland and that could increase by a third in the next 2 years
The number of new homes being added to Auckland's housing supply continues to surge and could increase by another third over the next two years.
The latest figures from Auckland Council show that 1532 new dwellings were completed in the region and received a Code Compliance Certificate (CCC) in June this year.
That was the second highest number in any month of the year since the Council began compiling the figures at the beginning of 2013, only surpassed by the 1581 CCCs issued in November last year.
Those numbers show no sign of slowing down, with 14,421 new dwellings completed in the year to June, up 31% compared to the 12 months to June last year, and up 58% compared to the 12 months to June 2019.
That upward trend is clearly visible in the graph below.
Code Compliance Certificates are issued when a building is completed and ready for occupation, unlike a building consent which is issued before construction starts.
On average in Auckland there is about a two year gap between a consent being issued and a CCC being issued and there is a close relationship between the two numbers when when the figures are offset by two years.
---
Supporting us gets rid of ads. Find out more.
---
For example in the year to June 2019, 14,032 new dwelling consents were issued in Auckland, which corresponds reasonably closely with the 14,421 CCCs issued for new dwellings in the year to June 2021.
However in the 12 months to June this year, 19,036 new dwelling consents were issued in Auckland, suggesting that although the number of dwellings being completed in the region is already running hot, it could still increase by around a third over the next couple of years.
If that trend continues, the number of homes being built in Auckland each year could top the 20,000 mark in the next 2-3 years.
The comment stream on this story is now closed.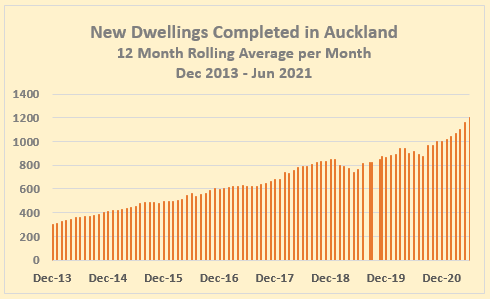 You can have articles like this delivered directly to your inbox via our free Property Newsletter. We send it out 3-5 times a week with all of our property-related news, including auction results, interest rate movements and market commentary and analysis. To start receiving them, go to our email sign up page, scroll down to option 6 to select the Property Newsletter, enter your email address and hit the Sign Me Up button.