Commercial property syndicators' slice and dice properties bought for at least NZ$1.5 billion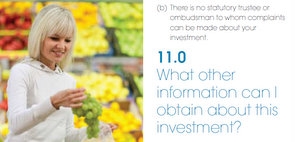 By Gareth Vaughan
What do three Taranaki accountants, a building in Whangarei, the BNZ, WINZ, Jenny Craig, the Police, Barfoot & Thompson, and Irongate Properties have in common?
They all play a role, in one way or another, in a new commercial property syndicate where investors won't be able to sell their holdings without written consent from the manager and where, potentially, investors could be lumbered with a share of the syndicate's debts.
Maat Consulting Ltd, whose directors and shareholders are Taranaki-based accountants Mark Hughson, Bruce Ellis and Bryan McFarlane plus Wanganui-based financial adviser Neil Tuffin, is offering 296 slices at NZ$25,000 each in the land and buildings at 4 Albert Street, Whangarei.
Investors must buy at least two slices each with Maat looking to raise NZ$7.4 million. That's more than the NZ$7.2 million raised from the public by scented candle maker Ecoya in one of just two initial public offerings on the sharemarket this year.
Tenants in the building include the Ministry of Social Development – both WINZ and CYFS, the Whangarei District Council, the Police and Jenny Craig. The BNZ has loaned NZ$5.64 million (over three years at an indicative interest rate of 6.31%) towards the NZ$12.55 million cost of buying the building from St. John Whangarei Ltd, a holding company for Irongate Properties which itself is a subsidiary of failed finance company St Laurence. However unlike St Laurence, Irongate isn't in receivership.
The Whangarei property will be acquired and held by nominee Walton Plaza Investments Ltd and will carry leverage of 46%. Offeror, manager and promoter of the scheme, Maat Consulting, is making the offer which was due to close yesterday afternoon, through Barfoot & Thompson.
New data base for property syndication
The Maat offer, and another from fellow Taranaki-based group KCL Investments Ltd, come as interest.co.nz begins compiling a data base of commercial property syndications, or proportionate property ownership schemes. Based on our research to date, such schemes have made property purchases worth more than NZ$1.5 billion.
This excludes other forms of property syndication such as farm syndicates. In this space an offer from Bayleys on behalf of farm investment company MyFarm is seeking up to 25 investors to stump up a minimum of NZ$250,000 each into the syndication of a yet to be developed Canterbury dairy farm. MyFarm says last year it placed 45 investors into six properties in New Zealand and two in Australia with a net asset value of about NZ$65.7 million.
Meanwhile KCL Investments' latest offer, being made through Russell Moore AREINZ, is looking to raise NZ$11.25 million by selling 225 slices in New Plymouth's Valley Mega Centre, where a Countdown supermarket is the core tenant, at NZ$50,000 each. The offer is scheduled to close on December 17. KCL Investments' directors are Bryce Barnett and Phillip Hinton. This Vickers Road Syndicate will be managed by KCL Property Management, whose directors are listed as Christopher Klaassen and Lewis Thompson.
The Valley Mega Centre is being bought for NZ$19 million from the Sydney-based Brookfield Funds Management with the help of a NZ$8.59 million five year ASB non-recourse loan. ASB will be paid interest at 2.3% above the bank's 90 day bill rate, which in the syndicate's cashflow assumptions is assumed to be 5.55%.
Added to the purchase price are a whopping NZ$$737,508 of establishment costs including a NZ$343,000 offeror's fee and NZ$225,000 of brokerage and commission. KCL Investments had the property valued at NZ$19.4 million by CB Richard Ellis.
The Offeror's Statement boasts that the KCL Property group of companies has been active in property syndication since the mid 1990s and currently manages 60 active property syndicates with total assets under management of more than NZ$450 million across 130 commercial properties. Bryce Barnett is listed in Companies Office records as the sole director and shareholder of KCL Property Group.
Exemption from prospectus & independent supervision
Both the Maat and KCL Investments offeror's statements note the offers are exempt under the Securities Act (Real Property Proportionate Ownership Schemes) Exemption Notice 2002 from requirements to register a prospectus and to appoint an independent supervisor to monitor investors' interests.
Maat also notes investors can't sell their interest in the scheme without obtaining the prior written consent of the manager. KCL points out there is no statutory trustee or ombudsman to whom investors' can take a complaint to.
For the Vickers Road Syndicate, KCL Investments is forecasting pre-tax cash returns to investors' of 9.25% per annum. And for its Whangarei scheme, Maat is projecting pre-tax cash returns of 10% per annum during the first three years of operation. Both forecasts are based on surplus cash available for distribution on an annual basis and don't take account of any retained profits or losses that could result from rental activities. Furthermore, no allowance has been made for any capital gains or losses which might occur based on changes to the underlying market value of the property.
Securities Commission warning
The Securities Commission warned last year that property syndicates could be risky. The commission said such schemes, where ownership of a property is split into equal shares with individuals buying one or more shares each, aren't required to produce a registered prospectus or investment statement. Instead, they must provide a disclosure document, called an offeror's statement, and an independent registered valuer's report before signing up investors.
"These schemes work differently to other kinds of investments, and their risks need to be understood," the commission said.
The regulator cautioned that investors need to think about how to get out of a scheme.
"Given the lack of a formal market, it might be difficult to on-sell your interest, particularly if the scheme isn't performing well. Find out how it will eventually be wound up. Some schemes continue indefinitely until investors vote to wind up. In this case, you need to understand how many votes are needed - if a majority vote is enough, the scheme might be wound up against your wishes."
And the commission also said those investing in a property syndicate could end up sharing its debts.
"Someone investing in this type of property syndicate may also be agreeing to share its debts and liabilities, jointly or severally. This means that if the syndicate can't pay its debts or fund repairs, investors may have to make up the shortfall. In fact, each investor may be liable for the whole amount. You may end up owing money to the syndicate."
The Maat offer notes investors' liability may not be limited to the amount available for distribution out of the scheme.
"Subscribers may be jointly and severally liable to pay money to any person," the Offeror's Statement says, adding that given the nature of the risks it isn't practicable to quantify those risks/liabilities.
However, KCL Investments' Offeror's Statement notes its investors' won't be liable to pay money to any person as a result of the scheme becoming insolvent other than expenses payable to manager KCL Property Management. It also says that although an investor is entitled to sell their stake, they must first offer it to existing investors and manager KCL Property Management is entitled to a NZ$1,000 fee, plus GST, for the sale of a stake to a non-related party. They could potentially also be stung with legal and valuation fees.  A non-related party is described as not a relative, family trust or trust related to the investor.
Regulatory changes ahead
The Financial Markets Authority (FMA), the Government's new financial markets "super regulator" due to come into existence next April, is set to increase the regulatory oversight of property investment schemes.  A greater regulatory focus on property investment per se, is understood to be - at least in part - related to the demise of Blue Chip, which collapsed in 2008 owing at least 3000 investors about NZ$84 million. A Securities Act review currently underway is also likely to result in increased regulatory supervision of property syndicates.
Simon Botherway, chairman of the FMA Establishment Board, says the new regulator will also have so-called "call in powers" enabling it to pull in financial products structured to skirt around the fringes of securities regulation.
A nice little earner
Maat will receive NZ$155,000 plus GST for establishing its  syndicate, a brokerage fee of about 2.25% per proportionate interest plus GST for each slice sold, an annual management fee equal to 2.5% per annum plus GST of the rent paid by the tenants (meaning a fee of NZ$41,040 for 2011), an annual accounting fee of NZ$5,000 plus GST and annual syndicate servicing fee of NZ$5,000 plus GST.
And if the property's sold, Maat will get an exit fee equivalent to 2% of the profit achieved on the net sale price, being the sale price less sale costs and the acquisition cost of NZ$13 million which is the purchases price plus NZ$497,500 worth of syndicate establishment costs. The Property has been valued by Telfer Young Whangarei at NZ$12.6 million as of October 28 this year.
Meanwhile, KCL Management will receive an annual management fee of 4.25%, plus GST, of rental income which is forecast to be NZ$1.73 million for the March 2012 year. The manager is also in line for an annual syndicate servicing fee of NZ$11,250 plus GST, a NZ$5,000 annual accounting fee, facilitation fees for new leasing, refinancing fee, fees for project work and development if any is necessary, and 2% of the sale price if the property is sold.