Barfoot and Thompson makes half all Auckland house sales in January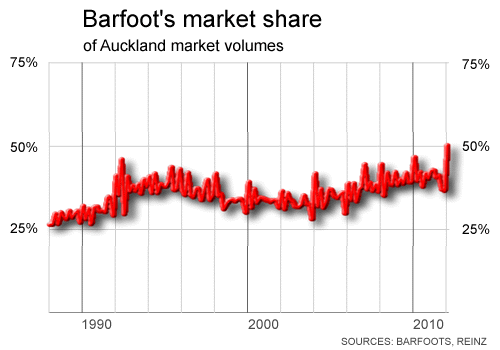 By Gareth Vaughan
Barfoot & Thompson, which usually makes between one-third and 40% of monthly Auckland house sales, saw its market share jump to 50% in January as nationwide house sales collapsed to their lowest monthly level since the Real Estate Institute of New Zealand (REINZ) started recording the figures in January 1992.
Barfoot & Thompson sold 563 of the 1,115 houses sold in Auckland last month, giving it 50.5% market share. That's up from just 36.7% market share in December  and 47% in January 2010 when the firm sold 583 properties.
It's the highest monthly market share achieved by Barfoot & Thompson in more than 20 years worth of house sales tracked by interest.co.nz.
Barfoot & Thompson managing director Peter Thompson told interest.co.nz he'd like to think the company's strong market share came about because its staff were doing a good job and people saw the real estate agent as the market leader. Typically the firm made 38-40% of Auckland house sales excluding Northland.
"It'd be fantastic (to stay at higher market share levels) if we can and that's our goal," Thompson said. "What we find is when the market gets tougher, we tend to do a lot stronger. When there are a lot more sales, then our market share decreases a little bit."
It was "disappointing" to see the overall sale numbers so low but Thompson said sales activity had shown more life in the last week to 10 days.
"Last week we sold 226 properties (and) when we compared it to the same week of last year it was 219," Thompson said. "That was the first time in most probably three and a half months that we've actually been ahead of the corresponding time the year before."
REINZ said on Friday there were just 3,252 nationwide sales in January, down from 3,666 in January 2010, the previous monthly low since REINZ records began.