New Zealand house prices overvalued by 15%-25%, prices to rents by up to 43%, says International Monetary Fund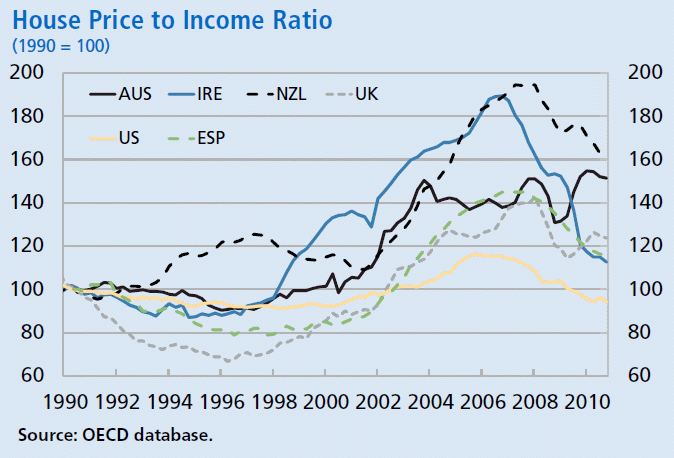 By Gareth Vaughan
New Zealand house prices appear to be overvalued by between 15% and 25%, the International Monetary Fund says in a country report on New Zealand.
The IMF says that using the Organisation for Economic Co-operation and Development's house price-to-income ratio in September 2010 suggests an overvaluation of about 15% when compared with the average of the past 20 years. However, it notes that the income measure used by the OECD doesn't take into account Statistics New Zealand's recent upward revision to household income.
Nonetheless the IMF says model based estimates that take account of income, demographics and interest rates suggest an overvaluation of 15% to 25%. And a model that includes demographics, mortgage interest rates, and the country's terms of trade as a proxy for future income, indicates that house prices are overvalued by about 15% to 20% from a medium-term perspective.
"The models suggest that a 10% fall in the terms of trade could result in an 8% fall in house prices over the medium run," the IMF says.
The IMF notes that real house prices rose by 150% in the 15 years to 2007, one of the strongest increases among advanced countries, and that they have since fallen by more than 10%. The IMF does note that some of its measures have weaknesses, adding to the uncertainty of the estimates.
Meanwhile, the IMF also says - based on the OECD's price-to-rent ratio, that houses are overvalued relative to rents by 43% compared with the past 20 years.
"However, the measure includes government subsidised rents which has pushed up the ratio over time as subsidised rents decreased, most noticeably  in 2001. An alternative measure excluding subsidized housing suggests an overvaluation of 15% to 27% when compared with historical averages."
(This article has been corrected to make clear the report says house prices are overvalued relative to rents by up to 43%, rather than rents being overvalued by 43%.)