Labour's capital gains tax will also cover business sales, shares and other assets; Won't be retrospective - Radio NZ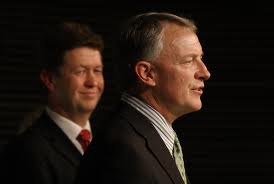 Labour's pending capital gains tax policy will cover more than just investment properties, with the sale of businesses, shares and other individual assets to be included as well, Radio New Zealand reports.
Meanwhile, 3News reported tonight sources said farm sales would also be covered by the capital gains tax Labour would introduce if it led a government after the November 26 election.
The tax will exclude the family home, and would  not be retrospective, meaning the value of a capital gain would be assesed from when the policy was implemented, Radio NZ reported this morning, citing Labour Party sources.
Labour is tipped to introduce a tax of 15% on capital gains.
Tax Working Group figures from 2009 show a capital gains tax of about 30% on all assets other than owner-occupied housing would raise about NZ$4.5 billion a year once revenues peak. Evidence from Australia showed it took about 15 years for revenues to peak. A 15% tax would therefore be raising just over NZ$2 billion a year at its peak.
Greens pipe up on long-standing policy
Meanwhile, the National Government's "tinkering" with the rules around investment properties was a job creation scheme for tax accountants and lawyers but did not address the underlying problem of the tax system's preference for investment property, Green Party Co-leader Russel Norman said on Thursday morning.
"Bill English has created a tangle of new rules around investment properties in an attempt to fix the tax-incentives for housing speculation. But it won't work as well as comprehensive tax on capital gains. In fact, it's likely to create jobs for tax professionals to get around more complex rules," Norman said in a media release.
"Introducing a tax on capital gains (excluding the family home) is a much simpler solution than adding more complexity. And overseas experience shows it actually works," Norman said.
New Zealand investors currently faced a tax incentive to invest for tax-free capital gains, rather than investing in areas where their money is going to be the most productive, as elsewhere throughout the OECD.
"A capital gains tax is a critical component of rebalancing our economy that no amount of tinkering by Bill English will fix. It would help shift investment out of property speculation and into the productive sector," Norman said.
"A capital gains tax would restore the right incentives for investment in our economy. That's why the OECD, Treasury, the IMF, and the Government's own Savings Working Group support a tax on capital gains. Nearly every other country in the OECD has a capital gains tax. South Africa successfully adopted one in 2001 disproving many of the criticisms currently being raised by the Key Government," he said.
"By defending the status quo, John Key and Bill English are looking increasingly out-of touch. They are playing politics with what should be a serious national policy issue. Rod Donald called for a capital gains tax in 2003 and it's heartening now to see Labour adopt good economic policy that will boost our productive economy."
See the Tax Working Group's background paper on capital gains taxes here - see chapter 7 (pp 46-47) for the likely revenue streams.
See John Key's comments on the supposed Labour policy here.
See background on Labour's upcoming economic policy here.
See Tax Working Group chair Bob Buckle discussing CGT here (published Thursday morning).
From the Tax Working Group
The TWG's 2009 background paper on capital gains taxes included this table and comments on pages 46-47 of possible revenue that could be raised by such a tax in New Zealand:
We estimated the potential revenue by doing a high level analysis of the likely revenue to be generated from the assets most likely to produce revenue – land and shares.

The following table illustrates projected revenues from capital gains taxes applied to land and shares assuming those assets continue to appreciate at their historical real rates, and inflation is 2%.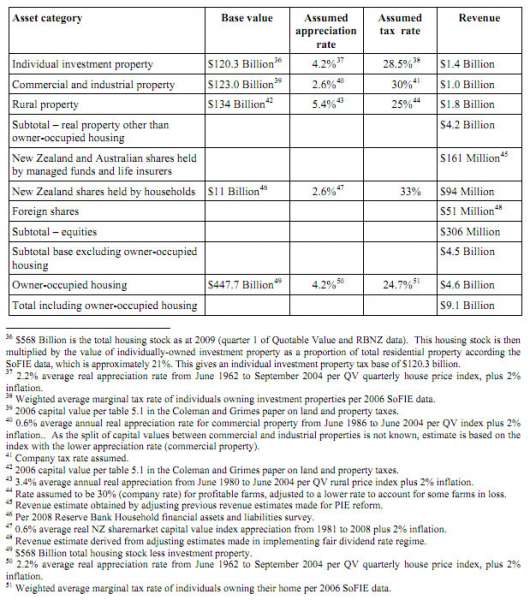 Appreciation rates were taken from QV indexes for real property and NZX and other share market capital indexes for shares.  Appreciation rates were taken for the longest possible period up to the most recent valuations.  In the case of real property, the index was taken for the longest period up to the most recent valuation or up to September 2004 if less, as QV changed its index methodology at that time in a way which may not have controlled for changing quality of stock as well as the earlier methodology.

The revenue estimate was calculated by forecasting the tax on capital gains as they accrue.  A realised capital gains tax would earn something near this but less than this (even after accounting for the fact that realised gains may include multiple years of appreciation).

The total forecast revenue should be reduced by amounts we tax now as disposals of revenue account property that are included in the above table, such as real property.  Unfortunately, we do not have the information to make that adjustment.

It should be noted that the revenue estimate is highly sensitive to the assumed appreciation rate.  A one percentage point change in the  assumed rate of appreciation of real property results in an approximately $1 billion effect on revenues.  It also appears that in many cases most of the expected appreciation is the result of inflation.

Significantly, this estimate does not account for the effect of any transition.  If existing assets are grandfathered it could take some time before a large asset base is subject to the regime. 

Australia introduced its capital gains tax from 1985/86 and grandfathered existing assets. The following graph shows how  it took about 15 years after introduction before revenues peaked, and it also shows how volatile the revenues are even after 15 years.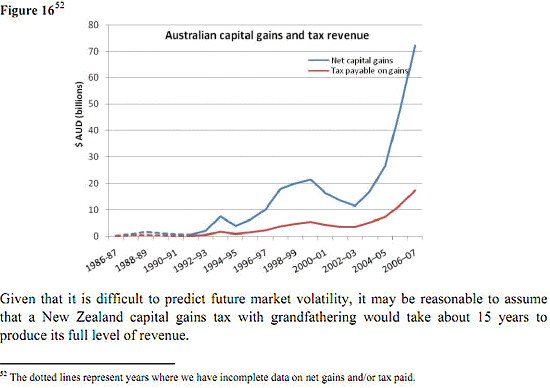 (Updates with 3News reporting farms to be covered too, Green Party comment, charts, comments from TWG paper, link to TWG report on cap gains tax)