NZ house prices down 11% since April 2007 in inflation-adjusted terms, which is biggest fall in real house prices since stagflation of 1970s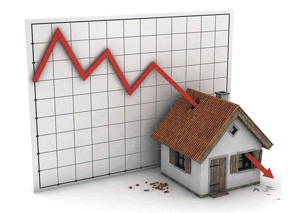 By David Chaston
House prices have now stagnated for more than four years, their longest period since the 1988-1993 plateau.
And it's not over yet.
On an inflation-adjusted basis, this current period also represents the biggest decline in real house prices in almost 30 years.
Capital gains for most of the market have evaporated. Capital losses are a real prospect.
CPI inflation has risen to over 5.3% per annum in the latest quarter, and we are entering a period where housing debt is being inflated away. Savers are paying the price, but borrowers may also be risking their equity.
For the 51 month period from April 2007, median house prices in New Zealand rose just 3.2% from NZ$349,000 to NZ$360,000.
Over this same period, the CPI index rose from 1010 to 1157, up 14.6% over these 17 quarters.
On this basis, real inflation-adjusted house prices have fallen 11.4%, the second largest fall since records began in 1963, a period of 48 years.
We are probably in the middle of this period of nominal house price stagnation. We also seem to be entering a period of high inflation. The combination will drive real house prices down.
These latest trends are just one third of the fall in real terms that the New Zealand real estate market went through in the seven years from 1974 to 1980. At that earlier time, nominal prices rose more than 6% per year but average inflation over this period was more than 15% per year. The net result was a whopping fall in real house prices of more than one third over seven years - a decline of 36%.
The last time prices stagnated in nominal terms was between January 1997 and July 2001, a 55 month period when national median prices rose 6.3% from NZ$160,000 to NZ$170,000, or just 1.4% per year.
Over this period inflation was especially low and the CPI index rose from 823 to just 876, up 6.4%, which meant that house prices declined -0.1% in real terms in those four and a half years.
For most markets in New Zealand, housing is no longer a hedge against inflation. In fact it hasn't been since mid 2007. Although there is no way to know how long the current stagnation will last, public policy seems to be shifting to accept - even encourage - a shift away from 'investing in real estate'. The current trends may well last as long as, or even longer than, the ten year stretches 40 years ago. We could be less than half-way through the cycle.
* Data on median house prices from 1992 is from the REINZ database. Prior to 1992 the data is based on Statistics NZ long-run data series. CPI data is from Statistics NZ.