Opinion: Olly Newland says now is the time to invest but warns about the rise of 'spruikers'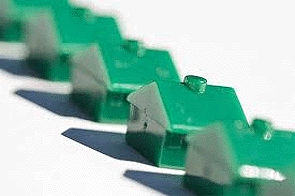 By Olly Newland

We are now nearing the end of the year … and now seems a good time to reflect on the year past - and indeed on the past three years since the Global Financial Crisis struck.
For most of us it is business as usual, although let's admit there were many who were seriously hurt by events.
The collapse of many finance companies and developers, followed by high profile prosecutions seems clear evidence that parts of the 'investment community' had over reached themselves in their rush to get rich quick.
Through all this, the vast majority of the property market in NZ both residential and commercial, carried on - affected far less than anticipated in the main by events both here and overseas.
Unlike some other countries which had experienced a building boom of unprecedented proportions (e.g. USA, Spain, Ireland) here in New Zealand, being a small country, our construction industry was unable to be quite so reckless. With the exception of high profile extremes, and, sure, a downturn in the industry like others, our construction sector came through relatively unscathed.
There were also several other events in the NZ economy which "tightened" the market from a purely economical point of view:
First and foremost the terrible Christchurch earthquake and its aftermath wrote off up to 30,000 homes and commercial buildings, equivalent to three years production and more.
The building and construction industry will benefit greatly from this over the coming years — not withstanding the heartbreak and devastation caused to Canturbrians.
The leaky homes disaster has also taken thousands of homes off the market. This, combined with little or no new building, is causing increasing shortages and a substantial price push.
The lowest interest rates in history are the cream on the cake, and in my view low interest rates will be with us for many years to come – unless of course hyperinflation strikes. That is always a possibility, but seems unlikely at present, despite governments around the world feverishly printing money.
It is always a puzzle to me why people were prepared to throw endless amounts of money at the property market a few years ago when interest rates were 9%, 10% or 11%.
Now with interest rates at half price (in manner of speaking) some investors remain cowering under their beds.
Now is the time to invest
Because of the pressures I have described above the current period is, in my view one of the best times to invest in the property market.
Having said that, my strong advice is to only go into the market - either buying or selling - with sound advice from an impartial advisor well versed in property investment in all its forms.
Do not fall for the hucksters out there who  promise you instant riches and to share  "secrets" and "strategies"  only they know. A little digging reveals that these people are in many cases just front men for Real Estate agents or speculators themselves, who want to make a fast buck from the naïve. Check their backgrounds.
The figures set out below are, to me, proof positive that the market is alive and kicking … and the chance to make a profit is just waiting to be seized by the astute.
Indeed, just as I write this, Quotable Value has just confirmed what those of us in the business have known for months:
Property values rising across most of New Zealand
Wednesday, 9 November 2011

National property values have continued to gradually rise according to the QV residential property index for October.

"Nationwide property values have been gradually increasing since the start of 2011 and as a result are now 1.2 percent above the same time last year and 4.4 percent below the market peak of 2007″ said Jonno Ingerson, Research Director QV.co.nz.

"While initially the upward movement in values was being driven by Auckland and post-quake Christchurch, many other areas of the country are now increasing also" said Ingerson.

"The Auckland City revaluation has now been completed and the capital value (CV) of every property updated. The QV residential property index is based on the ratio between sales price and these CVs. As a result of the changing CVs there has been a slight one-off adjustment to the indices for Auckland, making it appear as if values dropped slightly from September to October. The raw underlying data actually show that values have continued to increase, and the index next month is likely to once again show the upward trend we have seen in recent months" said Ingerson.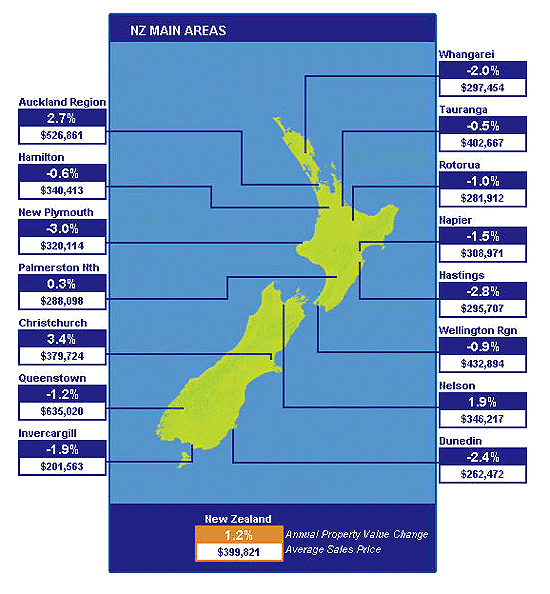 The rise (again) of the spruikers
There is a danger in a rising market and that is the strange phenomenon of people seemingly losing their minds. Perfectly sane and sober people suddenly get the urge to "get rich quick"  and take reckless risks.
Property is a "big ticket" item. The simplest investment costs hundreds of thousand of dollars at least. Yet in many cases I have seen people throw these hundreds of thousands of dollars around (theirs or borrowed) mesmerised by the big numbers and going into some sort of trance.
These same people who baulk at paying a dollar more for a can of beans seem to think nothing of committing themselves to massive debt, personal guarantees  and a major commitment … because they are dazzled by the hype.
 
One of the most reckless moves some people make  is to believe the hucksters and spruikers who have reappeared lately promoting the notion that making money in real estate is a doddle and that anyone can do it with their eyes closed.
You have seen or heard the hype I am sure. 'Come along to a free seminar and in just one day you will learn all the secrets of making huge profits in property' etc etc…
Look carefully behind the motives of these promoters. In a recent advert one group appears to be merely acting as a front for a real estate agency. Their aim is to tuck you into some slum or rubbish property in some God-forsaken backwater.
Another group who give "free" advice is nothing more than a front for property 'option dealers' whose modus operandi is to secure properties by way of an option to buy, and then try to on-sell them for a profit. If they don't on-sell, they drop the deal. Too bad about the heartache they cause to genuine sellers when the deals fall over — as many do. 
Yet another group is a front for speculators who have bought some cheap rubbish, given it a quick spruce-up and then convince you that it's a bargain at a jacked-up price.
These are all signs that the market is starting to froth again. There are many unscrupulous people out there willing to relieve you of your hard-earned money as a result.
The value of independent advice
Before signing anything get proper independent advice from your lawyer, accountant or authorised financial adviser — assuming they have some experience in the area. Yes, you will have to pay them, but the cost involved is nothing compared to the losses you could sustain with just one bad investment.
This applies to both residential and commercial property. Most people have had some experience with residential property but commercial is a completely different ball game.
While there is a little questionable comfort in that residential investments have a regulatory body to turn to in case of disputes (Tenancy Tribunal) there is no such thing in the case of commercial property. It's a free-for all and can be dangerous at times without proper preparation, care and due diligence. With care and good advice it can also be immensely profitable.
Either way it is essential to get advice or, better, learn all about real estate investment from reputable independent advisers who are not clipping the ticket behind your back on some transaction in which you may be interested.
The market has come through the GFC remarkably well, as a whole, and I predict it will do even better in the years ahead. 
A longer view
Getting into the market, and taking a long term view, together with prudence and care, will almost certainly bring you good profits, security and the most valuable of all – independence. One of the benefits of this approach is that you filter out the hysteria sometimes promoted as 'market knowledge'.
For instance, I agreed with Nigel Mayson at the time (2009) and I agree with him now. His article is as pertinent today as it was then.
Shame on all you doom merchants
October 23, 2009 by Nigel Mayson

I think I'm right in saying Gareth Morgan predicted up to a 40% decline in the property market? It was certainly a big number. Bernard Hickey predicted a 30% decline in house prices by 2010. From the market peak. He recently back-peddled and halved his predicted decline to 15%…..by 2012 this time. Kieren Trass said property prices could still fall by another 15%…..on the basis that overseas markets declined by up to 40%.

In May this year [2009]Treasury (with all their resources and intellectual horsepower) forecast that property prices would fall by a further 12%. They then admitted they were wrong and revised their outlook by saying they expected prices to in fact increase. Very wisely they didn't commit to saying by how much this time!

The property market doomsayers assumed that the economic carnage seen in property markets elsewhere would be repeated here in New Zealand. Their predictions were not just wrong…they were woefully off the mark.
I have no doubt the rise in property prices and the increasing confidence is not only due to the facts I have mentioned above but also to the volatility of other forms of investments.
Those who have chosen to invest in the share market, in currency speculation, or in managed funds have suffered losses and gains and yet more losses at heart-stopping frequency. With a property - whether it be modest or grand - at least it's solid. It will be there in the morning, it cannot run away or be stolen.
Shelter, after all, is one of the basic necessities of life, along with food and clothing. How can you beat that?
---------------------------
Olly Newland
November 2011 www.ollynewland.co.nz  Used with permission.