Accommodation Supplement: Landlord subsidy punching a big hole in govt books due to unaffordable housing, or an essential benefit?
The government is being urged to boost the supply of affordable housing to help wean people off a state rent subsidy which could cost NZ$2.2 billion a year - almost twice as much as official predictions - by 2016.
But any fix could require a large up-front investment in state house building, and/or require action from the private and community sectors to help increase housing supply, and therefore affordability, at the lower end of the price spectrum.
The Green Party has called on the government to see whether spending on the Accommodation Supplement could be more effectively spent elsewhere, with the party touting construction of more state houses as one solution to problems of housing and rent affordability. Co-leader Meteria Turei has attacked the Accommodation Supplement in Parliament as a subsidy for landlords. Turei told interest.co.nz high house prices, with constrained supply, meant higher rents and therefore costs to the government through the rent subsidy.
Meanwhile, the government's Productivity Commission, which is currently investigating issues of housing affordability in New Zealand, has had the issue of the Accommodation Supplement, and the possible  hit to the government's books, raised with it by the Salvation Army. If housing shortage problems, particularly in Auckland, were not dealt with, rents would inevitably rise, the Salvation Army said. That may lead to more widespread claims for assistance, and increase the average Accommodation Supplement payments being made by the Ministry of Social Development.
The government is at the moment focusing on an upgrade of the current stock of state housing. Minister for Housing Phil Heatley told interest.co.nz the government was broadly comfortable with the Accommodation Supplement as a subsidy.
NZ$1.2 bln spent on subsidising rents
The Accommodation Supplement is a government payment to people deemed unable to fully afford board, rent or mortgage costs, hitting the government's books to the tune of NZ$1.197 billion in the year to June 30, 2011. A total 320,000 people received the supplement last year, giving an average payment of about NZ$72 a week per person.
That cost is expected to rise to NZ$1.99 billion  NZ$1.199 billion in the current year to June 2012, with numbers receiving it falling slightly to 312,000. By 2016, The government projects 308,000 people will be receiving the Accommodation Supplement at a cost to the taxpayer of NZ$1.276 billion (see the numbers here in the PREFU, tables 6.2 and 6.3). A spokesman for the Treasury said the Ministry of Social Development provided the projections for the government's books.
However, the Housing Shareholders Advisory Group (HSA), which was appointed by the government to look into social housing costs in New Zealand, reported last year that the costs of the Accommodation Supplement to the government could rise to as much as NZ$2.2 billion in 2016 - well above the official projections.
In its report, the HSA said government spending on social housing was unsustainable, as expenditure had increased steadily over the past decade. If current trends were to continue, total government expenditure on social housing would hit NZ$3.6 billion by 2016, with the accommodation supplement contributing to the majority of that cost, the HSA said.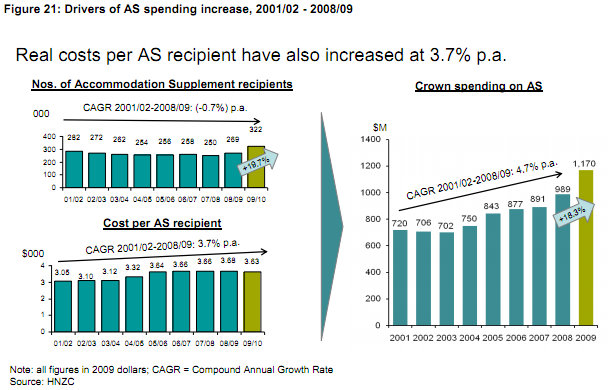 "The drivers of spending on the AS are the number of recipients and the cost of their housing. The number of recipients remained essentially flat from 2000/01 to 2008/09, actually declining slightly by 6,000 people. Yet spending in the same period rose by 4.7% per annum, (from NZ$720 million to NZ$989 million), reflecting an increase in housing costs, primarily rental housing," the HSA said in its report.
"More recently, a different driver of spending has emerged: spending on the AS leapt by 18% to NZ$1.2 billion in 2009 as the recession hit and the number of AS recipients rose by almost 20%," it said.
Conservative projections showed an additional NZ$700 million to NZ$1.2 billion may be needed to fund the AS in 2016, with total payments likely to more than double from the 2009 level of NZ$989 million, it said.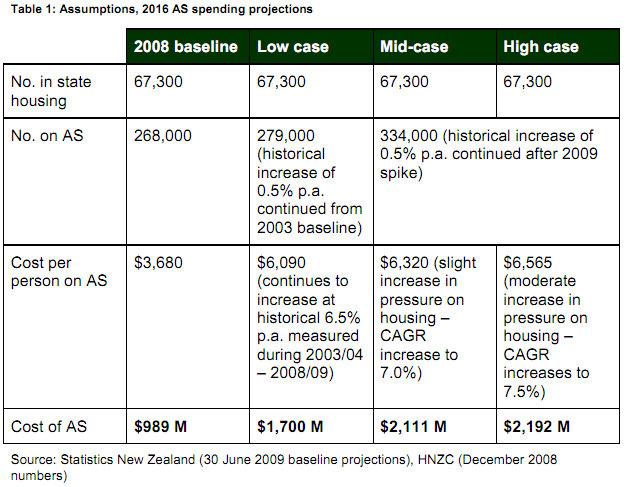 In its submission to the Productivity Commission, the Salvation Army said it did not think the government's forecast growth of Accommodation Supplement spending was reliable.
"Overall The Salvation Army believes that New Zealand's housing assistance programmes and policies need a radical overhaul," the Salvation Army said in its submission.
"The existing programmes have become more and more expensive and at the same time have not directly addressed issues of adequacy of supply. The existing subsidies have created a dependency both by tenants and landlords which has been locked into the housing market in terms of house prices but which offers little if any hope that future needs will be met," it said.
"Ideally Government needs to become more deliberate in its housing policy and begin to plan for the provision of affordable housing directly through public agencies such as Housing New Zealand and urban development corporations, and indirectly through community housing providers and home ownership support for modest income households."
What is it?
The Accommodation Supplement is paid both to tenants who have lower levels of need than those in state housing and to some with similarly high, or higher, levels of need. In its 2010 report, the HSA noted the high need group receiving the subsidy may be unwilling to apply for a state house, be on the waiting list for one, or live in areas without state housing. The rate of AS paid to an individual is set at 70% of his or her weekly housing costs minus an entry threshold.
"The supplement is capped, and its maximum rate depends on the area in which a recipient lives and the size of his or her household. For the purposes of the supplement, New Zealand is broken into four 'areas', reflecting different tiers of market rent. For non-beneficiaries, the amount paid is reduced by 25 cents for every dollar earned over a set income threshold," the HSA said. See the WINZ website for more information on the four areas, and the maximum caps for different groups.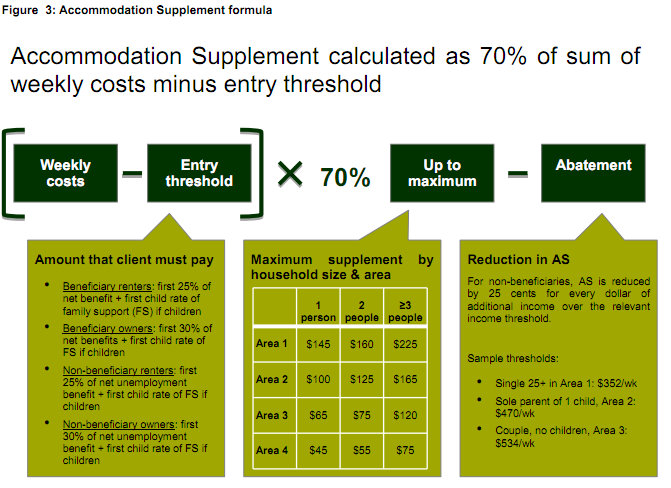 'We can use the money better'
Green Party co-leader Metiria Turei attacked the Accommodation Supplement in Parliament last year, saying it was merely a subsidy for landlords. The Green Party was not calling on the subsidy to be scrapped all together, but believed money should be spent up-front now on building affordable housing to try and reduce dependency on the AS.
"When wages and incomes are kept low and rents continue to increase, people need support to pay their rent. But it is a cost that is getting out of control," Turei told interest.co.nz in an interview on December 6 (see video above).
There needed to be a whole-of government approach to the issue, with a capital gains tax a necessity and more investment in state housing. The Green Party is calling for 3,000 state houses to be built over the next three years, while the private and community sectors needed to come to the party as well. Incomes - benefits and the minimum wage - also needed to be raised.
"The [HSA] said there are 70,000 too few homes in this country, and as long as demand far exceeds supply, the costs will continue to grow for families."
The fix was a long-term solution which would require an upfront investment.
"If we're going to be spending two-and-a-half billion dollars in 2016 on the Accommodation Supplement, why don't we spend some of that now on building homes. That is one way of doing it," Turei said.
"It is a subsidy for landlords - they can continue to increase rents, and the government will continue to supply them with that extra cash, because they won't allow for the increase in wages - they won't increase the minimum wage, for example," she said.
"But people are desperately in need. Some 320,00 people are getting an accommodation supplement. Without it they have no way of paying their rent, so you simply cannot just take it away. It's been so embedded in our economic system that it has become a real issue - you can't leave people, families and children, without a home."
'A supply response is needed'
Alan Johnson, who is a policy analyst for the Salvation Army, has been following developments with the Accommodation Supplement since the early 1990s.
He said rent rises closely matched rises in household incomes.
"In my view, if you supplement household incomes through some form of transfer, that's going to translate into higher rents," Johnson said.
"The AS is pitched quite cleverly in that it only subsidies 70% of any rent increase, so there's a handbrake on excessive rent increases which could ratchet up. If a household income rises 5% over an extended period, rents would probably rise 5%. But rents only make up 30-40% of a household's income, so feasibly the household's better off by that supplementation because it's got other income," he said.
The government needed to look hard at the supply side of the housing equation in order to check the costs of the Accommodation Supplement.
"The subsidy rate that we've got is designed to encourage people to economise on their housing costs. But it does mean that any rent increase ahead of household income increase still leaves the household with less disposable income, which can cause real hardship," Johnson said.
"They haven't really addressed that issue, and the way they are addressing it is through supplementary benefits – Working for Families – which doesn't help. What it does is turn working households into beneficiary households," he said.
"Really the only way is a supply response. Build houses, or make certain affordable houses are built."
(Corrects transposed figure in the 7th paragraph)