Building consents granted for 13,662 new dwellings in 2011, lowest level in 46 year series history, Stats NZ figures show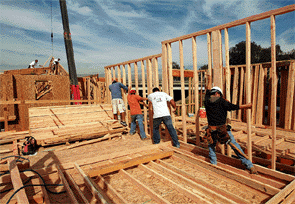 There were fewer building consents granted for new dwellings in 2011 than in any calendar year in 46 years, figures released by Statistics New Zealand show.
There were building consents granted for 13,662 new dwellings in the 12 months to December 31, down 12.4% on the the year to December 2010, and the lowest for a December year since the series began in 1965, Stats NZ said.
That included 1,156 consents for apartment units, which was up 23% from 2010. Excluding apartments there were 12,506 building consents granted for dwellings through 2011, down 14.7% from the year before.
Stats NZ said there was NZ$4.925 billion worth of residential building work in 2011, down 12% from 2010 to its lowest level for a calendar year in 10 years.
Up in December
Figures showed building consents issued in the December 2011 month were up 13% to 1,127.
"However, the number remains at a low level. Figures for December 2010 were the lowest recorded for a December month in the 46-year history of the series," Stats NZ said.
"After seasonal fluctuations are removed, the number of approved new dwellings, including apartments, shows a rise of 2.1 percent in December 2011. Excluding apartments, there was a small decrease of 0.2 percent. These movements follow several months of volatility," Stats NZ said.
"Trend numbers for dwelling approvals, both including and excluding apartments, show a rise for the nine months to December 2011, but the rate of increase is easing. Trend figures, particularly for the latest months, may be revised whenever an additional month is added to the series," it said.
The 13 percent national increase in dwelling approval numbers, for the December 2011 month compared with December 2010, was concentrated in Auckland, Wellington, and Canterbury, Stats NZ said. Numbers fell in most of the other 13 regions. The main changes in regional dwelling approval numbers, compared with December 2010, were:
Auckland, up 99 (51 percent) to 292
Wellington, up 58 (45 percent) to 188
Canterbury, up 32 (19 percent) to 199
Bay of Plenty, down 15 (25 percent) to 44
Manawatu-Wanganui, down 14 (29 percent) to 34.
Auckland and Wellington had the largest regional increases, and Canterbury is yet to begin the bulk of its earthquake-related rebuild. As a result, the North Island contributed most to the increase in national dwelling approvals, Stats NZ said:
North Island, up 105 (15 percent) to 786
South Island, up 28 (9 percent) to 341.
Year ended December 2011
For 2011 compared with 2010, nationally, there was an overall decrease of 1,940 new dwelling approvals. Canterbury had the largest regional decrease, down 426 new dwellings to 2,395, while Auckland had the largest regional increase, up 169 new dwellings to 3,772, Stats NZ said.
Remains weak
ASB economist Jane Turner said residential building consent issuance remained weak, with seasonally-adjusted dwelling consents lifting just 2.1% over December, failing to recover the previous month's 6.2% decline.
"It remains too soon to see an increase in consents on the back of earthquake reconstruction activity. We currently expect to see this lift come through around the second half of 2012, although continued seismic activity inCanterbury could further delay rebuilding," Turner said.
"Meanwhile, we expect underlying demand for construction throughout the rest of the country to increase as the housing market remains tight, particularly inAuckland.  Over the third quarter of 2011, we had started to see tentative signs of improving construction demand.  However, the weakness in consent issuance over the past two months suggests this momentum may be fading," she said.
Non-residential consents
There continued to be a gradual pick-up in private non-residential investment. Encouragingly, consent issuance for office buildings continued to improve in December, Turner said.
"While consent issuance for retail outlets and restaurants declined, this followed a strong result over the previous month. Nonetheless, the waning in commercial construction intentions in recent business confidence surveys suggests a degree of caution remains amongst businesses," she said.
"The majority of earthquake-related consents in December were for non-residential buildings, which totalled NZ$23 million. Of the remaining earthquake-related consents, NZ$5 million was for residential work and NZ$1 million was for non-building construction."
OCR on hold to end of 2012 at least
"Consent issuance remains weak and continues to point to a very weak construction outlook.  The RBNZ now expects that earthquake reconstruction activity will not pick up in earnest until 2013.  Given the ongoing delays to the reconstruction process, continued uncertainty from offshore and very subdued inflation pressures there is very little urgency to increase the OCR," Turner said.
"We continue to expect the RBNZ will leave the OCR on hold until at least the end of this year," she said.