Reserve Bank warns on credit growth; Says some needed but can't turn excessive; 'Or else RBNZ will act'; Eye on overvalued, undersupplied Auckland housing market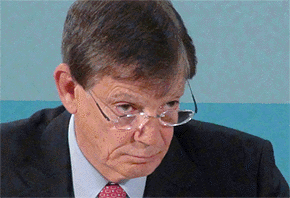 By Alex Tarrant
The Reserve Bank is warning it will use new tools for controlling bank lending if currently subdued credit growth turns excessive again.
And it has its eye on the overvalued Auckland property market.
Releasing the Bank's latest Financial Stability Report, new Governor Graeme Wheeler said some increase in credit would be necessary to sustain economic growth in New Zealand.
"But excessive credit growth could hinder rebalancing of the economy and accentuate existing vulnerabilities," he said.
Debt levels in the agriculture sector were still high, especially among some dairy farmers, leaving the sector vulnerable to a fall in incomes, Wheeler said.
Households, too, were relatively indebted due to the substantial rise in borrowing over the last two decades.
"House prices are rising, particularly in Auckland, in the face of housing supply constraints," Wheeler said.
"Excessive credit growth could worsen housing market imbalances given that house prices appear overvalued on a number of measures," he said.
While current credit growth was reasonably subdued, the Bank remained "alert to developments that might warrant macro-prudential intervention."
The Reserve Bank was working on implementing a counter-cyclical capital buffer framework aimed at improving the resilience of the banking system in the aftermath of credit booms.
The Bank was also developing its broader macro-prudential tool kit to help achieve this objective, Wheeler said.
That tool kit includes controls on loan-to-value ratios for mortgage lending, requiring banks to hold more (or less) reserves against lending, and core funding ratio requirements stipulating how much short-term funding banks are allowed to access.
Housing activity picks up
Household credit growth had begun to pick up in recent months, reflecting further increases in housing market activity and increased competition by banks, the Reserve Bank said.
"Residential mortgage lending conditions appear to have loosened with high loan-to-value ratio (LVR) lending becoming more prevalent," the Bank said.
"If credit demand was to strengthen significantly, and banks were willing and able to accommodate that demand, indebtedness (relative to income) could resume an upward trend eroding households' resilience to shocks," it said.
The Bank noted some regions had shown only very subdued rates of house price appreciation over the past year, while Auckland and Christchurch, which accounted for a significant proportion of the housing market, had seen significant increases.
"It is expected that expansion in the supply of housing and housing affordability constraints will moderate house price inflation," the Reserve Bank said.
"House prices are already elevated relative to fundamental metrics, such as income and rents, and a property market rebound would exacerbate the risk of a sharp property price correction at some point in the future," the Bank said.
"Household debt is largely secured on property assets and a substantial property price correction could result in significant strain on household and bank balance sheets."