REINZ reports 2.4% rise in median house price to record high NZ$380,000; Volumes up 32.6% vs year ago; Auckland, Wellington, Christchurch hotter than the rest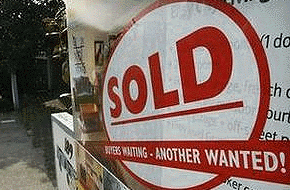 By David Hargreaves
The Real Estate Institute of New Zealand (REINZ) says the housing market "roared into life" in October with sales volumes rising 32.6% from a year ago and the median house price surging NZ$9,000, or 2.4%, from September to a record high of NZ$380,000.
Auckland's median house price rose 2.9% in the month to a fresh record high of NZ$530,000.
The national median house price is up 5.8% compared with October last year, while the Auckland median price is up 14% compared with October last year.
REINZ chief executive Helen O'Sullivan, said although there had been a "springtime surge" in new listings, this was struggling to keep pace with buyer demand.
This had led to a further drop in the average number of days taken to sell to 32 days from 33 in September. The 32 days time to sell recorded in October was an improvement of three days compared with October 2011. For the month of October, Canterbury/Westland recorded the shortest days to sell at 28 days, followed by Auckland and Otago with 29 days. Over the past 10 years, which includes the boom years of 2002-2008, the median time to sell in October has been 33 days.
Sales volumes rose across the country in October, with 6,640 unconditional residential sales, an increase of 1,633, or 32.6%, compared with the same time last year and an increase of 17.5% compared with September. There was NZ$1 billion more worth of property sold in the month than in the same month a year ago.  However, price rises are not occurring evenly across the country.
"The market is very much in two parts," O'Sullivan said. "The metropolitan regions of Auckland, Wellington and Christchurch - where prices are rising - and the rest of the country where price trends are mixed."
"Within Auckland, most of the activity is in close proximity to the central city, the northern suburbs and eastern beaches. Buyer enthusiasm is less evident in South Auckland and the rural fringes north and south which is reflected in smaller increases in the median price and a longer time for sales to be achieved."
'Keen appetite for more expensive homes'
Buyers are showing a keen appetite for more expensive homes.
The REINZ figures show that in the past year, sales of houses in the NZ$600,000 to NZ$1 million band increased 73%, while in the over NZ$1 million band, sales rocketed by a staggering 96%.
On a regional basis the highest lift in prices during October was recorded by the Canterbury/Westland region, up 3.9%.  Auckland came next with its 2.9% lift and then Otago with 2.1%.
Compared with October 2011, Auckland recorded the highest lift in prices with an increase of 14%, followed by Canterbury/Westland with 4.3% and Otago with 3.4%.
In terms of volumes for the month of October compared with the previous month, the top numbers were recorded by Taranaki, with a 56.7% increase,  followed by Wellington with a 27.2% rise and Hawkes Bay with a 23.8% lift. All regions did report increased volumes during the month.
And likewise, all regions had gains in sales volume compared to October last year, with Central Otago Lakes recording the top rise of 54.4%, followed by Northland with 52% and Hawkes Bay with 47.7%.
Stratified index at record high
The REINZ Stratified House Price Index, which adjusts for some of the variations in mix that can impact on the median price, is 6.9% higher than October 2011 and is at another record high.
The House Price Indices for Auckland and Wellington also set new record highs in October.
Auctions are proving an increasingly popular way to sell houses. Nationally there were 1,343 dwellings sold by auction in October representing 20.2% of all sales, up from 689 sales in October 2011 representing 13.8% of all sales.
This is a new national record for the percentage of sales by auction and beats the previous high of 20% reached last month. Auction sales in Auckland also reached a new record with more than 38% of all sales in the region in October sold by auction, or more than 1,000 sales.
See a Westpac chart below showing Auckland house prices sprinting higher since early 2009 and accelerating through 2012. Other North Island prices are flat, while South Island prices have also been rising since the Christchurch earthquakes.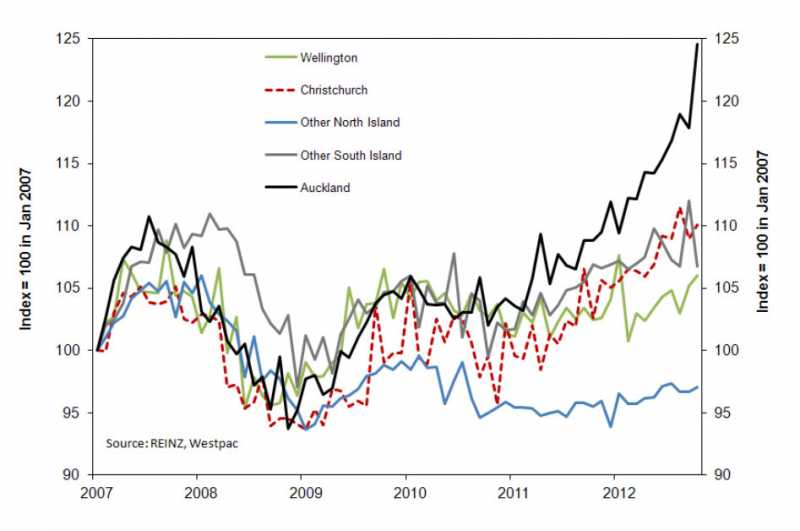 'Demand, not supply'
See Westpac chart below showing house prices not necessarily linked to population growth, challenging the suggestion that migration to Auckland and supply shortages are the main reason for house price rises there.
See comments here from Westpac Chief Economist Dominick Stephens on the REINZ figures, which he described as a stunning but not surprising acceleration. He also argued demand side factors such as low interest rates were  more important than supply.
I seriously doubt that supply measures will do much to bring house prices down. That's because financial factors have played a far greater role in taking house prices to where they are than physical supply or demand. Consider the evidence from last decade's house price boom. Regions with unusually high population growth actually tended to have lower house price inflation (see chart 2 below). Auckland's population rose 11% over six years, and house prices rose 93%. Compare that to South Taranaki, where the population fell 5% but prices rose 161%. Or Invercargill, where the total population increase was 100 people, yet house prices rose 181%. Restrictions on land supply didn't seem to matter last decade. Dunedin has a famously expansive urban limit, and was the largest city in New Zealand by land area until the Auckland super-city was founded. Yet Dunedin house prices rose 133% over six years, much faster than "restricted" Auckland or Queenstown.  

The fact is, houses are a long-lived asset. As such, their price is strongly influenced by interest rates, taxation, and people's expectations of future price changes. In my view, low interest rates will continue to drive house prices higher for some time. But by the same token, an eventual increase in interest rates could have a large negative effect on house prices. So be careful out there!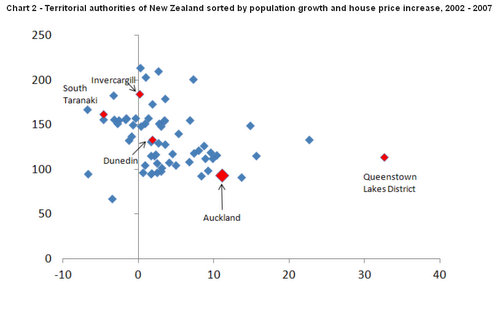 Stephens said he had also compiled the same data for the 2007-2011 period, which showed physical supply factors were more influential in house prices in recent years. Here's his comments:
The places with low building and high population growth were the places with the highest house price inflation in 2011. Also, unlike last decade, rents are rising strongly in Auckland and Christchurch. This points to physical factors playing a role, because physical factors should affect rents in the same way as they affect prices.

However, I also think that interest rates are playing an increasing role this year. For example, Auckland population growth has slowed and building has increased since 2011. Yet house price inflation has accelerated, not decelerated.
(Updates with details, reaction from Westpac, charts)
‏