Opinion: David Chaston is taken aback by the shallowness of the Auckland mayor's position on affordable housing in his city. He thinks the Council is misguidedly targeting 'affordability for the wealthy'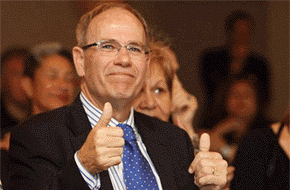 By David Chaston
According to mayor Len Brown, Auckland has "enough land to build 15,000 homes" on and this land "has infrastructure and is ready to build on".
"It's a hot market ... people are building flat out and buying flat out."
But the Council is not approving consents "flat out".
In the December 2012 quarter only 1,297 consents for new residences were approved, bringing the total for 2012 to 4,581 or less than 400 per month. Many of these were for up-market construction; the number for affordable housing was very low.
We have now struggled back to a level that is similar to the one we had in the depths of the 1990's recession. Hardly "flat out".
The shortage is exacerbated by sellers being unwilling to list - properties available for sale are at all-time lows according to Barfoot & Thompson. The demand is growing, the supply is shrinking. This supply includes developments trumpeted by the Council with "prices that are relatively affordable in today's market."
"Relatively affordable in today's market" means houses that cost "from $429,000" for a small terraced house, and $529,000 for a full house.
The only problem with this definition is that these prices are about at the median house price $535,000, and above the first quartile house prices of $390,000 that first home buyers usually target. No first home buyer could actually afford them.
While a market is "hot" there will be upper income buyers for properties the Council is promoting, but zero progress is being made for families of more modest means. This can continue for a long as the Council strangles land supply and restrains new building consents. Sadly, even more families will only have the choice of renting . But rents will continue their climb if insufficient houses are actually built.
A search today on Trade Me of bare land revealed just 2,009 sections offered for sale.
A similar search of houses for sale at the first quartile price level or lower reveals 3,330 houses - but a good number of these will be distressed sales by leaky home owners who are mortgage-stressed. (This search excluded retirement units and bare land, but it does include shoebox apartments.)
The reality is much different to the Mayor's claims. Here is a RadioNZ report:
Auckland Mayor Len Brown told Radio New Zealand's Morning Report programme on Tuesday the figure includes sections that are ready to be built on.

He said there is enough land to build 15,000 homes in Flat Bush, Riverhead, Takanini, Hobsonville and within the broader Auckland metropolitan urban area. Mr Brown said the land is unconstrained, zoned, has infrastructure and is ready to build on.

The mayor said Auckland's property market is hot now because people have not been buying as many homes in the last four years.

Deputy mayor Penny Hulse also stands by the council's numbers and says the Government would do better to find ways of introducing more third party funding for local infrastructure such as libraries, which currently falls to councils and developers.
There is another problem. Few experts believe the "15,000" number and this is undermining the mayor's credibility with both the companies who are supposed to be doing the building and the Government.
Although they don't wish to be identified, we have heard residential construction industry people say the true number is about 5,000 land sites ready to be built on, with infrastructure ready.
The additional 10,000 sites are "raw land" sites probably held by landbankers rather than developers ready to build. They would take from between 18-24 months to develop once Council approval has been gained. However much of this land "is constrained by lack of connecting infrastructure and appeals".
The Mayor's reassuring rant is political hot air. Almost all Council positions are undermined by Labour/Greens policy who would need to ride roughshod over Auckland Council to get what they are promising. They also undermine what the National government is trying to achieve.
The goal is just not more housing because that will satisfy the wealthy first. The goal is affordable housing. Affordability is a function of incomes for people who need houses. For all its flaws, the Demographia study does help suggest where that affordability point is. The Labour/Greens policy agrees by targeting $300,000 as about right (although I doubt those parties know how to deliver that in the Auckland market).
Intensification will happen, but it won't be part of the solution. A quick look at Sydney will show you why - more housing, [much] higher cost. Intensification is a solution for the rail buffs so they can justify spending billions on the inner city rail. It won't materially add to supply fast enough to rebalance the excessive demand pressure existing now. New fringe housing can.
Tomorrow Auckland Council will release more details on their housing strategic action plan. Lets hope it is a more serious effort than Mayor Len's recent statements.