Property market remains tight over summer as buyer interest surges to record heights, but listings only rise 4%, realestate.co.nz reports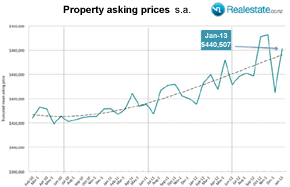 The New Zealand property market remained tight in January as new listings maintained their traditionally low levels for summer, while asking prices rebounded to near record levels on the back of continued seller confidence and no ease in buyer demand.
Data released today in the NZ Property Report – a monthly report of housing market activity compiled by Realestate.co.nz – showed 8,849 new listings arrived on the market in January – a lift of 4% on levels recorded in both the previous month and at the same time last year.
Paul McKenzie, a spokesperson for Realestate.co.nz, says that while January's numbers of new listings always tend to be low in comparison to the rest of the year, buyer interest in property for sale has never been higher.
"In the last three months, we've seen around 30,000 new listings come onto the market, which is equivalent to the same period a year ago. However, sales have been up 30% during the same period, which has kept the market very tight," says McKenzie.
McKenzie also notes that in January the Realestate.co.nz website received its highest ever traffic in a one month period, with more than 1.5 million visits to the site in the last month, indicating that there is an increase in interest of the property market, and demand for homes.
With buyer demand for property remaining high, these new listings did little to significantly shift the current low levels of inventory, which rallied only slightly to 28.7 weeks – well below the long term average of 39 weeks – indicating the market remains firmly in sellers' favour.
Seller confidence was also reflected in the national average asking price, which rebounded to a level near previously recorded highs, topping out at $440,507 (seasonally adjusted), which represents a 4% rise from December and a 5% shift up on the same time a year ago.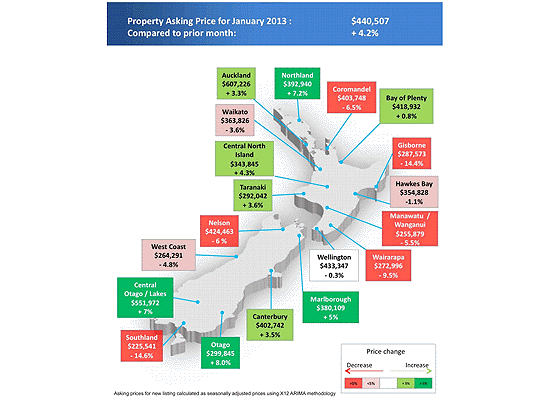 "Auckland also saw its average asking price top $600,000 for the second time on record, while Canterbury's average asking price tipped the $400,000 mark for the third time in the past 12 months," says McKenzie.
McKenzie says that with no foreseeable abatement in buyer demand or seller confidence, strong asking prices in the main centres will likely continue well into 2013, especially as February historically sees high numbers of new listings coming onto the market.
"We know that people tend to get their homes ready for sale in January and put them on the market in February. With the number of potential buyers still actively seeking homes, we can expect a very active market in the months to come."
Jane Turner, a senior economist as ASB made the following comments:
New property listings bounced back in January, following an outsized fall in December. Nonetheless, the number of listings remains low. In addition, total housing inventory failed to pick up in December, which suggests the number of new listings remains insufficient to keep up with demand. Low levels of new house listings reflect low levels of construction. The recent pick-up in building consents, particularly in Auckland, is an encouraging sign.

We expect an increase in housing construction to help alleviate some of the pressures in the market, particularly in the areas where supply constraints are most acute such as Auckland and Christchurch. Low supply of new housing, in an environment where demand is lifting as household confidence gradually recovers, will continue to place upward pressure on house prices. We expect house prices will continue to lift over 2013, with gains continuing to be led by Auckland and Christchurch.

Implications

Low levels of supply points to further increases in house prices over the coming year. At the January OCR review, the RBNZ displayed more concern around recent developments in housing and credit. We expect these trends to continue over the coming year, which is likely to cause more discomfort for the RBNZ.

We continue to expect the RBNZ to leave the OCR unchanged until March 2014, due to the subdued inflation outlook. However, we see a small but growing chance the RBNZ may use macro prudential tools in order to ease housing market and credit demand pressures.