Auckland Council gives its 'poster child for brownfields development', a 10-storey apartment block in New Lynn, the green light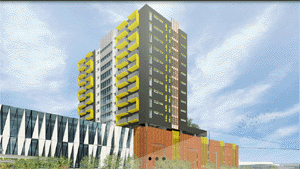 As debate rages over the future growth of Auckland, Auckland Council has rubber stamped the building of West Auckland's first high rise apartment block.
Auckland Council says it has granted resource consent for a 10-storey residential tower above the Merchant Quarter building in New Lynn, and work on it is expected to begin this month and be finished early next year.
In a statement Mayor Len Brown said prices start at NZ$250,000 for 110 one and two-bedrooms apartments, offering an affordable choice for people looking to buy their first home. The apartments will be built by Tasman Cook, and will be above a council owned five level public carpark building. Wellington-based, sharemarket listed infrastructure investor Infratil, founded by the late Lloyd Morrison, is the council's partner in the Merchant Quarter development.
According to Tasman Cook, the apartments range in size from 54 square metres with an eight metre square balcony, to 73 square metres with an eight metre square balcony. They're designed for owner-occupiers rather than investors. The project is being funded by BNZ with the sales value NZ$37 million.
"More than half the apartments (60) have already been sold in this building, which offers people affordable options close to great transport links, community facilities, cafes, restaurants and shops," said Brown.
"New Lynn is showing the rest of Auckland what a vibrant, compact city can look like, and it's looking very good indeed. The Merchant Quarter is New Lynn's new heart where people can live, work, do business, shop and be entertained."
The apartments will be adjacent to the Lynnmall shopping centre and close to New Lynn's transport hub. They are Freehold Unit Titles, comprising either one bedroom, one bedroom plus study, and two bedroom options with balconies.
Brown said the Merchant Quarter development is part of Auckland Council's transformation of New Lynn into a vibrant metropolitan centre to deliver the aspirations of its Auckland Plan.
"It is also an excellent example of the model and approach for a more compact city detailed in the council's proposed Unitary Plan," said Brown.
The statement quotes Deputy Mayor Penny Hulse saying; "New Lynn is Auckland's poster child for brownfields' development and shows how inner city living can be created in town centres such as New Lynn."
The draft Unitary Plan, the council's growth plan for the next 30 years, is targeting keeping around 60% of Auckland's growth within existing boundaries, meaning more high rise apartments and denser housing.  See a video interview with Hulse on the Unitary Plan here. However, the government - citing concerns about housing affordability - has suggested it may "smash" Auckland metropolitan urban boundary to enable more greenfields development. In March the government and council set up a working party, which they said would address their differing views.
Hulse and Brown have requested the Unitary Plan have full legal weight from September, however the government has rejected this, saying it wants to give Aucklanders the chance to review it, meaning it'll take up to three years for the plan to be operative. Earlier this month nine councillors wrote to Prime Minister John Key effectively supporting the government's position.
The draft Unitary Plan is open for consultation until May 31.
(Updated with further detail).