Housing Minister Nick Smith to meet with Auckland Council as he aims to 'take the heat out of the Auckland housing market'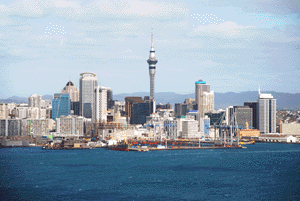 Housing Minister Nick Smith says he'll be meeting with the Auckland Council next Monday as he strives to "take the heat out of the Auckland housing market."
Speaking on Radio New Zealand today Smith said the Government was concerned about how expensive housing in Auckland had become. He also noted Auckland Council's Unitary Plan, its blueprint for the city's development over the next 30 years, wouldn't come into effect for two or three years. He said Monday's talks with Mayor Len Brown and Deputy Mayor Penny Hulse would be about the period until the Unitary Plan is operating.
"One of the real concerns for government is how expensive housing in Auckland has become," Smith told Radio NZ. "The average figures have homes over NZ$620,000. If we look at measures of housing affordability, Auckland is way out over the top with a ratio of median income to housing price now of over seven. We have projections that house prices that grew over 10% last year may well do again and the IMF indeed this week were raising concerns about that."
The latest data from Quotable Value shows the average value of residential property in the Auckland area, as of February, was NZ$618,425, up 10.4% year-on-year. The national average was NZ$428,692, which was up 6.3%.
Radio NZ reported "insiders within the Auckland Council" believe the Government is preparing to sideline them and impose its own plan for Auckland's future.
Earlier this month Smith told Radio NZ that Auckland's metropolitan urban limit was a stranglehold that needs to be broken if houses are to be made affordable for families in the city. And last week he said the number of new sections available to be built on in Auckland was just 1,900. Furthermore land ready to be subdivided had a capacity of 14,500 sections, compared with the Auckland Council's development strategy target of seven years supply of 32,550 sections. And land in the pipeline for subdivision had a capacity of 54,500 sections, with the Council's development strategy target being 20 years supply of 103,500 sections.
Smith said Auckland Council therefore needed to double land supply to meet its own targets.
'Random rezoning in complete isolation'
 Auckland Council released its draft Unitary Plan last Friday with Hulse telling interest.co.nz the Council wants to make greenfields land available in a planned way over 30 years to avoid a repeat of the urban sprawl of the 1970s. Speaking to Radio NZ today Hulse said any ministerial rezoning of "random pieces of land" outside Auckland Council's incoming rural urban boundary would happen in "complete isolation from well planned
infrastructure development."
However Smith said there was "a pretty strong consensus" that the current legal metropolitan urban limit was a major constraint on new land being available.
"The figures that we've now been able to get agreement between council and government on show that we have a fraction of the number of sections needed over the intervening years. So that's where we need to have our further dialogue," said Smith.
"My intention is to ensure that as the council works through that (Unitary) plan, there is sufficient land to try and take the heat out of the Auckland housing market that has such an adverse effect that goes beyond Auckland to the broader New Zealand economy, which is the source of comments we've seen from the Reserve Bank Governor."
'Unitary Plan a big improvement' but 'there's no line on a map'
Smith added that the draft Unitary Plan was a big improvement on Auckland's current metropolitan urban limit.
"Where I think there are questions which I want to work through, and not over National Radio, but in direct dialogue with the Auckland Council, is that we have half the number of sections that we had a decade ago, we
have had the section price become very expensive, what are things and tools that we might use in the interim to try and free up additional land?"
He also said the draft Unitary Plan featured no "line on a map" signifying exactly where the rural-urban boundary is.
"So when you ask the question 'is the rural urban boundary in the right place', to be able to satisfy myself that Auckland's housing issues will be addressed, (it's) difficult to determine that when there is currently no line on a map as to where it's planned to grow to over the next three decades. And that's why we need further discussion," Smith said.
Last Friday Hulse told interest.co.nz that in terms of Auckland's fringes, the Unitary Plan included "a satellite town" in Pukekohe, Warkworth growing a bit, plus some development in Silverdale, Kumeu/Huapai, and Franklin. However, the Council was opposed to the "random release of land" without proper planning.
In his speech at the launch of the Unitary Plan, Brown said if the Government wants to make more land available to Aucklanders more quickly, then it ought to allow the Unitary Plan to take effect on notification. Brown said that would bring the new rural-urban boundary into effect much more quickly and address the issue the Government says is central to housing affordability.
However, Minister for the Environment Amy Adams said the Government had rejected the Council's request for the plan to be granted immediate legal effect.

"The Government rejected this request as it considered it did not provide adequate recourse for Aucklanders to seek full and impartial review of the council plan," Adams said.
"Furthermore, even if the request had been granted, contentious aspects of the plan would still likely have been the subject of numerous appeals, meaning they would be unlikely to provide the immediate effect sought."