National asking prices eased in the last month of 2013 as new listings fell to record lows: realestate.co.nz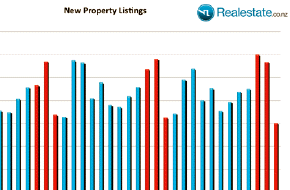 Content supplied by realestate.co.nz
The New Zealand property market registered the lowest number of new listings in December, foreshadowing a potential housing stock shortage in early 2014.
Data released today by Realestate.co.nz in the NZ Property Report shows that the number of new property listings is 6% down on the same time last year.
With just 8,010 new properties, it is the lowest number of new listings on record since Realestate.co.nz started surveying the market in 2006.
The previous low was recorded in January 2011.
Asking prices eased across the country to levels not seen since June 2013, down 6% for the month to $451,448.
Following the record high asking prices recorded in October, this ease in asking prices will be welcome news to buyers looking for a home at the start of 2014.
Year on year, asking price is still continuing along an upward trend. December's national average is up 7% from last year.
"Trend-wise, we'd expect recovery in these lower December asking prices and expect to see price averages increase throughout the start of 2014," said Paul McKenzie, Marketing Manager at Realestate.co.nz.
In the regions, both Taranaki and Canterbury saw record high asking prices in contrast to the rest of the country, up 5.1% and 1.6% respectively.
McKenzie said, "those looking at property in the Coromandel during December were in a good position" with the region experiencing a fresh new surge of listings and a 12.8% decrease in average asking price.
Listings in the Coromandel were up by 16.6%.
Waikato experienced a 10.2% asking price decrease; with Marlborough also seeing a significant decrease in asking price – down by 9.6%.
Record low listing numbers were driven by record lows in Auckland, Wellington, Hawkes Bay and Otago.
"This will put pressure in those areas – particularly in Auckland," says McKenzie.
Auckland experienced a significant 57% decrease in new listings compared to the prior month and an 8% decrease compared to the same time the year before.
December 2013 saw just 1,897 new listings in the Auckland market, compared to 4,432 new listings the prior month.
Across the country, 13 regions overall saw a decrease in new listings compared to the prior year.
Overall for 2013, there were 131,474 new properties coming on the market in New Zealand. This was a drop of just 0.4% from the prior year.
"When compared to the peak seen in 2007, last year's new listings were down by a considerable 26%" said McKenzie.