Trade Me makes concession to real estate agents on listing fees; moves back to bulk per-office fees for some from per listing fee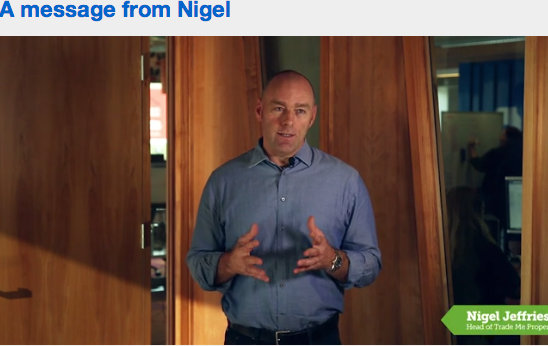 By Bernard Hickey
After months of battling each other over a controversial new per-listing fee structure, Trade Me has made concessions to real estate agency offices to allow them to pay per office again.
Trade Me announced the main changes in a statement to the NZX and detailed the shift in approach in this section of its website for agents, which included a video and a letter from Head of Trade Me Property Nigel Jeffries acknowledging "we could have done it better -- we want to start putting things right."
Smaller agents' offices in the Waikato and Hawkes Bay started revolting in early January over what they said amounted to a quadrupling or quintupling of their listing fees when Trade Me moved to a per-listing fee of NZ$159 from a flat and capped per agency fee. Here's my February 4 article documenting the revolt and a later article detailing the reaction from property vendors and industry commentators to the real estate agents' revolt.
Agents are thought to have directed thousands of listings away from Trade Me to the industry-owned Realestate.co.nz in the wake of the fee restructure announced late last year.
Jeffries said in the letter to agents he had started his job in April and had been "doing plenty of listening over the past few months" in meetings with agents around New Zealand.
"My take on what I've heard is that we could have done a better job of informing you directly before we rolled out the changes. We should also have provided business owners with a more flexible range of options, rather than a one-size-fits-all approach. Today's the first step to putting things right," he said.
Trade Me said it would still offer the NZ$159 per listing fee for houses worth more than NZ$450,000, but would also resume offering a range of per-office flat fees. The per-listing fee for houses under NZ$450,000 has been cut to NZ$99.
The per-office fee for offices in Auckland, Wellington and Christchurch would be NZ$1,399 per month, with discounts of up to 20% for between 19 and 100 listings, and even bigger unspecified discounts for offices with more than 100 listings.
The per office fee for offices in non-Metropolitan areas would be NZ$999 per month, with similar discounts for offices with more than 19 listings. Both 'all you can eat' 'The Sub' options included early bird discounts for offices that signed up before the end of August.
The full new rate card brochure is here.
"We know we have work to do to win back the full support of agents and business owners in some parts of the country, and we'll be working hard to do that," Jeffries said.
"We know we help you sell houses – and if we're making it too hard or expensive to use Trade Me Property, we're doing it wrong!" he said.
Trade Me shares hit two year low
Jeffries said in the statement to the NZX that affordability varied between regions, vendors and offices.
"We acknowledge that the pay-per-listing model we rolled out last year works well for some business owners, but it does not work for everybody," he said.
"We have to provide better marketing options to business owners and agents selling residential properties, so they can do the best job for their vendors. We also need to offer options that better cater for the state of the market in the various areas."
He cited Nielsen data for unique browsers over the last four weeks showing an average of more than 114,000 domestic visitors to Trade Me Property each day, which he said was triple that of Realestate.co.nz.
Trade Me shares closed down nine cents or 2.6% at a two-year low of NZ$3.43 and have underperformed the NZX 50 by more than 25% over the last year. Trade Me shares have fallen 16% since January, while the NZX 50 has risen 7%.
Commentators react
Former Realestate.co.nz CEO Alistair Helm said on his Properazzi blog the new pricing structure looked a significant win for the real estate industry "as it re-establishes the subscription model, whilst at the same time offering a scaled per-listing fee and a regionalisation of pricing."
Helm said the industry had mobilised itself to combat Trade Me's move, ranging from boycotts to advising clients not to use Trade Me, and had circled the wagons around its own realestate.co.nz website.
"There has been a clear demonstration that the impact on Trade Me's business was being felt in both customer loyalty, as demonstrated by listing numbers, and in investor confidence, as evidenced by the share price," Helm said.
"It is my belief that this new pricing scheme will in one fell swoop patch up the issues that Trade Me Property has faced, resulting in a solid re-population of the site to full strength and full loyalty (and if not loyalty then at least patronage)," he said.
"It will not deliver the much hoped for absolute gain to the bottom line that the original pricing model of a pure per-listing fee would have delivered, but it will get the company back on track to build its business for the future."
Grant Wakelin at online real estate agency 200 Square described the move as a capitulation.
"Trade Me acknowledged they screwed up and offered a revised subscription package to agencies," Wakelin said.
"Trade Me obviously underestimated the power of real estate agencies, both individually and collectively when there is a common enemy. This hurt Trade Me financially, listing volumes have fallen over the months. They had to do something," Wakelin said.
"It really looks like www.realestate.co.nz missed a once in a lifetime opportunity to nail Trade Me Property through being passive and traditional in its thinking.  They had their foot on the throat but let it rest there when pressure would have choked their rival," he added.
(Updated with picture of Nigel Jeffries, reaction from Alistair Helm and Grant Wakelin)