Productivity Commission to launch inquiry into how councils regulate land supply for housing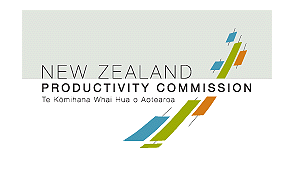 By Bernard Hickey
The Productivity Commission has been asked to launch a formal Inquiry into the way councils regulate to make land available for housing. It will also look at the way councils plan and fund local infrastructure such as water systems and transport.
The Commission said the Inquiry would build on its wider 2012 Inquiry into housing affordability, which was the touchstone for the National Government's push over the last 18 months to speed up consenting and improve land supply for housing.
"The Commission has been asked to examine and compare the rules and processes of local government to identify leading practices in planning and taking decisions about making land available for housing, and providing for necessary infrastructure. It has also been asked to look at models adopted by cities overseas that might provide valuable lessons for New Zealand," Commission Chair Murray Sherwin said.
"Our inquiry into housing affordability identified constraints on the supply of land as a major driver of New Zealand's housing affordability problems. This new inquiry will delve deeper into how councils take decisions about making land available, as well as decisions about increasing the capacity for housing in existing urban areas through rules around such things as subdivision and intensive development," Sherwin said.
"Capacity for more housing is not the single answer for housing affordability, but it is an essential component of a policy response, especially where demand for housing is outstripping supply."
The Inquiry would look for those Councils that made enough land available to meet demand and detail those processes for other authorities.
"We expect that the range of approaches used internationally and in New Zealand will provide valuable lessons for local authorities making decisions about land for housing," he said.
Water and transport too
The terms of reference were published on the Productivity Commission website. It will publish an issues paper to outline the approach, the context and a list of key questions to be addressed. It would seek submissions and the final report was due by September 30 next year.
The terms of reference and a letter from Bill English provide more detail on the Inquiry, including that it should look for information on absolute and relative performance and make recommendations on planning and funding of water and transport infrastructure.
Reaction
Labour Housing Spokesman Phil Twyford said the Government's need for more research "beggars belief."
"People need houses and they need the Government to take action now, not waste another year or two with yet more research," Twyford said, adding a Labour Government would publish a National Policy Statement on affordable housing.
"It will give clear direction to councils that they must increase land supply for residential development and speed up consenting," Twyford said.
BusinessNZ said it welcomed the inquiry in a critical area.
"Not only because of the pressing need for more affordable housing, but also because of the impact on the wider economy of spiralling house prices,' BusinessNZ CEO Phil O'Reilly said.
"Hopefully it will shine some clarity on the very complex rules and requirements that have been adopted by some councils," he said.
BusinessNZ wanted an expectation councils would actively make provision for land for new housing and simplify zoning and land supply rules.
Local Government New Zealand President Lawrence Yule also welcomed the inquiry.
"The overall legislative and regulatory framework at both a central and local government level is cumbersome and does not enable agile planning, a factor highlighted in previous enquiries," said Yule.
"One aspect of particular interest to local authorities is the release of land to the market for development.  Currently, local authorities cannot control when land is released.  We need to look at the incentives associated with this," he said.
(Updated with BusinessNZ reaction, LGNZ reaction, Labour reaction)