Key signals big shift towards community-provided social housing from pure state housing in creating 'super group' of housing ministers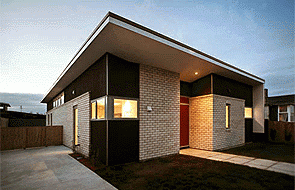 By Lynn Grieveson
With his announcement of his new cabinet on Monday, Prime Minister John Key has signalled the government's desire to accelerate the switch from state housing to social housing, potentially divesting more of the big "sticky asset" of Housing New Zealand stock to provide the capital for others to build social housing.
Key said a ministerial team of Bill English, Paula Bennett and Nick Smith would work together on housing issues, with English taking responsibility for Housing New Zealand.
"Housing's a big issue, I think, for the Government; it's a big issue for New Zealand and there's specific parts to that, " Key said.
"So what we've done there is to have Bill English as the Minister of Finance responsible for what is a very big asset now in the Government's balance sheet: Housing New Zealand. About NZ$15 billion worth of assets there."
A new role of Minister for Social Housing has been created for Paula Bennett, who will be charged with growing social housing, provided by organisations such as the Salvation Army or Presbyterian Support Services, potentially by selling off Housing New Zealand properties.
Key said he believed that there would be "if not less Housing New Zealand provided homes, little growth, if any, in that area, and a substantial increase in social housing provided homes."
"That's been the mixture we have seen overseas. We have seen those social housing providers as better long term landlords, they have had more flexibility in the way that they approach (it) and it's a big sort of sticky asset for us in terms of Housing New Zealand, and I think governments of successive persuasions have struggled with it," Key said.
"So we do want to see a growth in the social housing area and we are potentially prepared to put a lot more resources in that area."
'That mix is wrong'
Referring to a commitment made during the campaign to put NZ$100 million into supporting the development of social housing, Key suggested increased funding could come from freeing up the capital tied up in Housing New Zealand stock.
"Now, in theory, with the income related rents there is a cash flow there that should allow them to actually go and build their housing stock. That is at way too slow a rate than what the government would like to see. So if you think NZ$15.5 billion sitting there for Housing New Zealand and NZ$100 million sitting in social housing, that mix is wrong and I think there is a real opportunity here to potentially change that dynamic and I want to see a lot more work done in that area," Key said.
Australian model
"Potentially, as I say, if you look in Australia you will see very big social housing providers working with the private sector building those homes, long term tenancies agreements, income related rents, there's a lot we can do there."
Key said the government would not "you know, go crazy" selling Housing New Zealand homes.
"But there's the capacity there for all those ministers to think through how it might work. What I am interested in is that the overall number of homes that are provided for the least well off New Zealanders and over time I would like to see that number grow. It's pretty obvious we need more. It's also obvious, I think, we need them in better condition and we need them in the right places," Key said.
"And I think we'd be silly to say the government was the sole provider here. I think there is no question that social housing providers can play a much bigger role. How we make that happen is the challenge for us over the next three years."
Child poverty focus
Key tied the switch away from Housing New Zealand to social housing to his commitment to address child poverty in this term of government.
"The asset is often in the wrong place, you can see that, that's one of the reasons we've been selling some state houses or Housing New Zealand homes because we have them in the wrong location, they are not always terribly flexible, " he said.
"The previous government completely ignored the upkeep of those homes and by the time we got there they were in complete disrepair. It's a big asset for us and I think there's a better long term approach. I've started that initial work on how we are going to have a greater focus and attention for what we can do for poor children and very vulnerable children and I think you don't have to be a rocket scientist to work out when you look at those very vulnerable families the big issues of attention for them are, one of them is housing," Key said.
"So if we can build the social housing stock then it presents quite an opportunity for us to help some of those families."
Key keen to get RMA reform underway
Within the new ministerial team dealing with housing issues, Nick Smith retains responsibility for construction and building, charged with "essentially building affordability and access for New Zealanders in general to be able to own their own home," Key said.
Smith is also Minister for the Environment, responsible for the reforms of the Resource Management Act, which the government could not pass last term after failing to get support for the proposed changes from either United Future or the Maori Party.
Key said Smith would be looking at that draft legislation, thinking about whether its current structure is "appropriate", then introducing it to parliament as "a matter of urgency."