Auckland housing values rose at twice the national rate in 2014, with QV's average house value in the region now at $761,858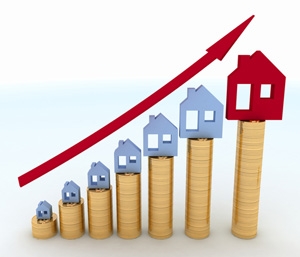 New Zealand homes increased in value by an average of $22,652 last year, with the average dwelling value rising 4.9% to $488,674 in December, from $466,022 in December 2013, according to Quotable Value (QV).
However housing values in Auckland rose at twice that pace, with the region's average dwelling value rising by 9.8% last year to hit $761,848 at the end of the year.
The biggest increase in values was in north-west Manukau where they rose by a scorching 12.6% for the year, and 5.8% in the last three months of last year, to hit $529,243 in December.
Other areas where house value increases were in double digits were the southern suburbs of Central Auckland, up 11.3%, its eastern suburbs 11%, Waitakere 10.7%, Papakura 10.6%, and the Onewa district of the North Shore 10.4%.
The smallest increase in value in the Auckland region was for homes on the Gulf islands such as Waiheke, where the average value rose by 3.8%.
In the other main centres value rises were much more modest, with average values in Wellington City rising 1.4% for the year and declining by 0.8% in Lower Hutt, while Christchurch homes posted an average value increase of 3.2% and Dunedin was up an average 0.7%.
In the provincial centres, average housing values rose 3.2% in Hamilton, 3.7% in Tauranga, 1.6% in Napier, 3.5% in new Plymouth, 0.5% in Palmerston North, 2% in Nelson and 4.7% in Timaru.
Outside of the Auckland region the biggest annual increases in average value occurred in the Western Bay of Plenty where they were  up 7.7% and the Queenstown Lakes District where they were up 7.2%.
QV national spokesperson Andrea Rush said average housing values in Auckland were now 39.4% above their previous market peak in 2007
and nationwide they were 17.9% higher than the 2007 peak.
"The prospect of further interest rate rises in the lead up to the election seemed to cause some uncertainty as to whether the market had peaked and this led to a slowdown in the market during the middle of the year," Rush said.
"However, once the election was over and interest rate rises were put on hold, there was a surge of new listings and activity with the coming of spring and values began to tick upwards again in most main centres," she said.
To see QV's average dwelling values for all parts of tne country, and their movement over the last year, click on this link.
No chart with that title exists.