Commissioner warns property owners that banks and insurers are focusing more on risks of rising sea levels; LIM warnings possible; Maps being drawn up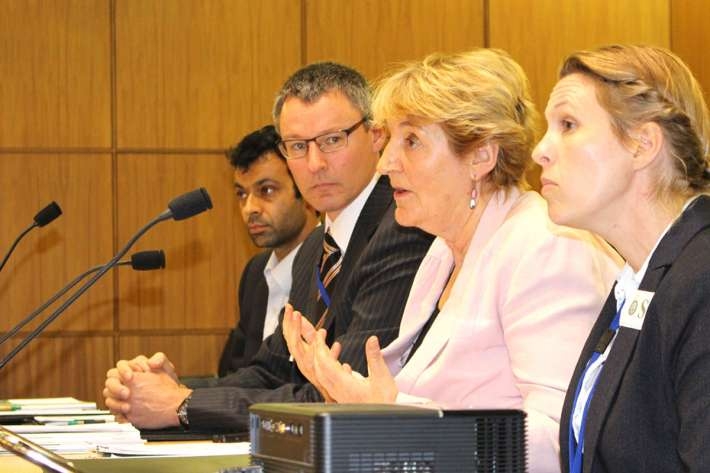 By Lynn Grieveson
As both insurance companies and banks turn their attention to the potential for coastal flooding and erosion to carve chunks off property values, a report coming out later this year will for the first time detail the projected effect of rising sea levels along specific areas of the entire New Zealand coastline, revealed the Parliamentary Commissioner for the Environment.
Commissioner Jan Wright appeared before the Local Government and Environment select committee to discuss her recent report 'Changing climate and rising seas: Understanding the science"', which spelt out that a 30cm rise in sea levels by 2050 was already 'baked in'.
Pointing to a photograph of a flooded Tamaki Drive in 2011, Wright said "in the past that kind of storm you would expect to see every century or so, by 2050 that sort of storm will be happening every decade and, if we carry on emitting carbon dioxide as we are now in the world, then by 2070 you will be getting that kind of storm every year in Auckland."
Wright revealed that a second report, due "by the middle of the year," would include modelling commissioned from NIWA to draw up coastal hazard lines, and would look "particularly at the risk to property and infrastructure and how councils will be trying to deal with this" as they "run headlong into ratepayers."
It raises the prospect of Land Information Memorandum (LIM) reports that come with coastal erosion and sea level warnings.
And Wright told owners of coastal property to look to the experience of Christchurch property owners who found their land had become flood prone following the earthquakes.
Christchurch a 'glimpse into the future'
"One of the most interesting interactions in this report has been with the insurance industry," she said. "The chief executive of the insurance council is particularly interested in this, as the industry is in general, and described the situation in part of Christchurch as 'a glimpse into the future'."
"The response from the insurance industry to sea level rise will be the same as what we are seeing in Christchurch. With increased frequency of flooding you get premiums being raised as a first step, then you get higher excesses in policies and then you get 'no, we are not going to insure you at all because this flooding is just happening too often'. So there are very real economic impacts associated with this."
The chair of the committee, Coromandel MP Scott Simpson, expressed concern that the upcoming report could have "significant potential to have detrimental financial impact on property owners", pointing out that setback lines on existing properties promulgated by the Thames-Coromandel District Council had caused "considerable angst amongst property owners."
'Just deal with it'
Wright was unapologetic, warning that coastal property owners needed to face up to the situation.
"There will be detrimental financial impacts, regardless," she said.  "People will find themselves unable to insure their properties and so, really, I think the idea is to protect as many people from that situation as possible."
"This is not easy for anyone but sometimes we have to have these hard conversations and the insurance industry is right onto this. They really are right onto this and they are not going to be soft about it."
The banking industry is also starting to take an interest in the issue, with Wright saying she was "asked by the chief executive of the Bank of New Zealand to go and talk with him and I spent an hour with him. He was very interested in both the water quality work and the sea level rise work."
Warnings on Kapiti Coast LIMs
The upcoming report may also include recommendations on increased central government involvement as the issue becomes too challenging for councils to manage on their own, as shown by the experience of the Kapiti Council, which had to back down on plans to include coastal erosion warnings on Land Information Memorandum (LIM) reports.
"Local Government NZ is wanting more central government involvement here and I think it is along the lines of 'we are trying to do things here but we need more legal heft', if you like," said Wright.
"I may well make recommendations that relate to that, in one way or another, but I don't know until we have done the work."