Bill English says government to add about 5,000 houses in Auckland's Tāmaki over next decade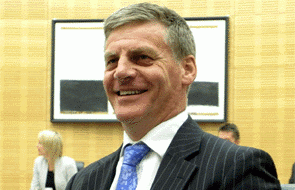 By Bernard Hickey
Finance Minister Bill English has announced the Government is looking at ramping up the activity of the Tamaki Redevelopment Company (TRC) to build a net new 5,000 homes over the next decade. He foreshadowed a significant funding announcement in coming weeks to support the ramp up in development.
"We want to accelerate this activity, so small and large redevelopments of Housing New Zealand land and properties are completed with more urgency," English said in a speech to the Auckland Chamber of Commerce and Massey University in Auckland.
"The Cabinet will soon make further decisions about Tāmaki and the Government will confirm details in the next few weeks," he said.
"It will involve redeveloping some of Housing New Zealand's 2,800 houses in the suburb – many of which are over 50 years old and sitting on large sections," he said.
"Over the next decade or so, the company and its partners expect to build around 7,500 affordable and social homes, along with other community facilities. That's a net increase of around 5,000 houses after accounting for removals or demolitions of older properties."
English's comments came a day after Reserve Bank Governor Graeme Wheeler said more intensive development of housing in Auckland was needed to overcome a housing supply shortage of 15,000 to 20,000. Just over 7,500 homes were built in Auckland last year, which was less than the 10,000 a year needed to keep up with population growth and migration in particular.
English later told reporters that the acceleration of Tamaki would require extra Government capital, but may also involve some sort of Public Private Partnership.
'Housing shortage a macro-economic problem'
English laid out the case to increase housing supply in Auckland to reduce the macro-economic, fiscal and social risks of over-valued housing.
"First, housing can drive significant macro-economic problems such as higher than necessary interest and exchange rates, and financial instability if house prices stay above historical norms for an extended period," he said.
"Second, the housing market is a significant fiscal risk for the Government. With NZ$18.7 billion of houses on its books, the Government carries a huge opportunity cost when this capital is misallocated. Rising rents push up our NZ$2 billion annual cost of subsidising around half of all housing rentals in New Zealand, and high house prices maintain pressure for income transfers to households," he said, referring to the pressure for Working For Families and Interest Free loans in the mid 2000s after the first big surge in house prices.
"Our third concern is that rising house prices contribute to unfairness and inequality," he said.
"Poor planning and rising input and construction costs have increased housing costs as a proportion of low and middle income household budgets. We have the opportunity in the next few years to secure lasting solutions while demand conditions are positive and there is broad agreement on how to fix supply constraints."
English said both the central Government and the Auckland Council needed to develop more land for housing.
We are the two biggest land holders in the city. In the case of central government, we own 7 per cent of all houses in Auckland and, because we under utilise our land, we own a greater proportion of the land in the city," he said.
English said the proportion of affordable homes built (deemed to be those at the first quartile house price) had dropped to 5% from 30% over the last 20 years.
Here's English's speech in full.
(Updated with more details)