Residential property prices have risen so much in Auckland that higher yielding commercial properties are a viable investment alternative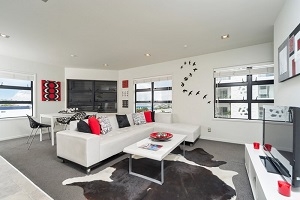 Residential property prices in Auckland have risen so much that commercial properties can be a viable alternative for mum and dad investors.
The latest sales results from commercial real estate agency Knight Frank include a warehouse/office building in Mt Wellington that sold for $730,000, and a ground floor office in Penrose that sold for $830,000 (see results below).
Those prices are comparable to average residential property prices in many parts of Auckland and are even within striking distance of better quality apartments in the city.
At this week's Ray White City Apartments auction, a two bedroom apartment in Grey Lynn (pictured) was passed in with a highest bid of $680,000, with the owner holding out for $700,000 (see results below).
Those prices are putting commercial properties within reach of investors who would otherwise be considering residential investments.
Commercial properties have the advantage of generally offering higher rental yields than residential, and in most commercial leases the tenant pays outgoings such as rates, insurance and often some maintenance costs, which boosts investor returns even further.
However it can take longer to find tenants for commercial properties, which means vacancy periods can be longer than for residential.
The latest REINZ/interest.co.nz Indicative Rental Yield Report  showed that gross rental yields on recently purchased Auckland residential properties were likely to be under 5%, and once expenses such as insurance and rates were allowed for the yields were likely to be under 4%.
By comparison, commercial properties can provide yields in the 7-8% region and sometimes more, providing double the return of residential properties. 
Recent commercial property sales by Knight Frank:
1066E Great South Rd, Mt Wellington, Auckland. A 292 square metre warehouse and office. Sold for $730,000 providing a yield of 7.5%. The agents were Josh Franklin and Damon Wyllie of Knight Frank South Auckland.
101B Station Rd, Penrose, Auckland. A 564 square metre ground floor office. Sold for $830,000. The agent was Damon Wyllie of Knight Frank South Auckland.
93 Bealey Ave, Christchurch. A 607 square metre site with a 140 square metre damaged building. Vacant. Sold for $425,000. The agents were Greg Bevin and Murray Madgwick of Knight Frank Christchurch.
Results of this week's Auckland apartments auction by Ray White City Apartments:
3F/221 Great North Rd, Grey Lynn. The Ariki building. A 97 square metre, two bedroom, two bathroom unit with a tandem car park and great westerly views towards Mt Albert, the Waitakeres and the upper harbour. Vacant. There was a bidding dual for the property and when bidding paused at $660,000 the auctioneer sought instructions from the vendor and then announced that he had been authorised to reveal the reserve price of $700,000. However the only new bid was for $680,000 and it was passed in for sale by negotiation. Rates were $1863 and the body corporate levy $4729. According to QV.co.nz the unit was last sold for $550,000 in October 2013.The agent was Rae Zhang.
1008/96 Symonds St. The 96 on Symonds building. A 48 square metre, two bedroom unit, with a management contract to the building's management company providing $380 a week. Sold for $215,000. Rates were $1039 and the body corporate levy $4859. According to QV.co.nz the unit was last sold for $293,500 in 2004. The agents were Daniel Horrobin and Damian Piggin.
---------------------------------------------------------------------------------------------------------------------------------------

Our free Property email newsletter brings you all the stories about residential and commercial property and the forces that move these huge markets. Sign up here.
To subscribe to our Property newsletter, enter your email address here. It's free.
----------------------------------------------------------------------------------------------------------------------------------------