Key, English reject Labour's WOF-style proposal for Healthy Homes Guarantee, but government sources say minimum standards for insulation and smoke alarms being prepared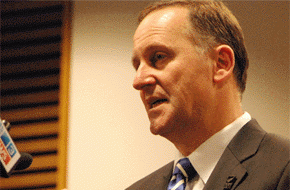 By Bernard Hickey
Prime Minister John Key and Finance Minister Bill English have rejected a Labour proposal for a full Warrant of Fitness style set of standards for warmth and dryness that would have to be met before a rental property could be let, but Government sources said the Government was preparing more limited minimum standards for insulation and smoke alarms.
Speaking in the wake of the death of Emma-Lita Bourne from respiratory illnesses in a cold, damp Otara state home last year, Key and English said the Labour proposal could remove thousands of homes from the rental market and could increase rents.
However, Government sources said late on Monday the Government was preparing a minimum set of standards for all landlords for insulation and smoke alarms, but would not go as far as the Labour proposal for a full WOF, which the Government has criticised as immediately making tens of thousands of houses impossible to let because they could not be fully insulated.
Earlier, Key told a post-cabinet news conference he was deeply disturbed by the death of two-year old Bourne, which Coroner Brandt Shortland attributed to a cold and damp state house. The house was insulated in the ceiling, but had wooden floors without carpets and Bourne's family could not afford to use the heater provided for them by Housing NZ.
Key said the Government was concerned about the less well off and that was why it had increased benefits in the Budget by up to NZ$25/week and moved to increase competition in the electricity market to limit price inflation.
"When it comes to the situation potentially of that family and maybe others, there are other options available, so despite the fact that benefits will eventually rise, there are emergency benefits and emergency support that can be provided for people," he said.
Asked if the Government would look at emergency grants for electricty over the winter, he said he would prefer targeted spending.
"I think going to a one-off grant which would involve a payment, potentially, to all people in say, for instance, a certain category or a certain age group would likely mis-target that spending," he said, referring to a widespread payment for pensioner heating in the UK.
"In the end they'll be paying that to some people who don't need it and probably not enough to some that do," he said.
"I think it is a better system to manage it as we do at the moment, by exception."
WOF for state and private rentals?
Key was then asked if the Government should roll out a trial WOF system for Housing NZ homes to both state and private rentals.
"The concept of a warrant of fitness is one of those things that sounds really good when you talk about it, but as soon as you start delving into it - and we have done a bit of work on it - it becomes more challenging," Key said.
Self-administration would mean a WOF would only be applied in a dispute between a tenant and a landlord, while a Government administered WOF would require a lot of resources, he said.
"You're going to have a lot of people walking around with clipboards," Keys said, adding that the specifications of a WOF could be as specific as the sizes of rooms or the number of power sockets.
"So I think we can all agree there are certain things it would be good to have in a house and the more houses that are insulated the better. Obviously smoke alarms are important things," he said.
"I just caution that, if we ultimately went to have a really rigid warrant of fitness, we would see more cost on landlords. Some of that would be warranted, but some of it would without question be passed on. And some of the advice we have seen is that not only would rents rise, but some landlords would pull out of the market. So we have just got to be careful of unintended consequences."
Earlier, English told Q+A said that Government was considering some type of standards, but not the full Healthy Homes Guarantee proposal from Labour.
"We've got to be careful we don't create more problems than we solve by taking a chunk of houses out of the market when there is a real shortage in some places or driving up costs and rents for people who are already struggling to afford housing," English said.
"So we are trying to find that balance," he said.
"We are not going to adopt extreme measures, but we want to get something practical, affordable that will start lifting the standard," English said.
Announcement by end of July
Later, a spokeswoman for Housing and Building Minister Nick Smith said the Government was open minded around minimum quality standards for rental properties.
"Since the rollout of the trial on Housing NZ stock, we have been considering how best to improve the standard of the country's housing. The Minister expects to make an announcement in this space by the end of next month," the spokeswoman said.
"We have always been clear that the benefits of any housing warrant of fitness scheme must be balanced with issues of cost and supply. Any costs of regulatory requirements like a warrant of fitness will ultimately be passed onto the tenants and we need to ensure that they are practical and cost-effective," she said.

"All of the warrant of fitness proposals made so far include a compulsory requirement for insulation - i.e. that it would be illegal to tenant them. Officials estimate there are thousands of existing homes that will not be able to be practically insulated because it is not possible to access their roof or floor cavities."
The Government is expected to release the results of its Housing NZ WOF trial when it releases the minimum standards for rental housing.