RBNZ to watch from sideline if banks loosen LVR restrictions for Auckland apartment buyers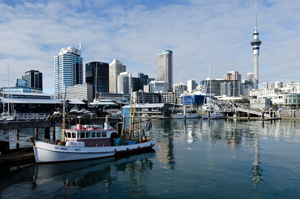 The Reserve Bank's (RBNZ) indicating it won't be putting the brakes on banks that decide to make it easier for people to borrow to buy apartments. 
There's talk major banks are planning to cut deposit thresholds on apartments to around 15%.
Currently, banks generally require apartment buyers to make 20% to 25% deposits on their purchases, before signing off their mortgages.
Edge Mortgages director, Jon Purdey, told interest.co.nz, "If a bank can differentiate itself by doing something a little bit different, then it will, and each of them have had their forays into this area.
"Now it looks like the change is coming in a more wholesale way, rather than one bank trying to differentiate itself away from the others."
The major banks are staying tight-lipped over rumours of them weakening loan-to-value ratio (LVR) restrictions for apartment buyers, while the RBNZ's staying on the sideline and well out of their way.
When asked whether it believes banks should keep taking a conservative approach towards lending to apartment buyers – even as high demand for a limited number of free standing houses in central Auckland keeps pushing prices up – it said it wasn't getting involved.
"We're happy for banks to manage their own risks within the framework we set – i.e. determine their own comfort levels for lending to apartment buyers", an RBNZ spokesman told interest.co.nz.
"The RBNZ doesn't have a view about lending for specific types of housing other than our stated views about the differences in risk levels for lending to Auckland residential property investors and residential owner occupiers, and owner occupiers outside Auckland.
The RBNZ requires banks to restrict new residential mortgage lending at LVRs of over 80% to no more than 10% of the dollar value of their new residential mortgage lending. However, new builds including of apartments, are exempt from the LVR restrictions.
Wheeler wants Auckland to build up
While the RBNZ says it doesn't have prescribed rules around lending to apartment buyers, Governor Graeme Wheeler does have a strong opinion on the necessity to get more people living in apartments.
Speaking at a Finance and Expenditure Select Committee hearing on the RBNZ's annual report in February, he called for more to be done to remove height restrictions on inner Auckland apartment buildings.
Wheeler estimated 10,000 houses needed to be built in Auckland a year, for the next 30 years, to keep up with demand.
"If you look at permits at this point they are running at an annual rate of around 7,500, which is a huge improvement on where they were two years ago, but still well short of the 10,000", he said.
"I think some very good work has been done on opening up new areas but a major challenge there is getting houses built quickly enough, and a lot of those areas are in the periphery of Auckland where people may decide that the transport costs are less attractive for them, or the infrastructure needs might be considerable.
"I think work needs to be done in inner Auckland in addressing the height restrictions and the Not-In-My-Backyard syndrome that's there."
Wheeler welcomed the Government's commissioning of work by the Productivity Commission on issues around zoning decisions, regulatory reform and approval processes.
The Commission's draft report will be released today (Wednesday), while the final report will be presented to the Government on September 30th.
Hearings on Auckland's Unitary Plan, which discusses zoning matters at great length, will also continue until April next year.
This article was first published in our email for paying subscribers. See here for more details and how to subscribe.