Banks tight-lipped over talk of loosening lending requirements for apartment buyers as apartment living 'loses its stigma'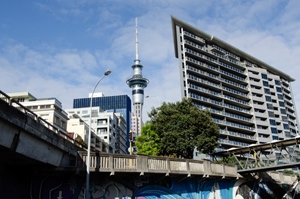 Banks are staying tight-lipped over talk they're planning to make it easier for people to borrow to buy apartments.
Edge Mortgages director, Jon Purdey, believes the major banks are getting their ducks in a row to cut deposit thresholds on apartments to around 15%.
Currently, banks generally require apartment buyers to make 20% to 25% deposits on their purchases, before signing off their mortgages.
The Reserve Bank requires banks to restrict new residential mortgage lending at loan-to-value ratios (LVR) of over 80% (deposit of less than 20%) to no more than 10% of the dollar value of their new residential mortgage lending. However, new builds - with increasing numbers of apartments going up in Auckland - are exempt from the LVR restrictions.
While banks have traditionally taken a cautious approach towards lending to apartment buyers, Purdey recognises we have seen them compete for customers by loosening their policies in the past.
In September 2012 interest.co.nz reported ASB was prepared to give certain clients mortgages, for bringing deposits as low as 10% to the table.
Purdey says ASB even went so far as to securing a lender with a mortgage, after they only made a 5% deposit on a 17 square metre apartment.
"If a bank can differentiate itself by doing something a little bit different, then it will, and each of them have had their forays into this area", he says.
"Now it looks like the change is coming in a more wholesale way, rather than one bank trying to differentiate itself away from the others."
Purdey believes we'll start seeing banks change their policies within the next few months.
He maintains they'll implement the changes before the Reserve Bank's new restrictions on lending to property investors kick in on October 1st. 
"I would guess they'll be doing it before that October 1st deadline, where a portion of their lending is then going to be restricted anyway", he says.
Banks quiet
Here's what the banks had to say when asked whether they are reviewing their policies around lending to apartment buyers:
Kiwibank: "We have no information to disclose other than to confirm that we are reviewing our lending criteria for apartments."
ANZ: "We're not reviewing deposit thresholds for owner-occupier apartment buyers."
Westpac: "Current maximum LVR is 80% and there is no differentiation for Auckland apartments in our policy… We are always monitoring housing market changes and reviewing credit policies."
BNZ: BNZ isn't planning to make any amendments to its Apartments' Lending Policy.
ASB: No answer to this question.
The New Zealand Bankers' Association chief executive Kirk Hope says, "This is essentially a competitive issue and we understand banks may be reviewing internal lending policies within their business.
"Competition among our banks is intense, particularly in the area of mortgage lending, and banks work hard to attract and retain customers within the bounds of their regulatory obligations. Banks take these obligations very seriously."
Changing tides
Hope admits banks have historically taken a cautious approach towards lending to apartment buyers.
"Banks have generally required a relatively high level of equity when lending on apartments", he says.
"Any changes would have to be within current LVR lending restrictions.
"Size is among a number of factors that banks may take into account when looking at lending on apartments. When lending on apartments, particularly small ones, the bank needs to consider if it will get its money back in case of default. It may not where demand for very small residences is limited.
"Other factors banks take into account include the buyer's equity and ability to service the loan, and the title and governance arrangements for the building."
Apartment size is something ASB did comment on when asked about potential changes to its apartment lending policies.
ASB's head of home lending, Vince Clark, said, "Our lending criteria takes into account a range of factors; the most important of which is the customer's ability to service the loan payments and also includes the size of the apartment and apartment building, and whether the apartment is purpose built or a conversion."
Purdey maintains any loosening of banks' lending policies will only apply to "standard" apartments, 50m² or larger.
 Losing its stigma
He maintains the tide is turning, and apartment living – particularly in Auckland – is losing its stigma.
As living in central Auckland becomes less affordable, apartment living becomes more attractive, and less risky for banks to finance.
Purdey says while there are still a number of foreigners buying inner-city apartments (especially the smaller ones) for their children studying in New Zealand or as investments, an increasing number of younger New Zealanders in particular are opting to buy apartments over houses in less convenient locations.
He says its high time banks loosened their lending policies for apartments, from an affordability point of view.  
"Banks have always shied away from apartments, where in the rest of the world it's a huge part of the way people live. New Zealand's well behind what the rest of the world's doing."
Purdey maintains the big banks will lead the way, raising their LVRs for apartments.
"For a smaller bank, it's going to be too much of a risk on Day One to raise it. They usually follow in time what the big banks are doing, simply because the whole market's become more comfortable with the direction."