PM rules out ban on foreign buyers of property due to FTAs and TPP, but says Govt considering land tax on foreign buyers or stamp duty; Unitary Plan modelling suggests massive housing supply shortfall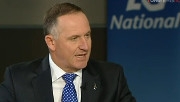 By Bernard Hickey
Prime Minister John Key has floated the idea of a land tax or stamp duty on foreign buyers in an effort to control some of the demand side pressures driving Auckland house price inflation well over 20%.
His comments came as fresh research showed Auckland's housing shortfall could grow to over 300,000 houses by 2041, given current predictions of population growth and the current proposed rules on housing density in Auckland.
Key made the suggestion in an interview with Corin Dann on TVNZ's Q+A on Sunday morning.
He began by ruling out a ban on foreign buyers, arguing New Zealand's Free Trade Agreements with Korea and China effectively ruled them out, and the TPP was also likely to make such a ban impossible.
"The issue with China is that when Labour signed the free trade agreement, they put in a clause in that contract that said, 'If anybody else gets conditions, we get it as well,'" Key said.
"And so because we're signing the Korean FTA, it means that that stops us banning Koreans from buying residential property either," he said.
"But the point here is simply this – I don't want to ban foreigners from buying residential property. I don't think that's actually good public policy that works. And actually, around New Zealand, there would be a whole lot of people who'd say, 'I don't want to stop an Australian buying a house in Queenstown or an American buying a place in the Bay of Islands or actually people buying a house in Wellington."
However, Key said the Government had to "have control of the situation."
"It has to have tools in the toolbox. And we will have that. For instance, we could put a land tax on a non-resident. If you put in a high enough land tax on an annual basis on a non-resident, you can make it completely prohibitive of owning a home," he said.
He later confirmed that stamp duties on foreign buyers, similar to those used in Singapore and Hong Kong, were also an option already allowed under New Zealand's FTAs.
Key's suggestion indicates he is aware of the electoral support building for a ban on foreign buyers after Labour's revelation of partial sales data for February to April in Auckland showing buyers with Chinese sounding names were responsible for 39.5% of purchases. 
Three polls over the last fortnight have shown combined support for the three Opposition parties edging ahead of National.
3News' Reid Research poll from July 15-22 found Labour's support rose 0.7% to 31.1% from a month earlier, while National's support rose 0.6% to 47%. Green support rose 0.3% to 11.4% and NZ First rose 0.3% to 8.4%, giving the three opposition parties a higher share (50.9%) than National. Conservative fell 1.2% to 0.7%.
The poll also found 61% supported a ban on non-residents buying property, while 35% opposed a ban. It found 54% of National voters also supported a ban on foreign buyers, while 43% did not.
John Key's support as preferred Prime Minister fell again by 1.1% to 38.3%, while Winston Peters rose 0.1% to 11.3% and ahead of Andrew Little on 10.2%, down 1.4%.
Massive supply shortfall forecast
Meanwhile, the move to bolster efforts to reduce demand-side pressure in Auckland can't come soon enough if the latest indications of the supply-side problems in Auckland are anything to go by.
A report by a special experts group for the Independent Hearings Panel on the Auckland Unitary Plan showed their combined modelling of supply and demand under the existing Proposed Auckland Unitary Plan rules.
It found the Auckland Plan would need to accommodate an extra 1 million people in 400,000 households by 2041, but that its models showed just 83,420 homes could be developed under the plan. That's just 26% of the possible demand and would leave a shortfall of over 300,000 houses by then.
The modelling was based on the density rules in place in the Proposed Unitary Plan, which had provisions to encourage density of housing close to the CBD removed before the 2013 election. However, that ground is shifting.
Last week, Auckland Council revised its proposals to the Independent Hearings panel to allow more density, although it is not clear how many extra houses would be accommodated by the changes. See more here in my article from last week.
This latest projection is on top of the Productivity Commission's projection of a shortage of 60,000 homes by 2020.
These projections call into question whether the Government's supply-side strategy for dealing with Auckland's housing crisis will be nearly enough to slow house price inflation.
The Government may however challenge these forecasts. In Parliament last week, Building and Housing Minister Nick Smith previewed an official Construction Pipeline report due this week, which he said would show different figures to those cited by the Commission.