Andrew Little says Labour opposes TPP unless it allows future Governments to ban foreign buyers of land and houses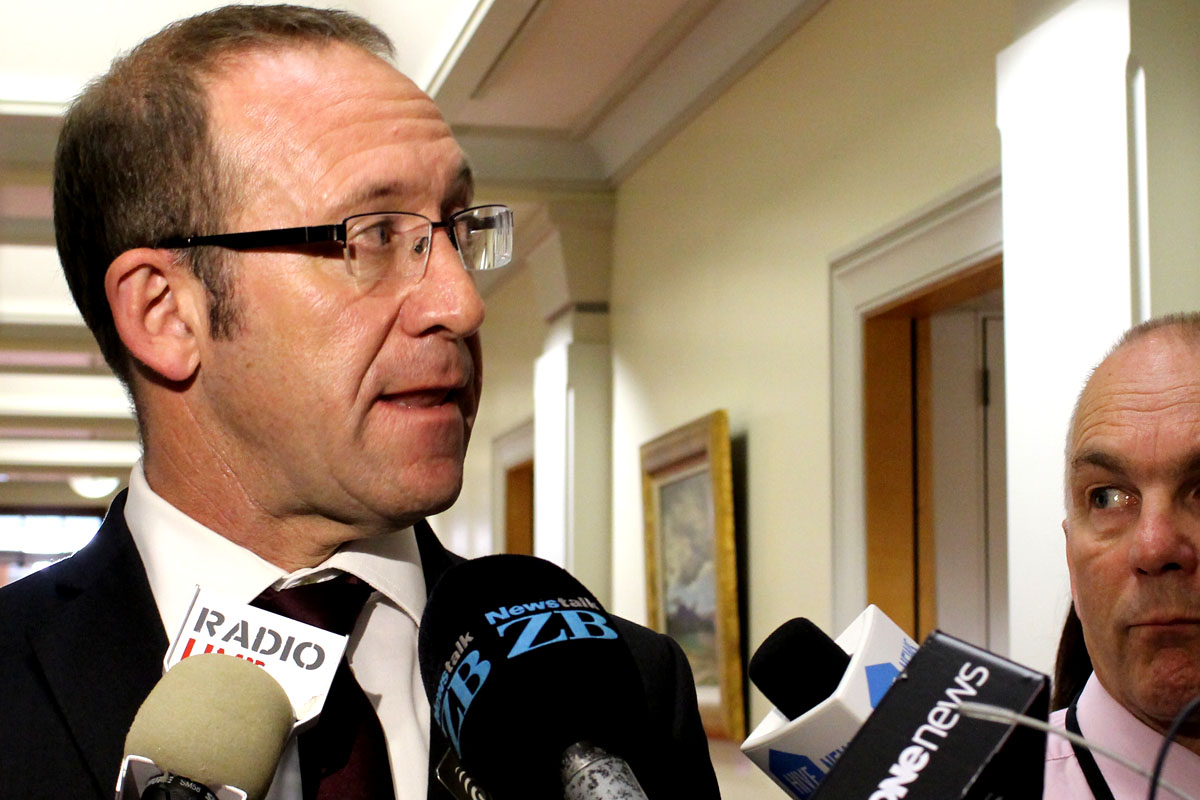 By Bernard Hickey
The Labour Opposition has opened a new front in its drive to ban foreign buyers of land and houses, saying it would oppose the Trans Pacific Partnership Agreement (TPP) unless it allowed future Governments to ban such sales.
Labour Leader Andrew Little detailed Labour's tougher policy on the TPP on Tuesday after Prime Minister John Key said the TPP would effectively stop any future Government from banning non-residents from buying New Zealand land and houses.
Key has said New Zealand's 2008 Free Trade Agreement (FTA) with China included a Most Favoured Nation clause which meant China was entitled to the same treatment as other nations in any future free trade deal. New Zealand's FTA with Korea, which has been signed and is being finalised, prohibits any ban on foreign buying, meaning China has to be treated the same. Key has also said the TPP, which is in the final stages of negotiation in Hawaii this week, would also prevent any ban.
Little said the Government was being disloyal by refusing to protect New Zealand's sovereignty and was betraying the nation's long-term interest by locking future Governments into such a deal.
"The Government must have the right to restrict the role of non-resident foreigners when it comes to our property market, whether it's residential or farm land. We must have the right to set our own rules to act in our interest." Little told reporters.
"We don't know what's in the TPP. The whole thing is secret which is why Labour has put some bottom lines there, including protecting the right of future governments to legislate in the best interests of New Zealand, including putting restrictions or bans on what non-resident foreigners can do in terms of land sales," he said.
Labour's other 'bottom lines' included the protection of Pharmac, stopping foreign corporates from successfully suing the Government and ensuring meaningful gains in market access were achieved.
"We cannot have the situation where the Government is at risk of legal action because of its attempts to legislate in the best interests of New Zealanders," he said.
"If it compromises or prevents the ability of any future government to restrict land sales, residential or farm, we will be opposed to the TPP."
However, Little would not commit to repealing or changing the TPP if Labour was the Government, saying only it would have to make it's decision at the time, given it did not know what was in the TPP.
"I don't know what the scope would be for a future government to do with a concluded agreement," he said, adding however the full agreement will not be voted on in Parliament. There may be enabling legislation that will have to be voted on.
"We will oppose the TPP in whatever form we can if it prevents a future Government from acting in the best interests of New Zealanders," he said.
Little said the primary concern about the TPP it had received in feedback from voters was the risk or threat of preventing a future Government from restricting land sales.
"That's what they fear most. The Government should hear that message. That's why we've taken the stance we have," he said.
He said the Government should renegotiate its bilateral deal with Korea if it prevented a ban on foreign buyers.
Key admits Pharmac costs may rise
Meanwhile, Key told reporters the TPP could extend the patents on medications, preventing Pharmac from quickly using generic versions, but that these costs would be more than offset by gains through increased market access.
"Patents will run for a little bit longer and that means the government will have to pay for the original drug as opposed to the generic for a little bit longer," Key said.
"For consumers that won't make any difference because for subsidised drugs you pay $5 for your prescription. So the government may incur slightly more costs there but then the government has to say what are the benefits that we get? Of course, if we have a lot more exports and a lot more economic activity we gain a lot more revenue there," he said.
"There's always a bit of give and take, but overall it's at the margins and the modelling  we've seen presents more benefits than costs to us."
Doctors have estimated the TPP could increase drug costs by NZ$25 million to NZ$50 million a year.
Little said the Government appeared to be going back on its commitment to retaining the benefits of Pharmac.
"A couple of months ago they were saying they were going to protect the Pharmac model and they're going back on that undertaking. That's the whole problem with a negotiation done in secret," Little said.
"If they now want to load up more cost on the New Zealand taxpayer to meet the cost of Pharmac, that's not acceptable."
Little denied Labour had reversed its earlier commitments to free trade.
"We remain absolutely committed to free trade. We're a small trading nation and market access remains absolutely vital, but the TPP does more than market access. We don't even know what market access it's going to achieve, but it does way more than market access and that's the problem with it," he said.
"We listen to all New Zealanders and we listen to a lot of New Zealanders who are concerned about the potential threat to the future sovereignty of New Zealand Governments."