Auckland Council proposes to open up the pricey coastal suburbs of Orakei & Westmere to more housing intensification, yet leave the villas of Ponsonby & Herne Bay in their glory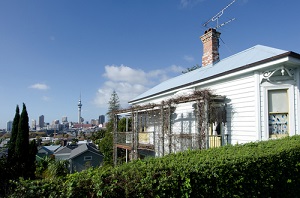 Orakei, Westmere and Point Chevalier are among the leafy suburbs Auckland Council is proposing to re-zone to enable higher density housing to be built.
Yet the likes of Herne Bay and Ponsonby have side-stepped the prospect of change within the city's inner suburbs.
Auckland Council on Thursday released 43 maps detailing what it wants the city's zones, outlined in the pending Auckland Unitary Plan, to look like.
It's released its preliminary position, which it says could change ahead of the Plan's Independent Hearings Panel hearing evidence on zoning in March and April next year.
While the Council's made some of its calls having reviewed public submissions on the Proposed Auckland Unitary Plan (PAUP), it's come under fire for making a number "out of scope" proposals that none of the 4,000+ submitters raised concerns over.
It's essentially calling for re-zoning to allow for more densification than proposed in the PAUP. Read this interest.co.nz article for more on the Council's "bigger picture" to enable more housing to be built to meet the city's shortage.
Here's a summary of exactly how it's proposing to re-zone the city's central suburbs. Click on the suburb name to be directed to a map.
Orakei, Mission Bay, Kohimarama, St Heliers, Glendowie:
- The zone across virtually all of Orakei to be changed from 'Mixed Housing Suburban' to 'Mixed Housing Urban'. This would change housing height limits from two to three storeys, do away with density controls and require less space around the dwelling. 
- Large parts of Mission Bay, areas off Kohimarama and St Heliers Bay Roads, and all around Glendowie to undergo similar zone changes, with only very small parts of this area to remain in the 'Single House' zone that only permits one dwelling per site with a number of restrictions.
- Nearly all of Westmere to be changed from Single House to either a Mixed Housing Suburban or Mixed Housing Urban zone.
- Small pockets around Mt Eden, including parts around View and Esplanade Roads that have big properties with old houses on them to be transformed into a Mixed Housing Urban zone. Other parts around Valley Road and Omana Avenue also to be densified to a more mild level.
- Parts of Balmoral, especially around Balmoral School, to be re-zoned to allow for terraced housing and apartment buildings, four to six storeys high.
Mr Albert, Sandringham, Pt Chevalier:  
- Areas along the Western Rail Link, especially by the Baldwin Ave train station in Mt Albert to be densified. Also pockets around Avondale College, Blockhouse Bay, Pt Chevalier Road and New Lynn.
- A large block between St Lukes shopping Mall and the railway station in Mt Albert to be converted to an apartment and terraced housing zone, as well as a few spots along Sandringham Road near the mall.
- Single House zoning to remain in larges patches between Dominion and Sandringham Roads.
- Ponsonby and Herne Bay to remain mostly in the Single House Zone.  
- The back end of Grey Lynn, around Surrey Cres to get Mixed Housing Urban status, so three-storey dwellings can be built.
- Parnell and Newmarket to remain largely as they are.
- Parts of Remuera to be densified, with Single House zoning to go in some areas.
- Decent pockets of Onehunga to be zoned as Mixed Housing Urban, especially around Station and Waitangi Roads, Heretaunga Avenue and Mount Smart Road. A few pockets to be included in the 'Terrace Housing and Apartment Building' zone.
- A small amount of re-zoning around Ellerslie, Mt Wellington, One Tree Hill, Oranga, Otahuhu, Penrose and Sylvia Park.
- Very large portions of Panmure to be transformed from a Mixed Housing Suburban to a Mixed Housing Urban zone.
See all 43 maps at the bottom of this Council web page.