Harcourts' auction rooms busy from Auckland to Invercargill last week: The full results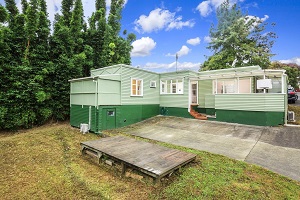 What sort of home can you get in Auckland for half a million dollars these days?
The cheapest Auckland property sold at auction by Harcourts last week went for exactly $500,000.
It was a two bedroom plus study, weatherboard house on a 544 square metre section (pictured)  in the west Auckland suburb of Glen Eden.
A second bathroom laundry had been added which was consented, but the work was yet to receive its final Code Compliance Certificate.
The agency's promotional material suggested the property would be suitable to rent out, renovate or remove and redevelop the site.
The most expensive Auckland home sold at last weeks' Harcourts' auctions was a house at Campbells Bay on the North Shore that went for $2.38 million.
See below for the full results of Harcourts' auctions last week, including those in the Waikato, Taupo, Napier, Palmerston North, Wellington, Kapiti, Christchurch, Blenheim and Invercargill
You can receive all of our property articles automatically by subscribing to our free email Property Newsletter. This will deliver all of our property-related articles, including auction results and interest rate updates, directly to your in-box 3-5 times a week. We don't share your details with third parties and you can unsubscribe at any time. To subscribe just click on this link, scroll down to "Property email newsletter"and enter your email address.