LINZ says 3% of home, farm and business buyers nationally were foreign tax residents in March qtr; 4% of buyers in Auckland were overseas tax residents; figure may be understated as portion of students and temporary workers said they were NZ tax residents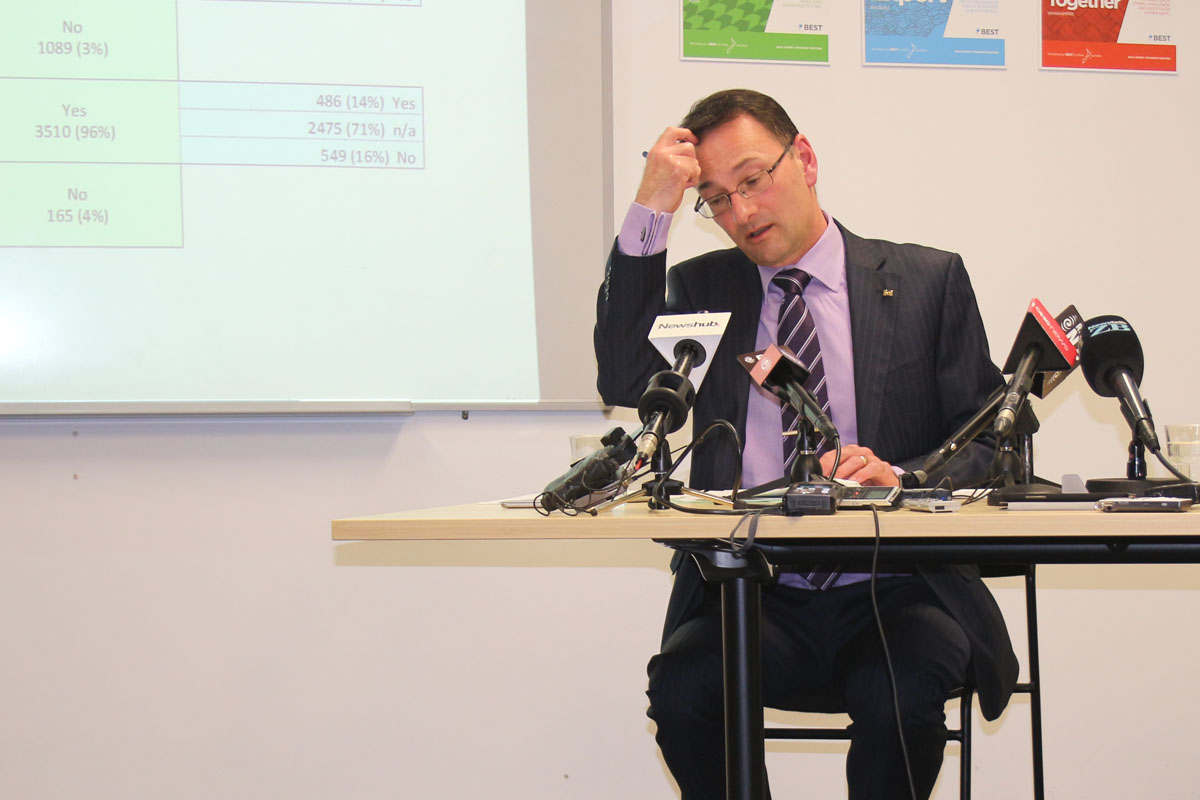 By Bernard Hickey
Land Information New Zealand (LINZ) has released its first set of data on foreign buyers of houses and other property, but uncertainties about the data suggest the 3% figure for overseas buyers in the March quarter understates the figure for current sales. LINZ even considered not releasing the figures because of their doubts about the early reliability and accuracy regarding what proportion of sales were to foreign residents.
"We didn't release the first quarter data because I didn't have sufficient confidence in it. While there are still some questions about this data, my view was that if we hadn't released I think there would have been calls for a conspiracy theory that LINZ was doing something that it shouldn't have been," CEO Peter Mersi told a news conference.
"So I made the call that we put the data out and explain it as we have. So it is not comprehensive - in other words there's still the 10% (of exempt deals) and not all the people are responding as we would have liked, but broadly I think it is still helpful, and adds some insight," he said.
LINZ reported that 3% of buyers of homes, farms and businesses in the March quarter identified themselves as overseas tax residents, but that number excludes foreign students and those on temporary work visas who identified themselves as New Zealand tax residents. The number also excludes properties bought by trusts and 10% of purchases that were exempt because the transactions started before the October 1 introduction of the new disclosure rules.
LINZ said 4% of buyers of property and businesses in Auckland were foreign tax residents in the March quarter, but also cautioned the survey that collected the data had not properly categorised those buyers who may have been students or on temporary work visas.
The data showed that China was the biggest source of overseas tax residents, with 321 buyers listing themselves as having a Chinese tax residency, ahead of Australia with 312 and the UK on 99.
It could be 3% or 48%
Most of those buyers from China bought in Auckland, where there were 276 buyers in the first quarter from China. There were 45 Australian buyers in Auckland in the quarter and 24 from the UK.
LINZ included a question in its survey which attempted to work out which buyers may be tax residents in New Zealand, but may not have been permanent residents or citizens. This group included those in New Zealand for an extended period on student work visas or on temporary work visas. The survey found 24% of house buyers said they were on work or student visas and planned to live in the house, but LINZ said the survey results were inflated by permanent New Zealand residents and citizens who mistakenly thought the question applied to them. There were a further 11% who said they were a student or on a temporary visa and did not live in the house.
LINZ said it believed the survey results on whether buyers were students or temporary workers were also skewed because 35% of those who said they were on temporary or student visas said the home they bought was their main home, which would not be technically possibly if they were here temporarily.
LINZ said it was redesigning the survey question and was likely to have fresh data for the September quarter which correctly identified which of the New Zealand tax residents were foreign students or people in New Zealand on temporary work visas.
The June quarter and September quarter data would also have 'washed out' the skewing results of the grandfathering effects of transactions started before October 1 but included in the settled transactions in the March quarter. This category made up 10% of transactions nationally in the first quarter and 14% of Auckland transactions.
Technically, the combination of the 3% declared foreign tax residents, 35% who said they were students or on temporary visas, and the 10% of exempt transcactions mean the foreign buyers percentage could be as high as 48%. Or it could be just 3% -- the caveats make it difficult to know.
Mersi cautioned against reading the data without taking into account the flawed survey results on temporary residents and large percentage of transactions exempted from the data in the initial six months of data as deals started before October 1 are excluded.
Reaction
Land Information Minister Louise Upston said the results were in line with the Government's expectations, "but it's early days."
She said the Government would look at the picture over the next 12 to 18 months as it considered its housing policy. She also cautioned against calling the data a foreign buyers' register.
Labour Housing Spokesman Phil Twyford, who has released data from Barfoot and Thompson showing the percentage of buyers in Auckland with Chinese names from February to April last year was 39.5%, described the data as selective and ineffective.
Twyford said it did not give an accurate picture because it was collected at a time when overseas buyers had temporarily deserted the market to arrange their IRD numbers and bank accounts.
"For most of the six months this information was collected, the Auckland housing market was in a temporary lull. Most analysts attributed this to the new requirement for foreign buyers to register with the Inland Revenue and the Chinese Government's crackdown on illegal financial transfers out of China," Twyford said, adding the figures also excluded trusts and businesses.
"As a contribution to the housing debate, this data is effectively useless," he said.
"The fact that this data is so limited and the Government has selectively released parts of it, underlines the need for a proper searchable register of foreign property ownership – as is the policy in Australia and the United Kingdom."
Green Co-Leader Metiria Turei said the LINZ data gave nowhere near a full picture on how many non-resident buyers had bought New Zealand homes.
"New Zealanders desperately need the Government to collect definitive information on the number of non-resident foreign housing speculators operating in New Zealand, and the Government has let us down," Turei said.
"LINZ has admitted that this data is far from perfect. Businesses, trusts, and some student and work visas are exempt – that's a whole lot of missing data," Turei said.
"This incomplete data seemingly suits the Government, but it's going to make New Zealanders even more frustrated because it feels like we're still in the dark over this issue. The reality is that any house sold to a non-resident foreign speculator is a house that a New Zealander can't buy," she said, adding the Government should ban non-resident buying of homes and impose a capital gains tax on every property except the family home.
More detail from LINZ is available here.
(Updated with more detail, new picture, reaction)