Key defends Govt's actions on affordable and social housing as reports emerge of Auckland families living in garages, cars and containers; suggests families talk to Work and Income; Smith flags land release directive; sees ChCh as model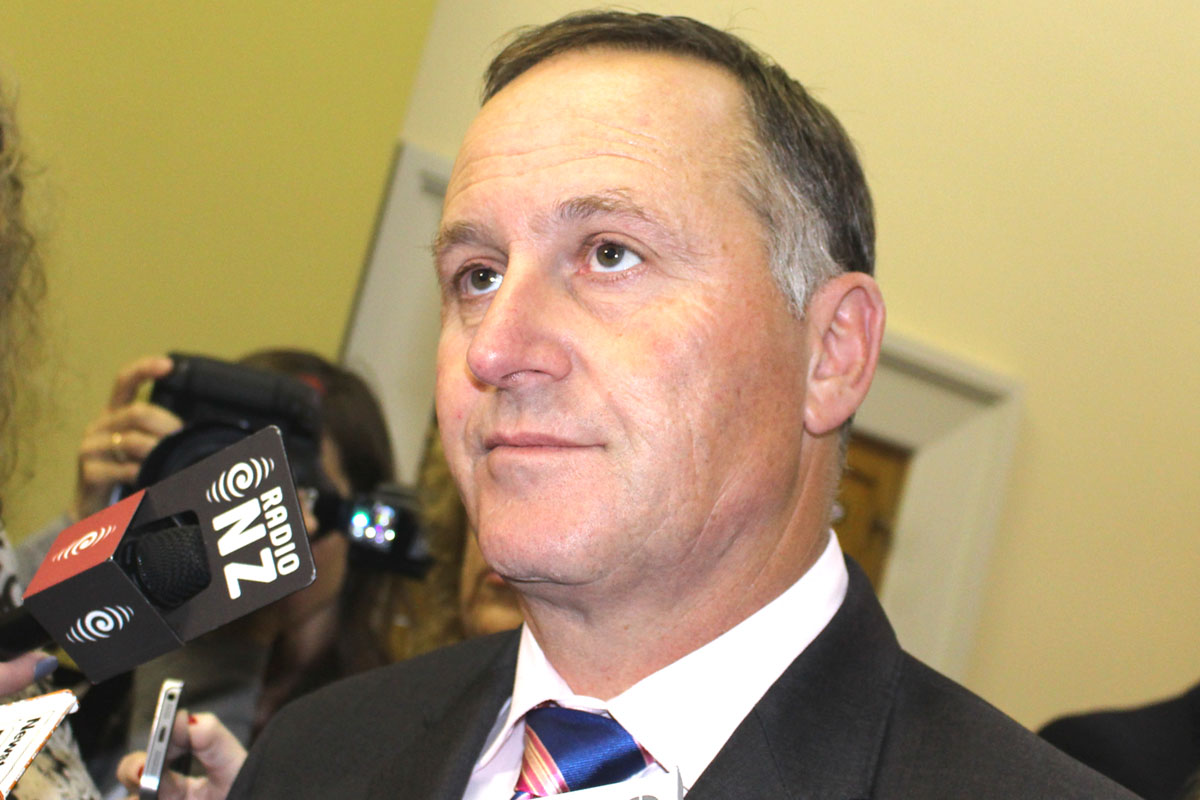 By Bernard Hickey
Prime Minister John Key has defended the Government's record on providing affordable and social housing in Auckland, saying those families living in cars and garages should approach Work and Income New Zealand (WINZ) for help.
His comments followed reports over the weekend that up to 1 in 10 garages in South Auckland were rented out to families and many young families were living in the backs of cars and mini-vans because of a shortage of Housing New Zealand Corp and other affordable housing.
TV3's Mike Wesley-Smith's reported on The Nation on Saturday on a growing number of Auckland families that were living in cars and garages.
Wesley-Smith reported from social workers and others in South Auckland that up to 1 in 10 garages there were rented out to families for hundreds of dollars a week, while many others were living in cars, in the backs of mini-vans and in shipping containers.
Key told RNZ's Guyon Espiner this morning that kids living in cars and mini-vans was unacceptable and the Government had taken a range of measures to address it, including Social Housing Minister Paula Bennett's May 9 pre-Budget announcement of NZ$41.1 million of spending over four years to provide 3,000 emergency housing places per year.
"The situation where people find themselves living in a car, or living under a bridge or something, there could be a range of reasons, but, at the core of it, that's not the New Zealand we want, and it's not acceptable," Key said.
Key also cited moves to force long-staying occupants of houses too big for their situation out into smaller state houses as a part of the solution.
"But probably the most fundamental change we've made is to ensure income related rents can be paid to a social housing provider to build that stock of housing aimed at the very affordable end," he said.
"There's no question there's not enough supply of housing at the very low end and that's the fundamental change we're working on with these additional new places."
Key said those people living in cars and garages should approach Work and Income for help.
"I'd be surprised if Work and Income didn't find some support for them. I wouldn't say it'd be perfect, but I'd be surprised if they left them in a car," he said.
"People often don't understand what's available to them. My experience at Work and Income is they do their very best to support people in those situations and especially when children are involved."
Housing NZ and WINZ criticised
The Salvation Army's Campbell Roberts and Mangere Budgeting Services Trust Darryl Evans called on the Government to do more to resolve the issue in this RNZ report.
Roberts criticised the Government for continuing to take dividends fromHousing NZ and for not building enough new state houses, while Evans criticised the move in needs assessment from Housing NZ to Work and Income, which he said had made it virtually impossible to speak to a case worker about a family's situation.
"Currently I understand the data is put into a computer and essentially the computer generates a number, A16 is the highest risk. They get housed quicker than somebody who is, for example, a B10. I don't want a computer deciding on who gets a home," Evans told RNZ.
Evans also called for the accommodation supplement, which has not been changed since 2005, to be improved, given it was still limited to NZ$200 a week in Auckland, whereas rents were now well over NZ$400-500/week.
The Child Poverty Action Group called in March for reform of the Accommodation Supplement. Bill English said last week the Government had no plans to change it.
Smith plans land directive
Elsewhere, Housing and Building Minister Nick Smith told The Nation and Q+A that he was preparing a National Policy Statement under the existing RMA to direct Councils to free up land for housing.
"What I'm simply going to continue to emphasise, as I have today in meetings with the Mayor of Auckland, that it is vitally important for Auckland that they land a good-quality plan that provides for that growth, but I'm also upping the ante," Smith told Corin Dann when asked if the Government would step in Auckland did not approve a Unitary Plan (see more on that in my column below).
"Next month I will be producing a national policy directive under the RMA that will put far tougher requirements on growing councils to ensure that they are freeing up long term the land that is required so that we don't get into the sort of juggernaut that has been at the core of the unaffordable housing problems in Auckland," he said.
Asked if a group of home owners in Auckland's leafy suburbs were holding the Government to ransom, he said: "Oh, equally I would say it's not just about those in leafy suburbs that don't want intensification. On the fringes of Auckland, there is large amounts of land that is imminently suitable for housing. And if we're going to solve the problem in Auckland, it can't be the sort of binary choice – is it up or is it out? It's actually both."
"Half the council is opposed to intensification and Auckland going up, the other half is opposed or historically has been to growing out for urban sprawl, so for a decade Auckland has not built the number of houses that is required to meet the demand, and as a consequence of that, you get increasing rents, you get house prices getting up over NZ$800,000."
Elsewhere, Smith said he expected to announce a number of development agreements for housing on crown land in Auckland in the "next few weeks."
Christchurch the model
Smith told Lisa Owen that the housing supply increase in Christchurch, which was reducing rents and prices, was a model for Auckland.
"When I saw that piece from Mike, it reminded me of the situation we had four or five years ago in Christchurch. A different scenario there in that we lost 12,000 houses from the earthquake but not dissimilar in the sense of the level of need, and that is why I've got confidence in the Government's plan, both medium and long term, in that in Christchurch, growing supply has resolved those issues," Smith said.
"For instance, rents in Christchurch over the last year have dropped by 5%. That is because we've got supply ahead of demand. Auckland is a bigger market. It's a bigger challenge, but we need to do things short term, like the emergency houses, like the requirement for home insulation that's in the bill, that we'll have in the law by 1st of July, as well as those really important long-term supply questions," he said.
"And that is why as a government we've got to pull out all stops to grow the number of houses that are being built and also trying to get the market to produce more houses that are in that affordable range, and we've got some programmes going in that regard that are making progress, but we have a way to go."
Smith did however hint that the accommodation supplement and/or income related rent issues could be addressed in the Budget.
Land bankers on notice
"If we look, the Government is spending actually now NZ$2 billion a year in both the accommodation supplement and the income-related rent, and my colleague Paula Bennett is seeking additional funding which we'll be able to talk about when the Budget is announced in a couple of weeks," Smith said.
Elsewhere, Smith was challenged about the 1,000 houses built in special housing areas with space for 48,000 houses, and whether land banking was an issue.
"I have indeed written to some of those special housing areas, to some of those people that have that status on their land, and said, 'Get on and get your resource consents, your infrastructure, your subdivision progressed, or myself and the council withdraw that special housing area status'," he said.
"But, actually, you cannot physically force a landowner to bring their land on supply. The best way of which we can get pace is actually creating competition in that market by removing those very crude metropolitan urban limits that have allowed the land bankers to be able to have monopoly rights and be able to exploit that market advantage and drive those section prices so high."
'We'll do tax cuts instead'
Meanwhile, Key signaled this morning that big income tax cuts were still possible next year, despite Finance Minister Bill English on Thursday ruling out tax cuts this year due to higher spending needs linked to record high net migration, lower than forecast inflation and the need to meet the Government's 20% net debt to GDP target.
Speaking to Mike Hosking later this morning, Key said tax cuts had been ruled out in the short term because the Government had decided not to do a small tax cut of NZ$1 billion and instead chose spending on healthcare and other areas.
But he said the Government was working on a more substantial package of income tax cuts for 2017.
"We are not ruling that out for 2017 or campaigning on it for a fourth term in 2017, but having a bigger one, to be blunt, than $1 billion," he said.
Asked how much was needed to deliver significant cuts, he said: "$3 billion, I reckon."
Key said, however, that the current Budget forecasts did not allow enough room for that size of tax cut -- "nowhere near enough for that."
Political reaction
Labour Leader Andrew Little said Key was "completely out of touch if he thinks desperate South Auckland families forced to live in cars can simply go to Work and Income for help."
"Many of these families are working and still can't afford a home in Auckland, where rents have risen 25 per cent in the past five years. Our MPs are inundated with people who are in extreme need but still can't get on the state house waiting list," Little said.
"The Prime Minister has spent years denying there even is a housing crisis. In eight years National has only tinkered around the edges with policies that do little to make up the 40,000 shortfall in houses Auckland faces. John Key was this morning out of ideas and out of answers about what his Government will do to help children facing a cold winter living in cars, garages and even tents," he said.
"Instead of meeting New Zealanders in the Koru Club, the Prime Minister should go to South Auckland and meet some of these people. John Key said today that homelessness is 'not the New Zealand we want' but it's the New Zealand his Government has created."
Little called for a massive state-backed building programme for affordable housing and a clamp-down on offshore buyers of houses.
Green Social Housing Spokeswoman Marama Davidson said urgent action was needed to solve homelessness and over-crowding.
"Families heading into a winter of sleeping in a cold garage or their car are not going to take much comfort from Housing Minister Nick Smith sending stern letters to land-bank speculators in Special Housing Areas," Davidson said.
"The Government has been selling off state houses without building enough to replace them. Housing crises don't just happen. Allowing property speculators to keep driving up the price of land, while landlords don't have to make sure their properties are warm and dry, has been the recipe for the housing crisis," she said.
"If the Government really cared it would invest in building thousands more affordable homes, and get rid of the tax incentives that encourage people to speculate on housing. Small so-called solutions like more emergency housing places don't do enough to fix what is a very big problem."
(Updated with political reaction, Key on tax cuts, link to video)