English says Budget 2016 to include spending brought forward from 2017; says money set aside for tax cuts in 2017 reprioritised for debt reduction; still committed to tax cuts 'over time' and either in 2017 or after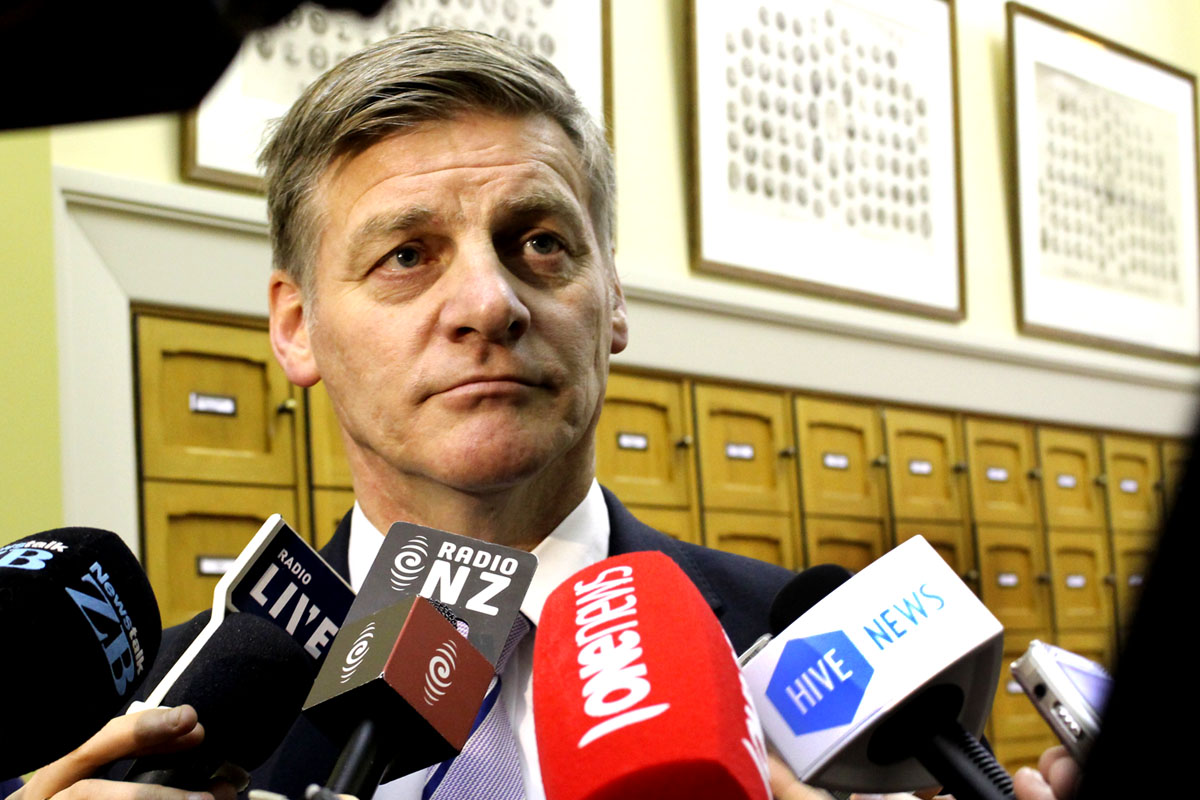 By Bernard Hickey
Finance Minister Bill English has sketched out the overall structure of spending and debt repayment to be announced in Budget 2016 on May 26 and appeared to kick the prospects of major tax cuts down the road to after the 2017 election.
It showed the Government has chosen debt reduction rather than continuing spending at its current planned rates, and instead of locking in a big lump of its spending allowance for tax cuts next year.
English said spending originally planned for 2017 would be bought forward to 2016 and money set aside for tax cuts in 2017 would instead be re-prioritised for debt reduction.
Speaking in his annual pre-Budget address to the Wellington Chamber of Commerce, English said the Government had previously set its new spending allowance for Budget 2016 at NZ$1 billion, before ramping up to NZ$2.5 billion in Budget 2017 to include room for tax cuts before the election later in 2017.
But English said lower nominal GDP forecasts from Treasury and extra spending on infrastructure to cope with population growth meant the new spending allowances would be rearranged for 2016 and 2017 in the May 26 Budget so the Government could still meet its target of reducing net debt from around 25% now to around 20% by 2020.
"With the revised allowances, a portion of spending previously earmarked for Budget 2017 has been brought forward into Budget 2016 in recognition of additional spending pressures," English said in speech notes released before the speech.
"Another portion of spending previously earmarked for Budget 2017 has been used to reduce Government debt, to help reach the 2020 debt target," English said.
"The capital spending allowance, which is for one-off investments in infrastructure and other public assets, will also be lower than previously signalled to allow for more debt repayment," he said.
"However, a significant amount of additional investment will be funded by re-prioritising within the Crown's larger balance sheet."
English said these changes to allowances would "reduce spending by around NZ$1.2 billion over the next five years, helping to further reduce debt and meet the Government's 2020 debt target."
"Lowering income taxes remains a Government priority.  In particular we want to address the higher marginal tax rates faced by low and middle income earners as their incomes continue to rise," he said.
"However, as we've always said, tax reductions remain dependent on fiscal and economic conditions. With continuing tight fiscal conditions, we don't currently have an explicit provision for tax reduction in the fiscal forecasts," he said.
"At this point, we've prioritised additional debt repayment over setting aside money in Budget 2017 for tax cuts."
English said the Government was still committed to cutting personal taxes over time, " and will consider these either in Budget 2017 or after -- as and when the fiscal situation improves."
Warning to Auckland Council
Elsewhere, English fired a shot across the bows of the Auckland Council ahead of its August 19 decision on whether to accept the recommendations of the Independent Hearings Panel on the Auckland Unitary Plan.
English said Auckland needed around 13,000 new homes built each year for the next 30 years, but it was currently only building 9,500 houses.
"The Government's very clear expectation of Auckland Council is that it will approve a plan in August that delivers this," he said.
"It is for Auckland to decide how and where that target is achieved."
Diverting from his speech notes, English later said the Auckland Unitary Plan decision would be the single biggest decision affecting Auckland house prices and New Zealand prices more generally.
Political reaction
Labour Finance Spokesman Grant Robertson said the Government's decision to reduce its capital spending allowance was the exact opposite of what the Reserve Bank said yesterday was needed.
"Bill English has signalled a Budget money-go-round that fails to meet the need for investment to grow the economy. He plans to cut funding for capital projects now, just as the call for investment grows," he said.
"Labour believes the Government should be investing in much-needed essential Auckland infrastructure such as housing and transport, and support the regions to develop high value industries and decent work."
ACT Leader David Seymour said he was disappointed the Government had refused to cut taxes in this or next budget.
"Abolishing corporate welfare would have given the Government an opportunity to cut taxes", Seymour said.
"Under this Government, corporate welfare has risen to $1.344 billion a year - a cost of $752 per New Zealand household. These handouts have included payments for sheep given to a Saudi businessman and a boat-building company owned by the world's seventh-richest man," he said.
"I would rather see that tax given back to households and businesses to decide for themselves what best suits their needs. Abolishing corporate welfare would save enough to allow the corporate tax rate to decrease from 28% to 22.5%, or to scrap the top income tax rate of 33%. Either of these is a far better option than continuing to allow politicians to pick winners."
(Updated with more detail, reaction)