Migration inflows at record levels (again) with more people arriving but fewer leaving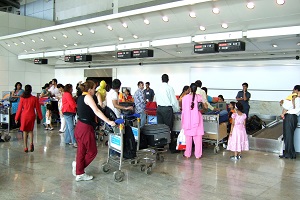 Population growth from migration continues to break all previous records with a net gain of 68,432 residents in the year to May.
According to Statistics New Zealand it was the twenty second month in a row that the annual net migration gain had set a new record.
Prior to that period the previous record was a net gain of 42,500 new residents in the year to May 2003 (the net gain is the total number of permanent and long term arrivals in this country minus the total number of permanent and long term departures).
Statistics NZ said the record gain in new residents was driven mainly by increasing numbers of new arrivals, with a record 124,800 coming to this country on a permanent or long term basis in the year to May, which was up 8% on the previous 12 months.
Approximately a quarter of the arrivals were New Zealand citizens returning after an extended stay overseas.
Over the same period 56,400 people left this country permanently or long term, which was down 2% compared to the previous 12 months.
The biggest source country for new arrivals remains India, with a net gain of 12,274 people in the year to May, followed by China and Hong Kong 10,418, The Philippines 5,142, the UK 3,942, France 3,144, Germany 3,033 and South Africa 2,918.
The effects of the continuing surge in migration-fueled population will be felt most acutely in Auckland, with more than half of the new arrivals who stated the location they intended to live on their arrivals cards, listing Auckland as their destination.
The most immediate impact will be on Auckland's housing market, with a serious housing shortage already evident in the Auckland region and the rate at which new homes are being built still falling well short of what is required to cope with its burgeoning population growth.
It will also put further pressure on infrastructure such as transport.
However after the release of May's figures, economists at both ASB and Westpac issued commentaries saying they believed that migration could begin to slow.
In a Quickview note on the figures, ASB economist Daniel Snowden said migration inflows could be close to peaking.
An improving Australian economy and changes to Australia's citizenship laws could encourage more New Zealanders living across the Tasman to stay there to gain citizenship, rather than return to this country, he said.
And in a First Impressions newsletter on the figures, Westpac's chief economist Dominick Stephens said he expected more people to start leaving New Zealand 
"We expect annual net migration to fall rapidly over the coming year or two, as foreigners who arrived on temporary work visas or student visas over the past three years, begin to depart, and as the recovering Australian labour market begins to attract new Zealanders across the Tasman," he said.