Prices at Harcourts' latest auctions started at $76,000 for a house at Kaikohe and went up to $2.77 million for a Takapuna home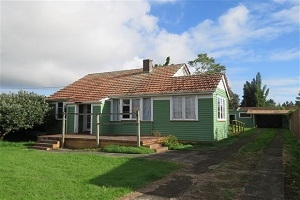 A three bedroom house at Kaikohe in Northland that sold for $76,000 (pictured) was the cheapest property auctioned by Harcourts last week.
The most expensive sale was a house at Takapuna on Auckland's North Shore that went for $2.77 million.
The Kaikohe house was do up, but it was on an 814 square metre section and located a short stroll from the local shopping centre, medical centre and school.
"Roll up your sleeves and get stuck in," Harcourts' said in the property's advertising brochure.
In Auckland the cheapest property auctioned by Harcourts last week was a home unit in Papatoetoe that fetched $445,000.

Harcourts also had a busy week in their Hamilton auction rooms where prices ranged form $187,500 to $1.246 million.
In Wellington prices ranged from $275,000 for a Paraparaumu property to $833,000 for a house at Eastbourne and in Christchurch they started at $253,000 and went up to $877,000.
You can see all of Harcourts auction results from last week on a our new Auction/sales results page, with photos and details of all properties including those that didn't sell, by clicking on the property tab beneath the banner at the top of this page and selection "Auction/sales results" from the drop down menu.
Or you can click on the link above.
You can receive all of our property articles automatically by subscribing to our free email Property Newsletter. This will deliver all of our property-related articles, including auction results and interest rate updates, directly to your in-box 3-5 times a week. We don't share your details with third parties and you can unsubscribe at any time. To subscribe just click on this link, scroll down to "Property email newsletter"and enter your email address.