Prices at Bayleys' latest auctions started at $265,000 for a large section in Te Awamutu; House in Tirau fetches $315,000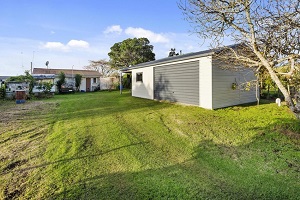 A number of holiday and lifestyle properties were among the offerings at Bayleys' latest auctions in Auckland and Hamilton, including a holiday home at Whangamata that went for $700,000, and a bach at Kawakawa Bay that went for $523,000.
Other sales included a home unit in Sandringham and an apartment in the Heritage Hotel complex in Auckland's CBD.
In Hamilton several commercial properties were sold including a superette in Huntly and an A grade commercial building leased to a veterinary practice in Hamilton, plus several rural/lifestyle properties including a house at Tirau that sold for $315,000, and a section in Te Awamutu that went for $265,000.
You can see the full results of Bayleys latest auctions on our new Auction/sales results page, which has photos and details of all properties, including those that didn't sell.

To view the page you can either click on the Property tab, which sits just under the banner at the top of this page and then select Auction/Sales Results from the drop down menu, or you can click on this link.
You can receive all of our property articles automatically by subscribing to our free email Property Newsletter. This will deliver all of our property-related articles, including auction results and interest rate updates, directly to your in-box 3-5 times a week. We don't share your details with third parties and you can unsubscribe at any time. To subscribe just click on this link, scroll down to "Property email newsletter"and enter your email address.