How many Big Macs could you buy for the equivalent cost of a median priced Auckland house compared to Melbourne, Sydney and New York?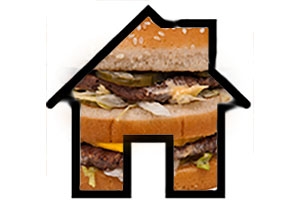 How many Big Macs would it take to pay for an average house in Auckland?
And assuming you could find a vendor willing to accept payment in the iconic burgers, how would Auckland's Big Mac buying power compare with other places such as Sydney, Melbourne or New York?
These questions were recently pondered by the technical boffins at local property valuation website Homes.co.nz as they updated the valuations for 1.4 million New Zealand homes that are freely available on their website.
Borrowing a leaf from the pages of the famous Big Mac Index developed by The Economist magazine to measure whether currencies in different countries are over or under-valued depending on their Big Mac purchasing power, Homes.co.nz developed its own Big Mac Property Index.
According to the website, the median value of homes in Auckland was $875,056 at the beginning of this month.
Or for the same amount of money you could get 145,843 Big Macs at $6 a pop.
So how would that compare with Melbourne, Sydney or New York?
According to Homes.co.nz. you would need considerably fewer Big Macs to buy median priced homes in either Melbourne or New York, and slightly less to buy a median priced home in Sydney (after converting local Big Mac and median prices to New Zealand dollars).
In Melbourne it would cost the equivalent of just 104,950 Big Macs to buy a median priced home, a whopping 40,893 fewer burgers (-28%) than in Auckland.
In Sydney it would take 139,339 Big Macs, just 6504 (-4.5%) fewer than in Auckland and in New York you need to cook up 116,448 of the famous burgers to buy a median priced home, which is 29,395 (-20.1%) fewer than you'd need in Auckland.
Although it's a light hearted comparison, it does highlight a serious issue and suggests Auckland housing is seriously more expensive than other cities around the world.
"While this is a quasi-metric, it gives a little context to comparing other cities around the world," Homes.co.nz marketing manager Jeremy O'Hanlon said.
"It's hard to believe that we've created a more expensive city than a global centre like New York.
"I'm not sure if there's any comfort in Auckland being just slightly worse off than Sydney, they have significant problems of their own," he said.