Latest Auckland apartment auction results from Barfoot & Thompson, City Sales and Ray White City Apartments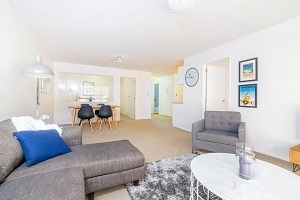 There was a reasonable selection of apartments on offer at the main Auckland apartment auctions this week ,although sales results were mixed.
The biggest offering was at Barfoot & Thompson's main Auckland auction rooms where eight apartments were offered at their Thursday morning auction, with four being sold under the hammer and four being passed in.
Of those that sold, the cheapest was a studio unit in the Oakwood Hall building near Auckland University on Wakefield St which fetched $240,000 and the most expensive was an upper level, one bedroom unit that had been thoroughly refurbished and was part of a three level, 1970s-era apartment block on Curran St in Herne Bay, which went for $800,000.
At Barfoot's Thursday afternoon auction, a two bedroom home unit on two levels with a car park sold for $395,000 but a large brick house in Mt Eden, probably build in the 1960s or 1970s, which had been converted into three flats, one of three bedrooms and two with two bedrooms each, was passed in with a top bid of $1.9 million.
Just up the road at Ray White City Apartments'  regular auction, two units were on offer, one of them in the Metropolis building and the other in Mt Eden. Although both attracted bids they were passed in for sale by negotiation.
Earlier in the week City Sales offered a single apartment at their regular auction, a two bedroom unit (pictured) in Newton with a car park and deck that sold for $636,000.
You can view the results of most of the major residential auctions conducted by Barfoot & Thompson, Harcourts, Bayleys, City Sales and Ray White City Apartments on our Auctions/Sales Results page, which you can access by hovering your cursor on the Property tab just under the banner near the top of this page and clicking on  "Auction/Sales Results" from the drop down menu.
You can then use search fields at the top of that page to search for results by location and/or by agency.
You can receive all of our property articles automatically by subscribing to our free email Property Newsletter. This will deliver all of our property-related articles, including auction results and interest rate updates, directly to your in-box 3-5 times a week. We don't share your details with third parties and you can unsubscribe at any time. To subscribe just click on this link, scroll down to "Property email newsletter"and enter your email address.