No relief for Auckland's housing shortage and stretched infrastructure with record migration providing around 40,000 extra residents for the city in year to November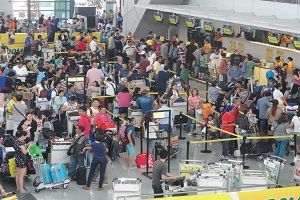 Population growth from migration continues to break all previous records, with a net gain of 70,354 new residents in the November year.
This compares to 63,659 in the 12 months to November last year, 49,846 in the 12 months to November 2014, 19,478 in the year to November 2013 and a net loss of 1587 in the year to November 2012.
The biggest source of new migrants was China, with a net gain (long term arrivals minus departures) of 10,281 in the year to November, plus another 857 from Hong Kong.
That was followed by India which provided a net gain of 9109, the UK 5408, the Philippines 4515 and South Africa 4022.
There was a net loss of 1899 New Zealand citizens in the 12 months to November, and a net gain of 56,303 citizens of other countries.
Auckland remains the most popular destination for migrants by far, with 33,536 of those who arrived in the year to November saying they intended to live in Auckland, followed by Canterbury with  6703, Wellington 3589, Waikato 2764, and Bay of Plenty 2416.
However the actual number settling in Auckland was probably closer to 40,000 for the year because another 14,527 migrants did not state where they intended to live when they arrived.
The record flows of migrants into Auckland puts more pressure on the regions's infrastructure and compounds its serious housing shortage.
Statistics NZ estimates that migration is accounting for around two thirds of Auckland's population growth and there is an estimated housing shortage of more than 30,000 homes in the region which is worsening each month.
In the year to November, 41,200 migrants came to this country on work visas, 24,600 on student visas and 16,500 on residency visas.
Many of those who arrive on work and student visas apply for residency once they are here and become permanent residents.
There were also 37,500 Australian and New Zealand citizens, who do not require visas, who arrived in or returned to this country after an extended absence overseas.
The interactive chart below shows the monthly trend in net migration since 1990: