PM Bill English abolishes position of Housing Minister as latest figures show growing housing disaster in Auckland with only two thirds of the homes required being consented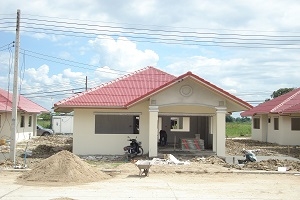 The number of new homes being consented was flat in October and well down from earlier in the year, with the disappointing lack of activity likely to substantially worsen the housing crisis in Auckland.
Statistics NZ said 2575 new dwellings were consented in October, barely changed from the 2550 that were consented in September and well below the numbers achieved between June and August when new dwelling consents ranged between 2752 and 2834 a month.
The lacklustre new consent figures are particularly concerning in Auckland where at least another 1230 new homes need to be built each month just to keep pace with the region's surging migration-fuelled population growth.
But according to Statistics NZ only 792 new homes were consented in Auckland in October, which was up from the 752 consented in September, but well down from the more than 900 a month that were consented between June and August.
That means the number of dwellings being consented in Auckland is running at just two thirds of what is required to keep pace with migration and overall population growth, which is also putting strains on other infrastructure and services such as health, education and transport.
The accumulated housing shortage in Auckland is now estimated to exceed 30,000 homes and the latest lacklustre building consent figures come just a day after new Prime Minister Bill English announced he was dropping the position of Housing Minister, which was previously held by Nick Smith.
On an annual basis, Auckland needs about 15,000 additional homes to be built each year just to keep pace with its population growth, but in the year to October just under 10,000 new dwellings were consented in the region, which suggests the rate at which new homes are being built in the region needs to increase by about 50% before housing supply will start to match up with population growth.
However consent activity has surged in Wellington, where 181 new dwelling consents were issued in October, compared to just 69 in October last year.
In the 12 months to October, the total value of residential dwelling consents issued (including consents for additions and structural alterations to existing buildings), was $12.457 billion, up 22.8% compared to the previous 12 months.
In addition another $6.1 billion on non-residential building work such as commercial premises was consented in the 12 months to October, up 7.2% compared to the previous 12 months.
See the interactive chart below which shows the dwelling consent trends in each region: