Builders call for banks to stop stifling innovation and rethink rules that prevent first home buyers from getting mortgages to build prefab houses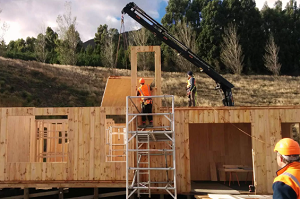 Here is Auckland: It doesn't have enough houses, so property is ridiculously expensive. Auckland desperately needs people to build houses quickly. 
Here are Zach and Emma: They're a fictitious couple in their early 30s. They've made peace with the fact they can't afford to buy in central Auckland, but are open to building in the outer suburbs.
They're keen to use a company that makes prefabricated houses - or components of houses - as these can be cheaper, more space efficient and are quicker to build.   
Here is Jae Warrander: He's a director of Makers of Architecture - an architecture and construction start-up he founded with three mates in 2014, after they graduated from university.  
The company uses technology to cut all the pre-framing for a house to size in its Wellington workshop, before trucking the components to the building site and putting them together like a jigsaw. Makers of Architecture is big on sustainable building, smart design and evolving with technology.  
Zach and Emma like Makers of Architecture's ethos and want Jae to build them a house.
Here is the government: It is incentivising first home buyers to build, by offering a HomeStart grant worth up to $10,000 to eligible KiwiSaver members who build, or purchase land to build a new home on. This is double the amount available to those who want to buy an existing home.
Zach and Emma have it sorted, right?
They have the government's support for taking some of the pressure off Auckland's housing supply shortage. They're supporting a bunch of innovative New Zealand builders and designers, who refuse to be slaves to the handful of building and materials companies that dominate the New Zealand market. Yes, land is still very expensive, but they are realistic about what they need and aren't getting neck-deep in debt to buy a big, uninsulated Ponsonby villa.
But there's a spanner in the works.
Getting a mortgage when you have nothing to secure it against
Jae needs Zach and Emma to pay $100,000 upfront to cover the cost of the cross laminated timber he uses for the pre-framing of the house. But Zach and Emma's bank won't approve their mortgage.
The issue is banks require home loans to be secured against an asset.
If the property being built traditionally onsite is the security, banks will lend up to the value of that security as construction progresses. They will therefore advance more money to a home owner, as the value of their house being constructed increases.
However with prefab houses, banks don't consider any parts of a house to belong to the home owner - ie Zach and Emma - until they are fixed to the land. They therefore can't create security against anything being constructed offsite.
The New Zealand Bankers' Association chief executive, Karen Scott-Howman, says this is the norm as: "From a responsible lending and risk perspective, banks will not lend without security, or lend an amount greater than the value of the security.
"There are ways to deal with this depending on the individual circumstances involved. If the customer already owns the land the house will be built on, they could use that as security for a deposit on the prefab building before it is constructed.
"Another option may be for the prefab building contract to allow for progress payments to be made on the completion of construction milestones, such as building the foundations and fixing the building to the land.
"The home buyer may also be able to provide additional security, or access short-term debt, to cover the build costs."
A change in thinking over who owns what, when
Jae acknowledges there are alternative solutions, but says banks' inflexibility on the issue is a major roadblock.
He says Makers of Architecture works around these constrains with suppliers, banks and clients rather than losing the contract.
"The point is that it takes lots of management and negotiation time for the client and building company. There is no defined pathway to support this innovative way of building," he says.
"It's really hard for the banks to understand that just because the product is in the factory, it doesn't mean it isn't owned by the client."
He maintains banks could start "tagging" building products to clients, regardless of whether they're on the building site or still in the workshop.
They do this for large building projects, so could roll it out to smaller residential builds.
"We can't put our own money on the line is the issue," he says.
If a customer can't proceed with the build anymore, Makers of Architecture sits with custom designed materials that may be hard to be reused for another project.
Currently, he says the only way forward is for him and his clients is to build relationships with individual bank managers or other lenders receptive to thinking outside of the square, to secure funding.
He says Nelson Building Society has been particularly helpful.
If the builder has the equity, what's the risk?
The director of the prefab construction company PLB, Philip Leather, has experienced similar issues to Jae.
"You might have the right deposit, a good job and your earnings qualify, but most of the banks will say: 'Sorry we haven't got any security on the loan until the building is on site'" he says.
The difference is Philip's been in the business since 1982, so has had more time than Jae to build a relationship with the banks.
"If you've got a rapport with the bank; you're not just a pop-up builder, you've been around for a long time, you've got a good banking record and a good statement of position; it's okay," he says.
He notes individuals at Westpac and ANZ have been particularly helpful, but it's still back to square one when a new manager comes along, who sticks to the rules hard and fast.
Philip recognises banks are worried that if the builder goes broke, it'll be difficult for them to get their hands on the house in the workshop, as it'll be at the hands of the receivers.
He therefore often supplies banks with a legal document saying that if anything happens the bank can come to the factory and take the property.
His solution, which won't necessarily help Jae, is that there should be a set criteria builders need to meet for their clients to secure bank loans.
If the builder's books are healthy and they have a lot of equity, there is nothing for the bank to worry about, he maintains.
In the meantime, Philip says he has to be flexible.
"We normally find a way around it rather than lose the contract," he says.
He requires a 10% deposit and then four or five other payments throughout the six to eight-week building process.
His customers often do whatever they can to scramble some money together until they get the house on the site.
'Where's New Zealand's housing strategy?'
The CEO of the advocacy organisation PrefabNZ, Pamela Bell, is working with finance providers to try to get a solution for the industry.
She says it doesn't make sense for each prefab builder and their client to do their own ground work with a bank manager, rather than having some standardised direction or guidance.
"Where's New Zealand's housing strategy? Where's the vision for what kind of country New Zealand wants to be?" she says.
The Ministry of Business Innovation and Employment is doing some work in this area, further to in 2015 releasing a Cabinet paper on the outcomes of a study into competition and productivity in the residential construction sector.
"Transportable housing is not accessible to first home buyers like it should be, unless you go to a really big outfit, like Keith Hay homes, and they can do their own financing," Pamela says.
She is working with two finance providers to explore whether they can set up a kind of bond guarantee, where an intermediary steps in and covers the builder for if anything goes wrong. This de-risks the process so the bank can lend to the client.
She believes the culture of our financial institutions is too "straight jacketed" and there are huge opportunities for lenders with the vision to adjust their offerings in line with what New Zealand needs.
Pamela says: "There's actually a really great social story there. Whichever financier cracks that could be the leader in that space."