Growth in non-New Zealanders moving here is the biggest driver of record migration numbers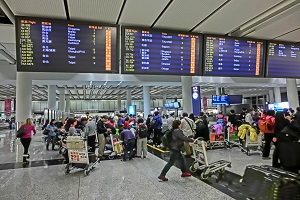 Inward migration continues to surge to new highs, with a record net gain of 72,000 people in the 12 months to May, according to Statistics NZ.
"The continued high level of net migration in the May 2017 year was driven by non-New Zealand citizens migrating to New Zealand," Statistics NZ's population statistics manager Peter Dolan said.
Altogether 130,403 people arrived in this country on a permanent or long term basis and 58,439 departed permanently or long term, giving a net gain of 71,964.
Of the arrivals, 32,066 were New Zealand citizens returning this country, while 33,398 departed, giving a net loss of 1332 New Zealand citizens in the year to May.
That was more than made up for by the 98,337 citizens of other countries who arrived here on a permanent or long term basis, with 25,041 non-new Zealand citizens departing permanently or long term, giving a net gain of 73,296 non-New Zealand citizens in the year to May.
The biggest source countries for net permanent and long migration were China and Hong Kong 11,024, followed by India 7593, the UK 6534, South Africa 4729 and The Philippines 4539.
By visa type the biggest group of arrivals came on work visas (44,459), followed by 38,326 Australian and New Zealand citizens (who do not require visas), student visas (23,740) and and residency visas 16,736.
The latest figures will bring little relief for the Auckland region, with nearly two thirds of the net gain in population occurring in Auckland. 
It is estimated that Auckland's population grew by around 44,000 people directly from migration in the year to June, and that's on top of the natural increase (births exceeding deaths) in the region's population and internal migration from people moving to Auckland from other parts of the country.
Such a large increase in population will undoubtedly put further pressure on the city's housing supply and other overstretched infrastructure such as transport and health.