Auckland's property market looks set to stay weak for some time yet, even as housing shortage worsens, CoreLogic says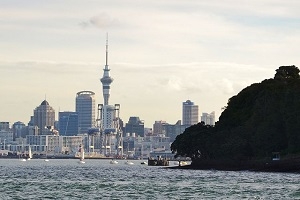 Weakness in Auckland's property market is likely to continue for some time yet, as tighter credit conditions and falling demand put downward pressure on valuations, CoreLogic says in a report on New Zealand's housing market.
The property information and analysis provider also threw a bit of a head-scratcher into its latest commentary, saying that Auckland's weakness will remain over the next few months even as the city's housing shortage worsens on the back of rapid population growth. Typically, a shortage of a good or service should lead to upward price pressure followed by an increase in supply.
And even with some downward pressure, don't expect affordability critics to lose steam.
"Slight drops in value have not changed the picture of widespread unaffordability in Auckland," it said.
CoreLogic bemoaned the declining trend in Auckland building consent activity, saying this was extremely troubling in light of the need to "massively increase house building for the next few decades to meet projected population growth".
Its August-September property market and economic update contained various quips about declining sales and listings. Nationwide sales volumes, which CoreLogic said were "already very subdued", look set to continue to be "weak for the rest of winter at least".
The report begins with an overview of New Zealand asset classes, with residential property valued at $1 trillion, vastly overshadowing commercial/industrial real estate at $164 billion, NZ listed stocks at $127 billion and NZ Super and KiwiSaver funds of $69 billion.
It then moves to an overview of New Zealand population growth, highlighting the increasing influence of net migration compared to the natural rate since 2014.
"High population growth puts additional pressure on the need to increase the housing stock," CoreLogic says.
Below are various comments from the report on drivers of house prices, and the Auckland market:
Net migration
It seems the high net migration picture is set to stay for a while yet, barring a major policy change in the wake of the September election, but even that would be unlikely to be enacted immediately.
Building consents
Monthly building consents continue to trend down in Auckland and are flat across most of the rest of the country. The trend in Auckland is particularly troubling in light of the need to massively increase house building for the next few decades to meet projected population growth. Our own analysis has shown that whilst there were roughly 10,000 dwelling consents in Auckland in 2016 (and 9,000 in 2015), the net increase in stock was only 6,000. A key contributor to this difference is the necessary reality of urban renewal which requires a property, or properties, to be demolished in order to build more multi-unit properties.
Gap between population growth and building consents
With the flattening of both population growth and building consents it appears the gap between the two has plateaued. The gap is calculated by assuming 80% of dwellings consented translate into an actual increase in the number of dwellings (which may be generous given our results of consent to stock change analysis), and that each of those dwellings will house the current average number of people (2.7 people per dwelling). For example, over the year to June 2017 there were 30,538 dwellings consented (able to house 65,962 people), and an increase in population of 100,500, leaving a difference of almost 35,000 too many people for dwellings.
Employment effect on the housing market:
For us to see a significant correction in the housing market there would have to be a turnaround in employment meaning people will not be able to pay mortgages or rent.
On interest rates
Retail mortgage interest rates have remained flat for the past few months after a sudden rise in January. The small rise in rates will have directly reduced the number of people in the market as it reduces the amount of money people are able and willing to borrow. On top of this, interest rate sensitivity – the exposure to longer term interest rates - may be making people more cautious to take on debt when they know we've moved past the bottom of the interest rate cut cycle and rates will eventually go up. This is despite the projected OCR remaining flat until mid-2019 at least.
Nationwide sales volumes:
Nationwide sales volumes dropped further in July, to the lowest number for any July since 2011. Sales are 20% down on the same month in 2016. Each of the main centres is experiencing this weakness - especially those in the top half of the North Island. This weakness is likely to continue for the next few months.
Nationwide rents
There was a strong lift in annual rental growth last month, up to 6.5%, now exceeding annual property value growth (6.4%). Historically this is relatively unusual. Gross rental yield has remained flat for the last year at just over 3%. Christchurch rent continues to drop, now down 4.3% over the past year. Dunedin on the other hand has seen the highest increase in rent over the past year at 14.2%, and gross yield remains the highest of the main centres at 4.1%.
Market activity
Market activity has hovered around its seasonal-low level throughout winter – up to 30% below activity levels from last winter. This suggests sales volumes, which are already very subdued, will continue to be weak for the rest of winter at least. Auckland, Hamilton and Christchurch are all showing the largest drops year-on-year, while Dunedin, after previously being comparable to last winter, has now started to drop away as well.
The year on year drop in activity is now even more widespread and deeply felt than we'd noted previously. The previously identified pockets of resistance, mostly in the lower North Island, are now few and far between. Only Palmerston North and a couple of other smaller towns near-by are seeing stronger activity than the prior year.
Listings
The number of new listings coming onto the market have dropped further over the past month after already typical seasonal lows in the early weeks of winter. The drop was most pronounced in Auckland. The year-on-year change is well down across each of the main regions, including in Waikato where last month we noted there was an increase. The seasonal lift that would have usually occurred appears to have been delayed due to the noted slowdown in the market, but there are signs of a slight lift.
Total listings have dropped away over the last month as the volume of new listings hasn't replaced the few sales that have occurred. The total stock of properties on the market still remains high in Auckland - 38% higher than the same time a year ago – although this has dropped from last month. Elsewhere the picture remains mixed – with the Bay of Plenty still well up on this time last year, but Otago and now Wellington, well below.
Buyer classification
Over the long term we've seen multiple property owners' share of sales nationwide decrease since 2014, however there was a significant lift in Q3 this year (July only at this stage). When we split these buyers by those who require a mortgage for their purchase or not, the lift isn't as significant. Those multiple property owners purchasing with a mortgage increased from 24.5% in Q2 to 25.5% in Q3 so far. First home buyers have levelled off at the same share of activity we saw before the first round of loan-to-value ratio restrictions were implemented in 2013.
Auckland market activity
The market activity for potential buyers appears to have adjusted to the tightening credit conditions with less people asking for mortgages. Demand in Auckland has plateaued at its winter low for the last few months. This is more than 30% below the prior winter which is consistent with sales trends. The share of sales to multiple property owners has remained near record levels, with a slight lift in July, however the make-up of these buyers has changed. While previously as low as 20% of these multiple property owners were buying without mortgages, we're now seeing this share increase to 30%. This is not due to cash buyers flooding the market – it's due to those that require a mortgage to purchase property now being unable (or unwilling) to secure that finance.
Auckland values
Values have remained flat across the Auckland Super City, a trend that started late last year. The annual growth rate of 5.4% is the lowest since May 2012. The quarterly drop in value is now more widespread than previously noted. Five of the seven areas are now seeing negative growth – with Papakura (-2.6%) and Franklin (-1.6%) the worst. Falling demand and sales will likely see this weakness continue for a few months at least
Auckland suburb value change
At a suburb level we're now seeing a distinctive increase in the number of 'blue bubbles' representing values decreasing over the last three months. Mount Wellington in particular has dropped 3.0% since April. Capital growth has all but gone from the Western suburbs, while the North Shore and Manukau have very few suburbs increasing in value. Central City values, with apartments dominating the stock, are holding up well for the time being.
Current Auckland suburb values
Slight drops in value have not changed the picture of widespread unaffordability in Auckland. There are currently 105 suburbs where the median value of the housing stock is over one million dollars.